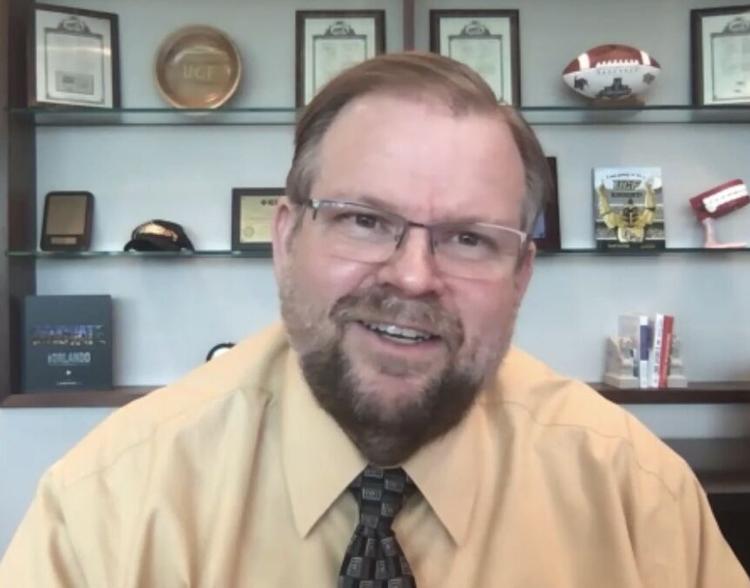 UCF football games, but not graduation ceremonies, received permission to happen in person because they are easier to manage, UCF President Alexander Cartwright said.
"In our situation for athletics, we would actually have people separated in the stands and not actually walking across the stage and not being with each other and that's a big difference," Cartwright said at a virtual press conference on Wednesday. 
UCF athletics is projected to lose $10 to $14 million dollars due to reduced home games and reduced stadium capacity, along with an additional projected $2 million loss in COVID-19 related expenses, according to a statement released by UCF Athletics Director Danny White on Monday. 
"UCF athletically is on the come-up, so it does make sense, it just kind of annoys me and how they go about things especially with students, it's unfair," Kaila Weston, a criminal justice senior graduating this spring, said. "I understand the logistics of why because, you know, they have to continue fundraising and the only way to get fundraising is to have their athletics showcase, but at what cost? We are in a pandemic." 
Cartwright said that UCF's decision to allow 11,000 people into the Bounce House stadium to watch a football game in October was reached with the help of the local county.   
"I worry also about the compliance within the stadium of people who attend and how do we ensure compliance, within a football game or stadium we can ask people to leave," Cartwright said.  "I think that would be extremely difficult to think about how you would enforce that during a graduation ceremony when someone comes to celebrate a tremendous achievement." 
Daniel Holla, 21, graduated recently from UCF, and said he feels that maintaining proper distance from others in the stadium will be more difficult at a football game compared to a graduation ceremony.
"Football fans might be intoxicated, which could lead them to making bad decisions and not following guidelines versus families being together, they could be a little more responsible," Holla said. 
Weston said the virtual graduation ceremonies made sense for those who graduated in spring when the pandemic first began. Weston said she wants the university to do better and individualize the students on their special day. 
"For the Bounce House, the 11,000 people could literally put the whole graduation in the stadium and have it spaced out but, for some reason, that doesn't happen," Weston said. 
Geraldine Charles, a biomedical sciences major who will be graduating this fall, tweeted about her frustrations on not having a graduation ceremony and received 177 likes and 64 retweets in only a few days.
It's UCF making accommodations for football season yet doing the bare minimum to give their graduates a proper graduation ceremony...

— the Substantial Cussie (@jellyl0ve) August 31, 2020
Charles said she had looked forward to graduation since she started college because she is a first-generation college graduate.
"I had to prepare my mom months in advance telling her 'Mom, I'm sorry, but you're probably not going to see me walk,'" Charles said. "I had to deal with my mom crying for months prior to me even graduating." 
Charles and Weston said they had an idea of extending the graduation window to allow for more social distancing and having graduation at the stadium. They also said a mural could be painted for those who already graduated.
"I understand the public health concern, but if you can accommodate for a football game, you can accommodate for graduation," Charles said. "I don't want to come off angry or disrespectful because I understand the nature of the situation that we are in. It's foreign for everyone." 
Both Charles and Weston said they do not plan on attending the October football games. They said they do not understand how the university plans to keep everyone safe. 
President Cartwright said the university still wants to give those who graduated a ceremony but did not discuss any current plans. 
"I'd love to see us in the near future as soon as we can safely have, and it might be a very long ceremony or multiple ceremonies over multiple days," Cartwright said. "We still want to do that." 
Weston said a virtual ceremony is better than nothing but feels the university is not stepping up to the plate to make students feel special. 
"I'm proud to say that I'm about to graduate from UCF," Charles said. "I want to feel like my institution cares about me as much as I care about them."