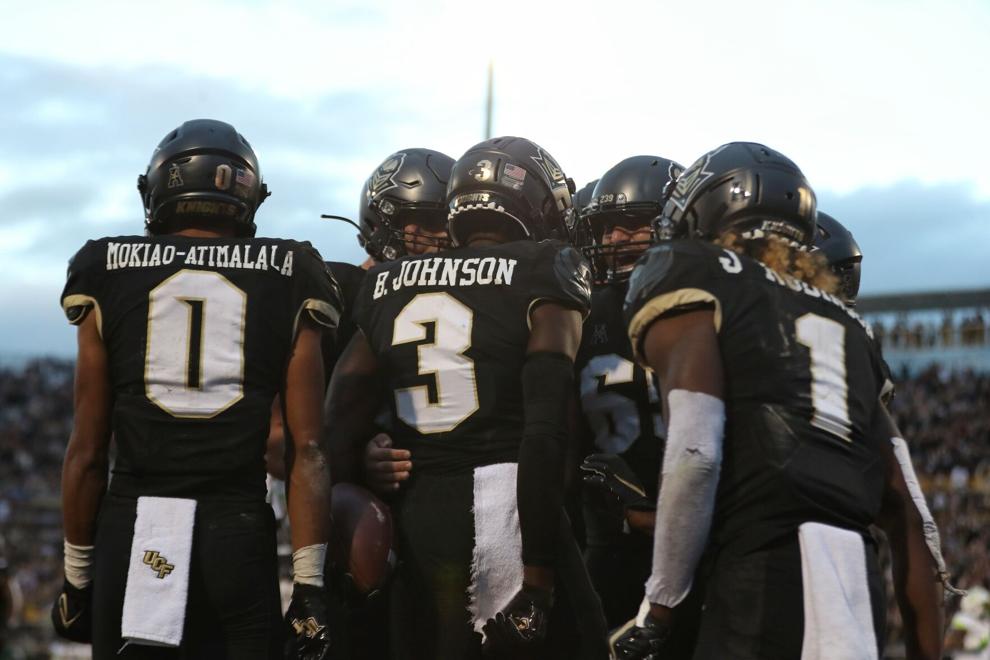 UCF earned its eighth and final win of the regular season Friday, taking the War on I-4 series lead against the University of South Florida Bulls at home. 
"Give South Florida credit," Malzahn said in a press conference Friday. "I knew it wouldn't matter about the record." 
In the final moments of a drama-filled contest, USF moved the ball down to the Knights' 17-yard line, as UCF freshman defensive back William Wells recorded his first career sack with 27 seconds remaining. Four plays later, USF freshman quarterback Timmy McClain was on the UCF 3-yard line before Knights junior defensive lineman Tre'mon Morris-Brash recorded a last-second, game-winning sack with eight seconds to go, closing out a 17-13 rivalry win. 
"Their quarterback, he's a handful, but our guys made a play at the end to win the game," Malzahn said.
After a 3-3 start to the season, UCF finished undefeated at home (7-0) and 5-1 in the latter half of the season, only losing to Southern Methodist University.
"I'll remember the 5-1, and it wasn't easy, but we found a way to win," Malzahn said. "Probably not very many teams around the country that can say that."
Despite numerous injuries in a roller-coaster season, the Knights are 8-4 overall and became the first team in the state to become bowl-eligible, ending with Friday's 7-6 War on I-4 series lead over the Bulls. 
"It's all our players," Malzahn said. "They just decided to do it. Our guys fought, and that's what I'll remember."
For some UCF seniors, this was their last game in the Bounce House. Redshirt senior offensive lineman Samuel Jackson said it was the leadership from team veterans that kept players' morale high after starting .500 through six games. 
"The only way you keep winning afterward is you got to have guys that are in the locker room getting everyone up to make sure everyone's on the right path and realizing that we still have to go play the whole season," Jackson said in a press conference Friday. 
In a stagnant offensive matchup, UCF was outgained in total yardage, almost letting the rivalry win slip from its grasp. The Knights' offense was cold throughout the night, accumulating 285 yards compared to 312 yards for the Bulls' offense. 
The Knights' rushing attack was led by the one-two punch of sophomore running back Johnny Richardson and redshirt sophomore running back Mark-Antony Richards. UCF's longest rush of the game came on a 42-yard run by Richardson to give cushion to UCF's 17-13 fourth-quarter lead. Richardson finished with eight carries for 94 yards while Richards added 14 carries for 73 yards. 
"It's been a next-man-up with running backs," Malzahn said. "I think both of those guys started out No. 5 and 6 on the first day of fall camp. They were (No.) 1 and 2 out there today against our rival, and I thought both of them played well."
Knights true freshman quarterback Mikey Keene finished his last home game after filling the starting position, completing 14 of 26 passes for 115 yards. Redshirt senior wide receiver Brandon Johnson had one reception for seven yards and caught the only receiving touchdown of the night. Junior wide receiver Ryan O'Keefe had five receptions for 45 yards. 
The UCF defense was again led by junior linebacker Tatum Bethune, recording 18 total tackles after collecting 14 tackles against the University of Connecticut a week before. Bethune said he's gained more confidence playing under Defensive Coordinator Travis Williams this season. 
"Being more confident and taking control of the defense," Bethune said. "I play middle linebacker, and that's what we do. Coach T-Will helping me lead the way: I'm just really grateful."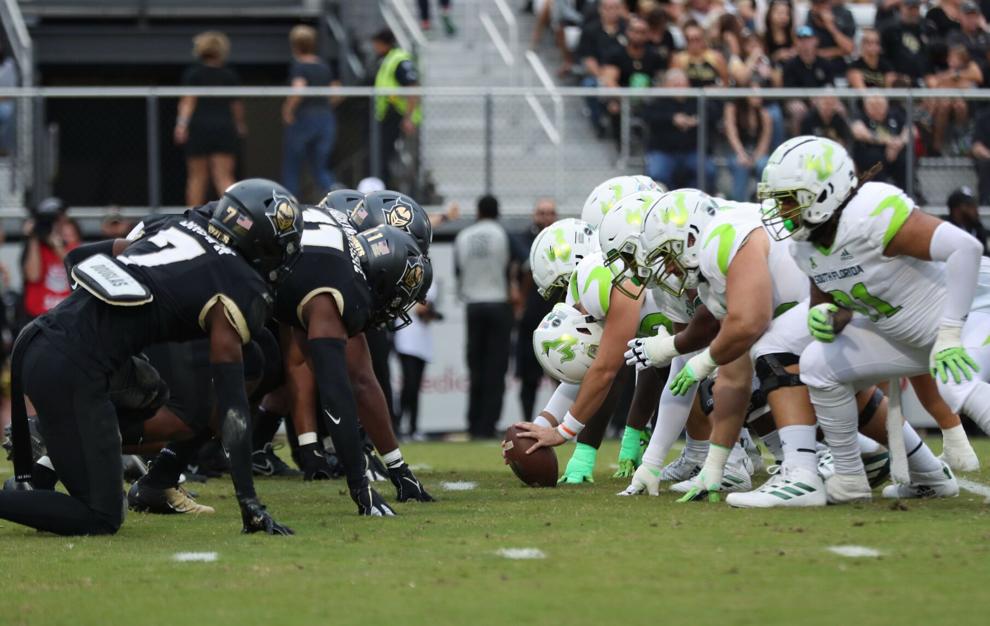 UCF entered the rivalry game with Keene completing throws to O'Keefe for 16 yards and to redshirt junior wide receiver Jaylon Robinson for a 20-yarder, getting UCF down to the USF 24-yard line. After the Knights got to the USF 18-yard line, junior place-kicker Daniel Obarski shanked a 35-yard field goal. 
USF (2-10, 1-7 American Athletic Conference) was forced to punt on its first possession after an intentional grounding penalty, resulting in a 44-yard punt by Bulls freshman punter Andrew Stokes. The Knights started their second drive with the ball on their 37-yard line. A 23-yard pass to Richardson led to a 3-yard quarterback draw from redshirt freshman quarterback Parker Navarro, resulting in a 7-0 lead with 6:16 left remaining in the first quarter.
USF's second drive was sparked by a UCF 15-yard face mask. The Bulls had recently converted on a fourth-and-2 play when McClain scored on a 5-yard quarterback keeper to tie the game at 7-7 heading into the second quarter. Following back-to-back missed field goals from both teams, Keene found Johnson for a 7-yard touchdown pass with 11 seconds before the second half; the Knights hadn't scored since early in the first quarter. 
USF started the second half with an offensive game plan before UCF sophomore defensive back Davonte Brown recorded a pass breakup on the UCF 23-yard line to set up a 41-yard field goal by Bulls junior kicker Spencer Shrader. After forcing UCF to punt, the Bulls worked the ball down to the 3-yard line before a false start brought it back to the 8-yard line, resulting in an 11-yard sack by Knights redshirt junior defensive back Divaad Wilson. The Bulls hit a 36-yard field goal to cut the lead to 14-13 with 3:17 remaining in the third quarter. 
Both teams would be forced to punt on their next possessions until Obarski kicked a 32-yard field goal to take a 17-13 lead with 8:51 left in the fourth quarter. The Knights' defense came up with the biggest play of the night after shutting out the Bulls on the 3-yard line, killing their chance to take the lead. McClain was pressured continuously throughout the night, and he made the decision not to throw the ball away before being sacked. 
"We wish that we could have thrown the ball away if it wasn't open right away and have a chance for another play," Bulls Head Coach Jeff Scott said in a press conference Friday. "Timmy is a guy that has made a lot of plays for us. He'll learn from that."
As the regular season comes to an end, UCF will wait a week before an opponent and location is set for the upcoming bowl game. Malzahn said it doesn't matter who UCF is scheduled against, as the team will enjoy the opportunity.
"(As) I said when I first got hired, we'll play anybody," Malzahn said. "It's a chance to win nine games. We're very excited to go bowling wherever we are, whoever we're playing.
"We're going to be extremely excited."