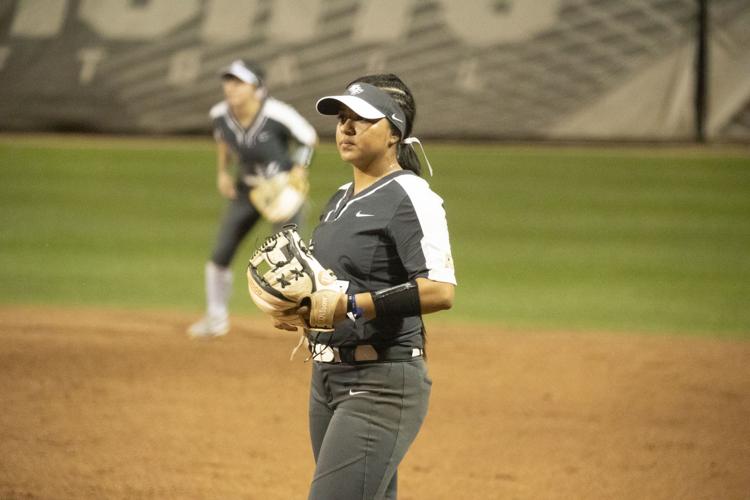 It was only supposed to be two weeks — at least, that was what redshirt senior first baseman Jazmine Esparza told herself.
The 2020 season had been going well for Esparza and the UCF softball team so far. The team had just won 7-0 on the road against Cal State Fullerton on March 11, was nationally ranked and scheduled to face Ole Miss on March 13. It was March 12 when everything changed.
Due to the COVID-19 outbreak, the SEC, AAC and other conferences announced they were suspending spring sports for the time being. While the AAC did not announce an intended return date, the SEC said at the time the suspension of spring sports would end on March 30.
"I guess I was more in denial when everything happened," Esparza said in a Nov. 18 Zoom interview. "I honestly really thought it was only gonna be two weeks. Only packed clothes to go home for two weeks."
It ended up not being two weeks. It has been 273 days since the softball team has played a game. 
Normally, this would have been the end of the road for seniors like Esparza, but a decision by the NCAA Division I Council changed everything. Over the course of 2020, the NCAA Division I Council granted extra years of eligibility to all athletes in all sports: spring sports on March 30, fall sports on Aug. 21 and winter sports on Oct. 14.
From benchwarmers to collegiate athletics superstars, this extra year of eligibility has given them a second chance to have their final season as a student-athlete. 
"It's something I definitely am looking not to take for granted," Esparza said. "I think this team is going to go just as far as we did, and maybe even further."
Decisions, Decisions
Esparza is not the only senior returning to the softball team this season. Starting pitcher Alea White and outfielder Kyra Klarkowski are also planning to take advantage of the extra year of eligibility to return to the softball team for the 2021 season. It's an unexpected outcome that head coach Cindy Ball-Malone, who was hired in 2019, is taking in full stride.
"I feel like I hit the jackpot," Ball-Malone said in a Zoom interview on Nov. 18. "Coming in, I knew I was only going to get two years with Alea, Jaz [Esparza], and Kyra. Now I feel like I got to borrow or steal another year with them."
However, that extra year is coming with a price, both on and off the field.
In the March 30 press release, the NCAA said spring sports athletes that would have exhausted eligibility after the 2020 season would get financial assistance for their extra year of eligibility through the NCAA's Student Assistance Fund. So, any senior in a spring sport that wanted to come back would have the financial resources they need. However, that can't dodge the limitations of roster size.
Even though Ball-Malone knew they were getting funded, not all of the team's five 2020 seniors could return due to roster size limitations. The Knights could only have eight pitchers, meaning Ball-Malone was forced to choose between bringing back White and her fellow senior pitcher, Kiana East. 
Ball-Malone said the decision was one of the tough choices she had to make, but she called the decision to bring back White a "no-brainer," citing her status as a face of the program due to her being a four-year starter.
As for Esparza and Klarkowski, Ball-Malone said the two were more unsure due to graduate school opportunities. 
"I was kind of a little nervous," Ball-Malone said. "It was almost like I was recruiting them all over again."
In the end, with White, Klarkowsi and Esparza all electing to return to the team, Ball-Malone is excited for the unanticipated relationship the three girls can now have with the new freshmen arriving this season.
"They're getting to learn from the best," Ball-Malone said. "They're getting to play with seniors that they didn't expect to play with."
Money, Money, Money
Ball-Malone said once she knew the cost of returning any of her 2020 seniors was funded thanks to the NCAA Student Assistance Fund, it was just a matter of her asking them whether they wanted to return to UCF or not, an offer that Esparza, Klarkowski and White accepted. 
However, this is only the case for spring sports.
According to Michelle Hosick, a NCAA spokesperson, no decision has been made on if the Student Assistance Fund will be made available to fall and winter student-athletes who take advantage of the extra year of eligibility. Instead, the NCAA will not count the financial aid and scholarships of fall and winter sports student-athletes that return of the extra year of eligibility toward team limits. This leaves it up to individual schools to decide whether they want to provide financial aid and scholarships to returning fall and winter sports athletes.
Senior associate athletic director for strategic communications John Heisler said the UCF athletic department is willing to provide that assistance.
"We have generally told our coaches we are supportive of any of their student-athletes who want to take advantage of the extra year of eligibility — even if we don't know for sure what that means from a budget standpoint," Heisler said.
This leaves the door open for fall or winter sport seniors to return should they choose. 
Redshirt senior tight end Jake Hescock announced his return to the football team during a press conference Nov. 24, saying that he wanted another season under co-offensive coordinator and tight end coach Alex Golesh.
"I think it's going to be really beneficial for me," Hescock said. "Also, we have a really young [tight end] room, gives me an opportunity to kind of leave a legacy for those guys."
However, even with the UCF athletic department pledging financial assistance, other factors could persuade student-athletes to use their extra year of eligibility elsewhere.
Should I Stay or Should I Go?
Even before the pandemic, transfers in college athletics has been on the rise. 
According to NCAA data, the percentage of Division I athletes in FBS Football, FCS Football, Men's Basketball and Women's Basketball that are transfers have all been increasing since the 2016-2017 academic year. This was helped by the introduction of the NCAA Transfer Portal in 2018, which helped manage the transfer process and add more transparency to it.
Now, with the extra year of eligibility, Thomas Baker, associate professor in the Sport Management and Policy program at the University of Georgia, said in a Dec. 3 telephone interview he predicts record numbers of transfers for basketball and football due to expanded rosters combined with the limited playing opportunities.
The UCF football team has already seen an example of this in their wide receiver room in redshirt senior Alex Harris. He was reported entering the transfer portal on Dec. 8 after not seeing a reception in the 2020 season. Looking at the wide receivers that did get a reception in 2020, Harris deciding to use his extra year of eligibility elsewhere fits Baker's analysis.
However, some players will not just be looking for playing time for its own sake. One reason Baker cited football and basketball specifically in his prediction for a record number of transfers is their sports have professional drafts for players to think about and factor into their decisions to use their extra year of eligibility, either with their original team or with another.
"I think that's where you could probably see this effect the most is going to be players who are not first to third round [NFL Draft picks] and in basketball players who are not clearly first-rounders," Baker said.
This desire to seek more playing time to improve professional draft stock is one of the reasons redshirt senior quarterback McKenzie Milton cited as a reason for his entrance into the NCAA Transfer Portal in a Dec. 3 tribute video. 
"I have one shot to go chase a dream, a lifelong dream to play in the NFL," Milton said. "It's one of the hardest things for me to do, but it just makes the most sense."
Time of My Life
COVID-19 took away and changed a lot for student-athletes, but through the extra year of eligibility, it also gave them something.
According to NCAA research, a football player has a 1.6% chance of being drafted by the NFL. This means, for the majority of athletes, college will be the end of their playing careers. Even for the unlikely few that are drafted, it is still an end of an era in their playing careers.
The NCAA Division I Council, through granting that extra year of eligibility, gave fall and winter sports athletes like Hescock, Harris and Milton the chance to play a normal final season. In the case of spring sports athletes like Esparza, Klarkowski and White, it gives them a chance to play a full final season so when they exit the softball field for the final time, they will know it.
These student-athletes received something many others do not get: more time. Even with the pandemic still going on, Esparza is determined to make the most of it with her team.
"It's a blessing in disguise," Esparza said. "People need to just learn and live in the moment, even when it's hard, even when it's tough. This is only going to get us better, not just for softball, but in the future and for our lives."