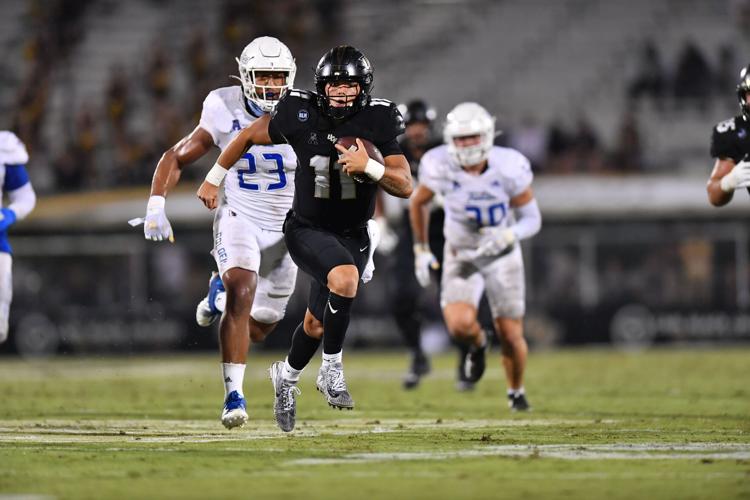 After losing its 21-game home winning streak, UCF returns to the road to face a rival that brings good memories.
UCF (2-1, 1-1 AAC) comes from a 34-26 loss to Tulsa, where the Knights had 18 penalties and failed to get into the end zone in the second half.
"There is a lot of teaching points I've learned from there," UCF sophomore quarterback Dillon Gabriel said in a press conference on Monday. "Once I got into the week, my mindset flipped, it was on to Memphis."
The Knights travel to Tennessee to face the Tigers at 3:30 p.m. on Saturday in another national television appearance on ABC.
In their last matchup against Memphis, UCF won 56-41 to claim the 2018 AAC Championship at home.  
Led by then redshirt freshman quarterback Darriel Mack Jr., named Most Outstanding Player of the game, UCF overcame a 17-point deficit to extend its 25-win streak at the time. Now senior running backs, Otis Anderson had a 54-yard touchdown, and Greg McCrae had 206 rushing yards. 
In the last two matchups, including a 1-point loss at home, Memphis entered the fourth quarter with the lead but failed to score and close the game.
"When you lose the type of games they've lost, and how they did lose those games, I'd be mad," junior defensive back Zamari Maxwell said in a press conference on Tuesday.
In the all-time series, the Knights have a 13-1 record, losing only their very first game against the Tigers in 1990.
"I don't like to talk too much about the past," Memphis Head Coach Ryan Silverfield said on Monday, "but we kind of feel like we have a chip on our shoulder."
Silverfield does have a past with the Knights that goes beyond the losses. He served as a graduate assistant for two seasons under former UCF head coach George O'Leary.
"In my time at UCF, I learned how to grind and really put the work in," Silverfield said. "Hopefully, obviously it led me to the situation where I am today."
With Silverfield, the Knights won the 2007 Conference USA Championship Game and ranked among the conference top four in scoring defense, rushing defense, passing defense and turnovers forced. 
"Got a lot of respect for UCF and the way they do things there," Silverfield said. "But my love and loyalty is with Memphis."
The Tigers (1-1, 0-1 AAC) will be UCF's third conference opponent this season after the Knights' win at East Carolina and home loss versus Tulsa.
Like UCF, Memphis comes from a bye week after losing to SMU 30-27.
Memphis finished last season with a record of 12-2, 7-1 in AAC play. The team ended up winning the conference title after losing to UCF for two consecutive years. UCF head coach Josh Heupel said Memphis has experience in all areas of the game and he expects great energy and passion from them.
"It's gonna be a great competitive environment for their team and for our football team," Heupel said on Thursday.
Silverfield said speed is what stands out about the Knights, supporting one of UCF's slogans "UCFast." He continued to say the Knights have a dynamic quarterback in Gabriel.
The sophomore comes from a 28-51 game for 330 yards against Tulsa. The quarterback ranks second in the country with 385.0 passing yards per game and 404.7 yards of total offense per game. 
"I think he is one the best in the country," Silverfield said.
On the other side of the quarterback battle, sixth-year senior Brady White has seven touchdowns with 70.9% completion this year. White faced the Knights twice in 2018 but failed to pass for a touchdown.     
Returning for his final season with Memphis is wide receiver Damonte Coxie. Last season, the now senior earned all-conference second team honors and became the second Tiger in program history to have consecutive years with at least 1,000 receiving yards.
Although the Tigers have an all-conference player available, they have one sitting out. Memphis comes without running back Kenneth Gainwell, 2019 AAC Rookie of the Year and unanimous first team selection. The sophomore opted out of the season after he lost three family members due to COVID-19.
For the Knights, Heupel said he will have another conversation with his staff before kickoff to determine whether or not wide receiver Tre Nixon will play. The senior got injured in the team's season opener at Georgia Tech.
If Nixon remains questionable, senior wide receiver Marlon Williams seems to be ready to play after going down on the final play against Tulsa.
"I think everybody that was kind of nicked up through the course of play against Tulsa will be available here on Saturday," Heupel said.
Although UCF has a historical advantage against Memphis, Maxwell said the players know the game won't be "sweet."
"Expect the unexpected," Maxwell said. "It's gonna be a full-on war."