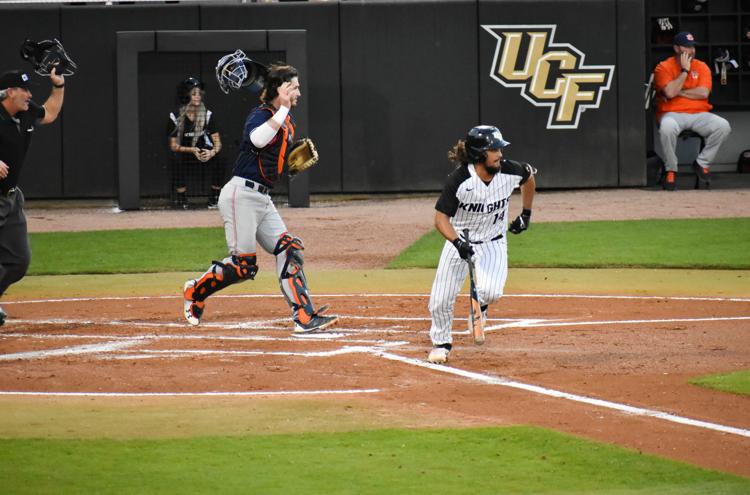 After struggling during Friday's series opener, the offense came alive for the UCF baseball team Saturday night, leading to a 6-1 win over Auburn at John Euliano Park.
"I thought we played just as well as we did last night, only difference was we got the big hits when we needed to and were able to take advantage of some opportunities better," UCF head coach Greg Lovelady said.
The Knights took control of the game in the second inning. Already leading 1-0, UCF added three runs. Sophomore outfielder Dalton Wingo delivered an RBI single to start the rally, before coming around to score on a single by redshirt junior outfielder Ray Alejo. Junior utility player Dallas Beaver then extended the lead to 4-0 with a sacrifice fly.
Alejo picked up another RBI single in the fourth inning for the Knights, bringing the lead to 5-0.
"Last night, we had guys on and time to score, but they came up with the big hits and we didn't and tonight was the opposite," Alejo said. "We came up, got some big hits, a lot of guys hit balls hard, taking good at bats, making the pitchers throw a lot of pitches, which is important."
The offense wasn't the only bright spot for UCF. Junior pitcher Trevor Holloway turned in a strong effort, shutting out the Tigers in five innings of work while racking up five strikeouts. 
"We come in with confidence to win each game, no matter what happens. It's always about that next pitch," Holloway said. 
With the victory, the Knights improved to 5-1 on the season and tied their series against the Tigers at 1-1.
UCF and Auburn will play the rubber match of the series Sunday at John Euliano Park. First pitch is set for 1 p.m.