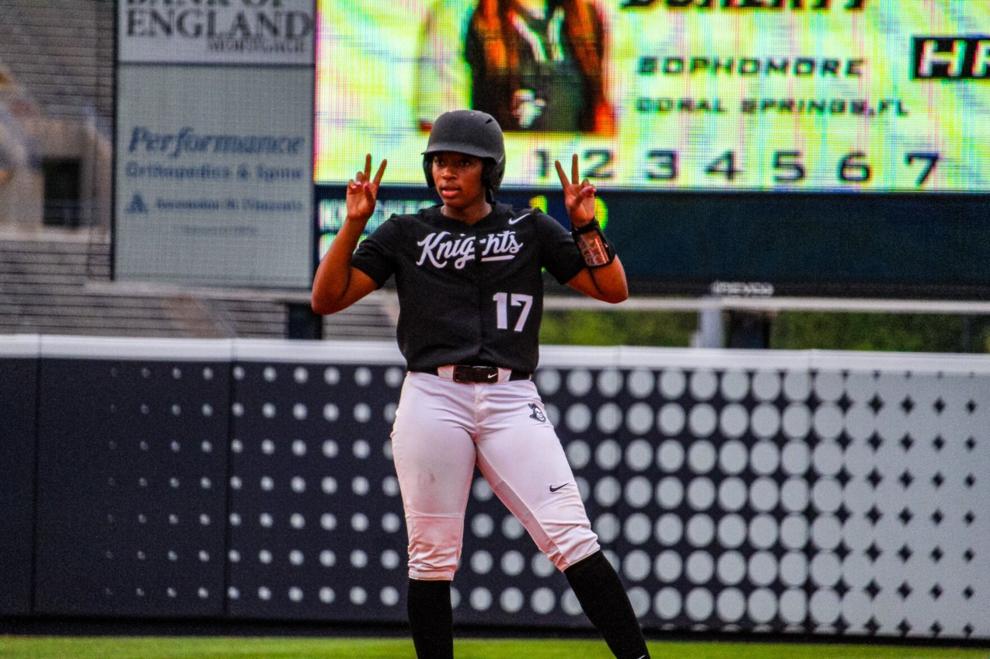 Jada Cody stepped up to the plate in the in the bottom of the sixth inning struggling with her swing.
But little did Cody know that she was about to hit her 100th career RBI in just her sophomore season. With runners at first and second, Cody hit the ball back up the middle for an RBI single.
Suddenly, an announcement came over the UCF Softball Complex speakers informing the home crowd that Cody had reached 100 career RBIs. The crowd erupted as Cody is only the ninth player in UCF softball history to reach the milestone.
"It was key, my swing has been struggling just a little bit, so just working on that, it definitely felt good to be back," Cody said in a postgame press conference.
The Knights (32-10, 4-0 AAC) earned a 4-0, shutout win against the Memphis Tigers (15-24, 1-6 AAC) on a cool windy Friday night.
UCF's starting senior pitcher Gianna Mancha threw another complete game, allowing only three hits over seven innings with three walks and six strikeouts.
Mancha is currently having the best season of her career, sporting a 1.64 ERA. Mancha said she felt pretty good pitching during the game, especially with her defense making great plays behind her.
"I was just letting my pitches work, you know, they are a pretty decent team," Mancha said in a postgame press conference. "My defense behind me, Ken at third was making some real good plays, there were some hot shots at her and obviously my outfield and my infield, they were just awesome, so I was glad to have them behind me."
Knights' sophomore third baseman Kennedy Searcy had a few stellar plays at third base with some hard ground balls hit her way. Searcy also had a good night on the offensive side, going 1 for 2 at the plate with an RBI infield single and two walks.
The top of the lineup was key in the Knights' win with sophomore outfielder Johneisha Rowe going 2 for 3 at the plate with an RBI single in the sixth inning to help add to UCF's lead.
UCF head coach Cindy Ball-Malone said she is happy with the first four batters in her lineup and talked about how pitchers should be afraid when they face the entirety of the order.
"It's just fun to see them all work together, and I don't want to be a pitcher against those four, five, six or shoot one through nine, and then the people we can bring off the bench as well," Ball-Malone said.
Defensively, Ball-Malone said she feels like Mancha gets better every time she touches the mound.
"This summer, she got a little taste of that success from last year," Ball-Malone said. "I don't think she missed a summer workout. I don't think she missed even a bullpen that she created on her own over the summer."
Heading into the rest of the weekend, with the final two games of this series against Memphis, Mancha talked about staying focused not only on these games, but on the conference games for the rest of the season.
"I think we just have to stay focused, and you know, not get too big for the moment and just stay consistent and play UCF softball," Mancha said.