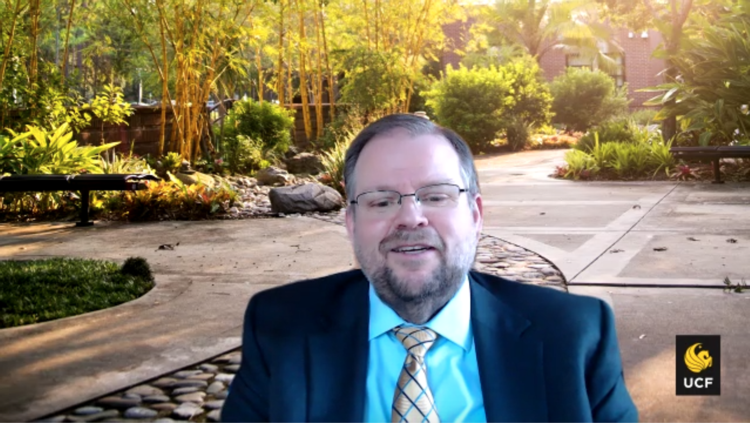 Day two of office and UCF President Dr. Alexander Cartwright is already asking the big question in regards to what the university can do to maximize its athletic program given the current global climate:
"What's possible?"
The former chancellor of the University of Missouri was voted in unanimously by the UCF Board of Trustees as the university's sixth president on March 20 and was confirmed by the Florida Board of Governors on March 25.
Cartwright spoke with the media for the first time on Tuesday via a Zoom video conference and expressed his dedication in making the university a leader in athletics amid the COVID-19 pandemic.
He said the conversations about what's next for the athletic program are already happening with UCF Athletic Director Danny White. The key is not limiting the university's potential just because so many things are now being done virtually, he said.
"In fact, I've asked Danny to think about what's possible — what's possible online, what could we be doing that's different and let's be the leader at that," Cartwright said. "Let's think of how we can do things differently rather than thinking about how we cut programs. I'd like for us to think about how we build and grow what we're doing."
The repercussions of the coronavirus pandemic are being felt all around — even in UCF's own American Athletic Conference.
The University of Cincinnati, a fellow AAC member, announced its men's soccer program would be shut down effective immediately due to the coronavirus pandemic and the overwhelming uncertainty it's causing, Cincinnati Athletic Director John Cunningham said in a statement Tuesday.
Despite this, Cartwright assured the media that UCF sports are here to stay.
"Whatever happens with the pandemic, we're a long ways away from having those conversations," he said. "I think we'd have to see a lot more change for us to be able to start having to think about that. So I don't anticipate those conversations right now."
Instead, Cartwright encouraged shifting the conversation to something that would better UCF's position on and off the field.
"I think our conversation is going to be how do we think about transitioning to what we might be doing in Athletics that could take advantage of the current circumstances," Cartwright said.
Cartwright said UCF Athletics is more than basketball and football — it's an opportunity and a means for a connection.
"I look at athletics as how do we have an opportunity where students who put in so much effort in becoming exceptional at a particular sport, then have an option to compete at the highest level…" Cartwright said. "It's one more way to give people opportunities to have the experience that they should have in college."