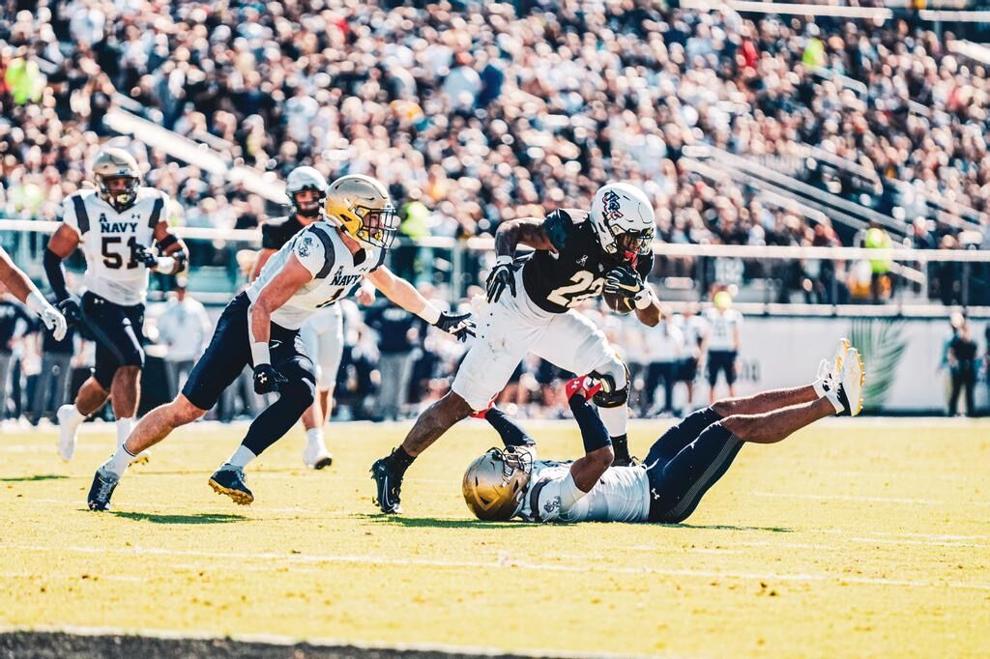 Playing behind the chains was one of many issues for the UCF offense, as the Knights fell 17-14 on Senior Day against AAC conference foe Navy.
"The negative plays, that's what stands out to me," UCF head coach Gus Malzhan said at a postgame press conference. "Second down and 15, third down and 17, we got to stay ahead of the chains against a group like that."
The late morning kickoff didn't treat UCF well in its regular season home finale at the Bounce House on Saturday.
For a team who prides itself on running the football, the Knights only averaged 3.5 yards on the ground against the Midshipman defensive front.
"They play hard, you know, I give them credit," fifth year senior running back Isaiah Bowser said at a postgame press conference. "They got us for some negative plays ... give credit to them." 
The stat sheet doesn't get any better for the UCF offense.
The unit converted on only three of twelve third down opportunities and committed two turnovers with an interception thrown at the end of the half by senior quarterback John Rhys Plumlee and a fumble committed by sophomore quarterback Mikey Keene in the second half.
Outside of Keene's 28-yard touchdown pass to junior wide receiver Javon Baker, the offense never got itself into a consistent rhythm.
Red zone success on offense was an issue that UCF solved earlier in the season, but it flared up again for the Knights on Saturday.
"It was really frustrating, we were really close to a touchdown or two, but close doesn't get it done," Malzahn said. "We had to kick field goals, that's kind of what happened earlier in the year, you know we weren't able to get touchdowns in the red zone, we have done a really good job of that until today."
As for the other side of the ball for UCF, the defense was on the field for the majority of the game with Navy having a dominant edge in time of possession by nearly 20 minutes.
The Midshipmen would only attempt one pass, while rushing for 254 yards on 61 attempts and controlling the clock.
UCF's defense was put in tough situations due to the lack of efficiency from the offense. 
Due to being on the field for long durations throughout the game, fatigue eventually took a toll on the Knights' defensive unit.
With the defeat to Navy, UCF can't host the AAC Championship Game, but it can still compete in it with a win next week in the War on I-4 at rival USF.
"We're looking past that," Bowser said. "At this point we're focused on South Florida, we know that's a huge game for us to get us ... to the championship."
Update: This article has been updated to reflect the final score of the game (11/21/2022).