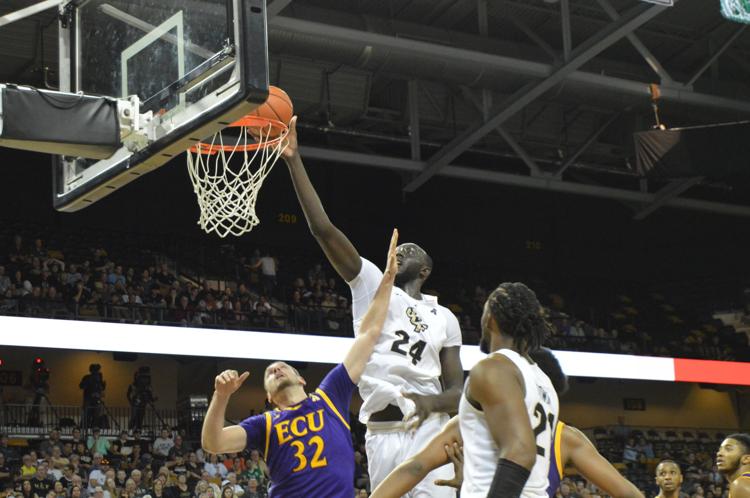 When UCF center Tacko Fall steps onto the court for senior night inside CFE arena for the very last time on Thursday, he'll be in front of a fan who has waited almost seven years to see him play: his mom.
The big man who wears a size 22 will undoubtedly leave some giant shoes to fill once his college career is over. For now, playing in front of his mom and younger brother in a decisive matchup against Cincinnati is nothing short of sweet for UCF's Senegalese superstar.  
Fall, who talks with his mother almost every day, left his home country of Senegal seven years ago in hopes of having a career in basketball. Although Fall said his mother, Marriane, avidly follows UCF's YouTube page for highlights and clips, she has never seen her son play live.
Tomorrow's home finale against the No. 20 Bearcats will have a special significance to Fall for many reasons.
"It means a lot," Fall said. "I haven't seen her in seven years and she's never seen me play before. We haven't been together in so long, it felt like I was dreaming. She's been my greatest supporter, and I get to finally play in front of her."
Following his fifth double-double of the season in a crucial road victory over No. 8 Houston, Fall, his mom and his 13-year-old brother had an emotional reunion when the team returned to Orlando.
UCF senior forward Chad Brown experienced firsthand the strong bond between Fall and his family.
"It was just an unbelievable moment, him being able to see her and spend time with her," Brown said. "It was special to see that. It just shows you that it's bigger than basketball; you never want to take this for granted, you always want to stay in the moment. Anything is possible in life. Him being able to do that is a blessing."
In what has been a record-breaking season for the Knights, who are 22-6 (12-4 AAC), Fall has led the nation in field goal percentage and dunks while averaging 11 points, seven rebounds and 2.5 blocks per game.
During the team's current three-game win streak, Fall has averaged 18 points and 12 rebounds per game. He put up a season-high 23 points and career-high 20 boards against SMU on Feb. 24.
Fall attributes his recent success to his teammates, who have consistently fed him the ball in the paint.
With the regular season coming to a close and the Knights playing meaningful basketball so late in the season, he sees no reason to change the formula to UCF's success.
"I don't think it's a sense of urgency. I think it's just going out there and knowing what I am capable of," Fall said. "I know that there's nobody that can stop me and the team has put me in a lot of great positions to utilize my gift. At the end of the day, the game of basketball is a game. It's supposed to be fun. We have all the tools for everything we need to have fun and dominate teams and win games."
The 2017 American Athletic Conference Defensive Player of the Year reflects back on his very first game at CFE Arena. The feelings of pre-game nerves, the first time stepping onto the hardwood, those are the type of games that will stick with him the most, he added.    
Since his first season, Fall has gone on to shatter single-season records in field goal percentage and blocks, building his skills and arsenal of post-up moves with every season.
All the while, Fall has consistently maintained AAC academic honor roll status as a computer science major.
"His growth has been the biggest thing. He's improved every season. Right now, he's playing the best he's ever played," redshirt senior guard BJ Taylor said. "It's just been great to see him grow into the player he is now."
As Fall prepares to play his final home game, perhaps hearing his mom scream in the stands will make this one of the more memorable games in his career.
"I just hope there's not a lot of fouling or hacking that game because she will get on the court. That's just how she is," Fall said with a smirk.
For UCF head coach Johnny Dawkins, senior night will bring out plenty of emotions.
The third-year head coach has witnessed firsthand the development of his players and often talks with his seniors about the kind of legacy they want to leave behind.
"It's important that our guys understand we need to stay balanced with what we're doing. We can't get too high; we can't get too low," Dawkins said. "Tomorrow's going to be an amazing atmosphere in here. Of course it's their last game, but it's not just about our seniors. It's going to be about our team." 
Reflecting on the impact of Fall's legacy with UCF basketball, Dawkins said it reflects the beauty of the American dream — the ability to make something for yourself and provide for your family. 
"He's worked really hard in the classroom. He's worked really hard on the court," Dawkins said. "That's a pretty good combination going forward in the future, so I'm really excited about who he is becoming as a young man and I'm really proud of him."  
With the end of an era coming up for UCF, the Knights will look to make a deep run into March Madness and cement their own legacy for many years come.
"It's been quite the journey. I'm glad it worked out the way it did and I'm ready to finish strong," Fall said.
Fall's final home game will tip off at 7 p.m. Thursday at CFE Arena. He and fellow seniors Taylor, Brown and Dayon Griffin will be honored in a senior night ceremony before the game.