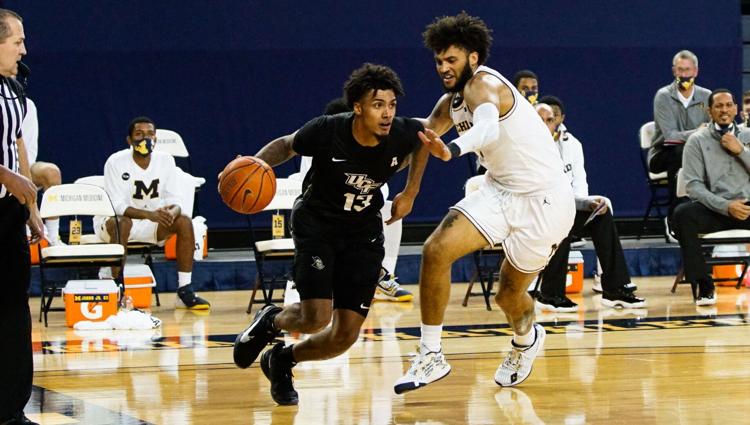 Despite a having a double-digit lead in the first half, UCF men's basketball lost to Michigan 80-58 on Sunday.
The Knights (1-1) were off to a hot start after going on an 11-0 run to lead 25-13 midway through the first half. Michigan (4-0) turned the tables by going on its own 15-0 run near the end of the half. The Wolverines led 38-34 at the end of the first half. 
The second half was in much of the Wolverines' favor as they went on a 20-0 run at one point and outscored the Knights 42-24. Michigan shot 49% from the field and shot 33 percent from three-point range. 
Going into half time, UCF trailed by four point in a high-scoring half, 34-38. The Knights' offensive attack came to a haul in the second half, shooting 8-33 from the field. On the defensive end, the Knights allowed 42 points in the second half, the most they have given up since Feb. 22 at UCONN. 
"I thought the last game we defended fairly well," UCF head coach Johnny Dawkins said. "This game right here was the exact opposite. I didn't think we defended well in either half." 
Knights shooting guard Brandon Mahan scored a career high 21 points and five rebounds to lead the team. The Knights had just one other player put up double-digits, with Isaiah Adams scoring a career-high 11 points and three rebounds.  
Four-star transfer Darius Perry has yet to make his debut for the Knights, leaving them without a true point guard in the absence of Tony Johnson Jr who suffered an injury in the Knights' home-opener on Nov. 30.
Former five-star forward C.J. Walker earned his first UCF start, but only scored two points and committed five fouls.  
"He could never get in a rhythm," Dawkins said. "He spent most of the afternoon in foul trouble. That's difficult and something he's going to have to learn." 
Michigan dominated in the paint on offense and defense, outscoring UCF 38-22 and grabbing 15 more total-rebounds. The Wolverines' bench also outscored UCF 49-18. They had four players score double-digits, with guard Chaundee Brown scoring a team-high 18 points and four three-pointers off of the bench.
Freshman Hunter Dickinson had a team-high seven rebounds and scoring 14 points. Dickinson has been a double-digit scorer in all of Michigan's games this season.
Senior Eli Brooks scored 10 points and five assists while freshman Terrance Williams II had 10 points and six rebounds. The Wolverines' scoring depth allowed them to have a 30-point lead at one point in the second half. 
"We have to be better," Dawkins said. "On the road, first time out with a number of new players, I give Michigan credit. They kept coming at us for 40 minutes." 
The Knights are back in action with their first conference game of the season on the road against No. 10 Houston on Dec. 15. 
"I thought we got out of character when we got the lead and we got out of flow and out of rhythm," Dawkins said. "That's the sign of a team that needs to keep maturing and keep doing what's working well for us and not getting away from it."