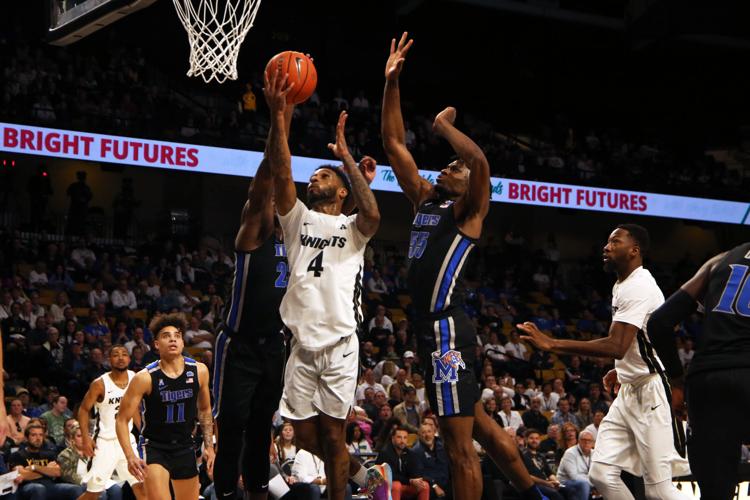 UCF men's basketball fell short by a score of 59-57 in a back-and-forth conference matchup versus the University of Memphis Tigers on Wednesday night at Addition Financial Arena.
The game came down to the final moments as both teams traded buckets throughout the last six minutes. In the end, the Tigers were able to make one more play than the experienced Knights.
The Knights had the edge at halftime, leading 28-24. UCF head coach Johnny Dawkins credited his team on their effort on the defensive side of the ball.
"I thought our defense was outstanding," Dawkins said. "To hold that team to 24 points in a half with the power five they have put us in position."
In the second half, it was the young talent of Memphis that led the team to victory. Head coach Penny Hardaway was proud of how his underclassmen were able to step up and win in a "must-win situation."
"They've never played in this type of adversity or in these situations," Hardaway said. "All these guys are learning on the fly."
Although freshman Precious Achiuwa made the bucket to put the game away, it was redshirt sophomore Lance Thomas who stepped up big for the Tigers. He finished with a team-high 20 points and shot 67% from three-point range on 4-6 shooting.
"Lance Thomas was outstanding," said Dawkins. "He gave them a really big lift tonight with those four threes."
Hardaway felt that it was only a matter of time before Thomas started knocking down shots from the perimeter.
"He got out there and shot the ball the way we know he can shoot it," Hardaway said. "He shoots it like that all the time in practice."
UCF men's basketball unable to complete upset over Memphis
It was a defensive battle on both sides of the court with both teams scoring over 10 points below their season averages.
The Knights were successfully able to contain Achiuwa to five points on 2-9 shooting in the first half. He leads the team in scoring this season, averaging 15 points per game.
Achiuwa found success in the second half, scoring 13 points on 5-6 shooting from the field while adding 13 rebounds, achieving his 11th double-double of the season.
"We kept him out there longer to give him that confidence," Hardaway said. "He stayed locked in and didn't fade out."
For the Knights, redshirt junior forward Collin Smith and redshirt junior guard Ceasar DeJesus shared the top-scoring spot, finishing with 13 points.
After gaining the lead on a layup from freshman guard Lester Quiñones with 9:39 remaining in the game, the Tigers never gave it back. They shot 58% from the field compared to the Knights' 40% in the second half. While UCF remained aggressive in its scoring attack, Memphis matched their offense.
A steal leading to a fast-break dunk followed by a three-pointer a possession later from freshman guard Darin Green Jr. gave UCF a spark; however, Thomas' offense was able to slow down any momentum UCF was building late in the game.
Despite a last-second three-pointer from DeJesus, the clock struck zero on the Knights, giving them their second straight loss. UCF is now 11-9, 2-6, while Memphis begins its winning streak once again — advancing to 15-5, 4-3.
Redshirt freshman guard Dre Fuller Jr. was on the court Saturday after missing the last five games due to a groin injury. Fuller started 11 of the 15 games he played in for the Knights this season, but found himself coming off of the bench with 9 minutes of playing time.
"We're getting his timing back and getting his conditioning back," Dawkins said. "He's a bright spot in our future and he's working his way back."
The Knights will travel to Tampa on Saturday as the War on I-4 continues against the University of South Florida (9-12, 2-6) at 4 p.m. at the Yuengling Center. UCF won the previous matchup on Jan. 18 at home, 55-54.