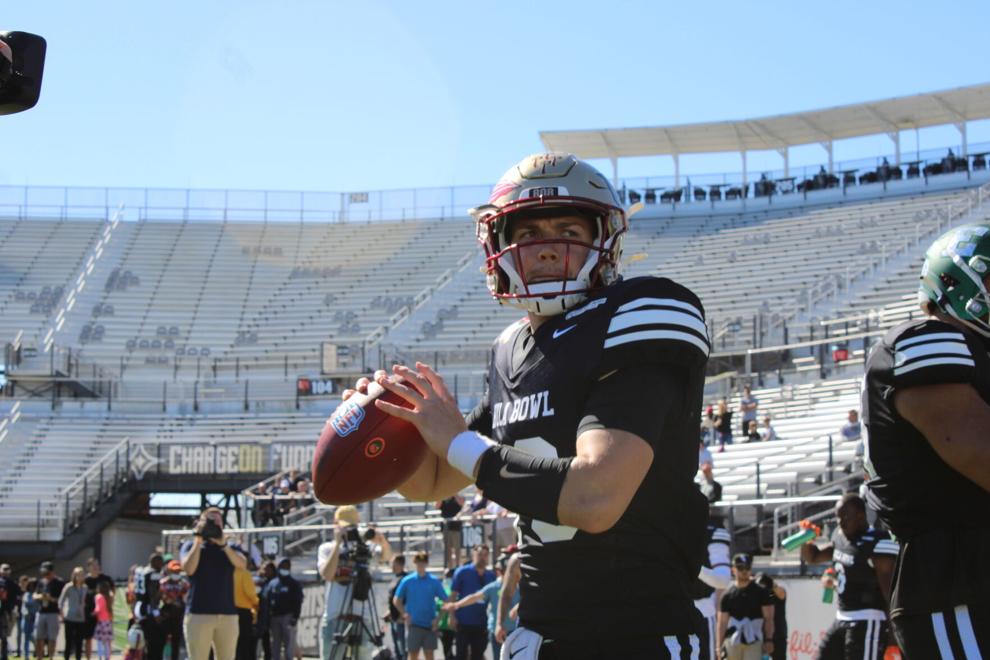 Former UCF quarterback McKenzie Milton's curtain call in Orlando was marked with a loss in the 2022 Hula Bowl on Saturday.
Team KAI slid past Team AINA to a one point, 21-20 win at the Bounce House. Milton and senior offensive guard Cole Schneider were the lone Knights to play in the matchup. Milton said although his team did not come out with the win, it was a good experience to end his collegiate career in Orlando.
"It was fun," Milton said. "I wish the outcome was a little different. It's hard to get in a rhythm when you're playing series by series, but it was fun." 
Four players ended the game with Most Valuable Player honors with two from each team.
Team KAI's offensive MVP for the game was Toledo running back Bryan Kobak, who ran the ball eight times for 130 yards and a touchdown. Team Kai's defensive MVP was was San Diego State cornerback Tayler Hawkins.
For Team AINA, their offensive MVP was Washington State wide receiver Travell Harris. Wake Forrest linebacker Luke Materson walked away from Orlando with defensive MVP honors.
Milton started the game for Team ANIA and played during the first quarter. The quarterback threw five completions on nine passes with 32 yards through the air. During Milton's drives, Schneider was with him on the offensive line.
After the game, Schneider said it was a surreal moment getting a chance to play in the Bounce House one last time.
Milton would eventually come back into the game for a couple more drives towards the end of the fourth quarter. He would try to lead a game winning drive with under two minutes remaining in the game, but his final pass was picked off by Virginia safety Joey Blount at the 1:34 mark. 
Schneider and Milton remained on the field after players from both teams cleared, signing autographs and snapping photos with Knights fans one last time.