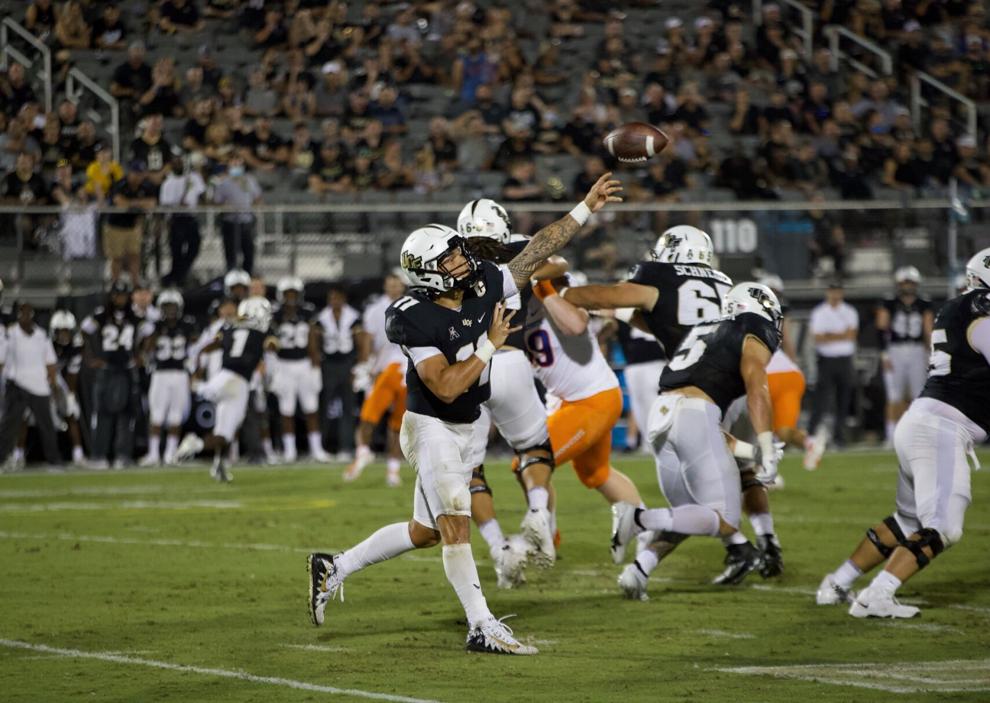 UCF has seemingly been plagued by the injury bug, with about 12 position players injured across 10 games this season.
Knights Head Coach Gus Malzahn said during a Monday press conference that he hasn't dealt with this amount of untimely injuries in one season throughout his coaching tenure. Even Malzahn himself was added to the list of injured Knights after fracturing his tibia while celebrating a win with defensive back Quadric Bullard earlier this month.
"I think it's been unique for everyone with everything that has happened and the injuries to key players," Malzahn said. "But hey, it's next man up: We've been saying that for a while."
NSM Today has compiled a list of known injuries among the Knights this season.
Gus Malzahn (fractured tibia)
Malzahn suffered a broken leg while celebrating a nail-biting 14-10 win against Tulane University on Nov. 6. During UCF's matchup against Southern Methodist University on Saturday, which saw the Knights defeated in a 55-28 conference loss, Malzahn coached from a raised platform for the entirety of the game due to his injury. Malzahn said he felt restricted on the platform and that the staff will evaluate other options for the last two home games of the season. 
"I'm not down there, and it was a tough deal to experience that: just being down there with my players (and) feeling removed," Malzahn said. "That was the first experience I've ever had in my life like that."
Dillon Gabriel (broken collarbone)
Everything seemed to change for the Knights' season when the junior quarterback broke his collarbone in the final play of a 42-35 loss to the University of Louisville on Sept. 17. The preseason Heisman hopeful completed 70 of 102 for 814 yards, along with nine touchdowns and three interceptions, before being sidelined due to a broken clavicle. 
In terms of career accomplishments, Gabriel ranks seventh in UCF history with 484 pass completions and sixth all-time with 7,223 career passing yards. He has recorded 11 games of 300 or more passing yards, ranking fourth all-time at UCF. He has also had two seasons of 3,000 or more passing yards, tied with quarterbacks Daunte Culpepper and Blake Bortles for the most in program history.
Malzahn said Gabriel practiced with the team for the first time this week and is continuing to improve in his injury status. 
"Really the first time that he's been out there with the offense and all that," Malzahn said. "We'll see how it goes day to day and week to week. We'll see what happens."
Bryson Armstrong (ACL-season)
Malzahn announced Monday the starting linebacker will be sidelined the remainder of the season due to a torn anterior cruciate ligament. The redshirt senior was injured during the Knights' conference matchup against SMU on Saturday. 
Armstrong has filled in needed defensive roles since transferring from Kennesaw State University. The former Football Championship Subdivision standout made an immediate impact upon joining the Knights, leading the defense with 77 total tackles, one sack and two pass deflections. Prior to coming to UCF, Armstrong left Kennesaw State with "13 single-game, season or career records, including (the) program's all-time marks in sacks (18.5), tackles (320), solo tackles (226), forced fumbles (5) and fumble recoveries (5)."
Kalia Davis (torn ACL)
UCF lost another starter to a season-ending injury when Davis tore his ACL on Oct. 9 against East Carolina University. The defensive tackle star recorded 17 total tackles, three quarterback hurries and one sack prior to the injury. The redshirt senior opted out of the 2020 season due to the COVID-19 pandemic.
During his sophomore season, Davis played in all 13 games, which included starting assignments at defensive tackle for the last nine games of the season. He recorded 27 total tackles and ranked sixth on the team with eight tackles for loss.
Isaiah Bowser (knee and ankle)
Bowser has dealt with both ankle and knee injuries throughout the season. The starting running back was sidelined with a knee injury against Louisville in the third quarter on Sept. 17. UCF's rushing attack has been stagnant in the wake of Bowser's injuries, resulting in sophomore running back Johnny Richardson being inserted into the starting lineup. Bowser missed two games against the United States Naval Academy and East Carolina before returning against the University of Cincinnati, recording 13 carries for 27 yards and one touchdown.
Bowser was sidelined once again when he injured his ankle in the Knights' matchup against Tulane University on Nov. 6, in which he amassed 14 carries for 54 yards. The 6-foot-1, 225-pound senior has accumulated 123 carries for 549 yards and seven touchdowns this season.
Bowser transferred to UCF in the spring after three years of playing for the Northwestern University Wildcats. Bowser accumulated 334 rushing carries for 1,300 yards and seven touchdowns across 23 games with the team. 
Jaylon Robinson (knee)
"Flash" Robinson has emerged as a primary target for UCF's passing attack since transferring from the University of Oklahoma. The electric downfield threat has missed most of the 2021 season after suffering a knee injury at Louisville on Sept. 17. Robinson made his return to in-game action Saturday against SMU, recording two receptions for 50 yards; his longest reception was a 28-yard dime from UCF true freshman quarterback Mikey Keene.
Before the injury, Robinson had 12 catches for 234 yards and two touchdowns on the season. Despite the unproductive season, Robinson had a standout sophomore year, earning 55 receptions for 979 yards with six touchdowns. He recorded "over 100 receiving yards in the first four games at UCF, tied for the second-longest streak in program history"; he also had "100 or more receiving yards six times on the season, which is tied for the third most at UCF and the most since Brandon Marshall in 2005." 
RJ Harvey (ACL- season)
The Orlando native and Edgewater High School quarterback transferred to UCF from the University of Virginia after deciding to redshirt his freshman year. Harvey has been out the entire year due to a season-ending ACL injury suffered during fall camp, according to the Orlando Sentinel. The redshirt sophomore has since had a successful knee surgery and should be available to compete next season, the Sentinel reported.
Harvey was a dual-threat quarterback product at Edgewater, where he "accounted for 48 total touchdowns, including 25 rushing touchdowns and 23 passing touchdowns in 2018." Harvey passed for 1,787 yards and rushed for 1,376 yards as a senior and was also 21-5 in his career as the Eagles' starting quarterback.
Derek Gainous (undisclosed)
The 6-foot, 190-pound defensive back had a solid junior season last year, playing alongside current NFL defensive backs Richie Grant and Aaron Robinson, as well as "finishing fourth on the team with 46 total tackles and adding one break-up, one forced fumble and an interception." Gainous, a Miami native, also excelled in the classroom, becoming the first Knight since 2015 to earn Academic All-District honors from the College Sports Information Directors of America. 
Bullard said Gainous' injury has resulted in more playing time for him, which has been key to his recent success on the field. 
"That's how football works," Bullard said during a recent press conference. "Man go down, next man up."