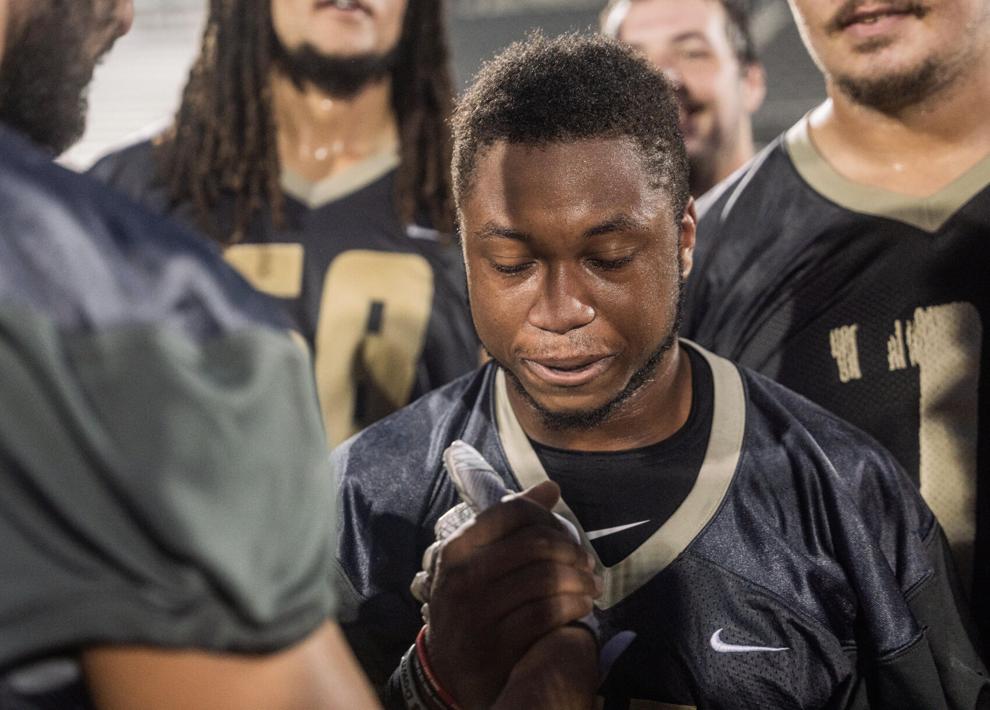 UCF's Trillion Coles sat in the football locker room on Saturday, waiting on a text message he's gotten from his mother since high school. 
Petrea Williams, Cole's mother, said the two have developed a special bond throughout their lives and have even created their own pregame ritual. Williams said she sends Coles the same message before every game: "Head up, Stay ready, and 'Make 'em Believers'." 
Coles walked-on the football team in 2018 but did not see much action playing behind a talented group of running backs, including Adrian Killins Jr., Greg McCrae and Otis Anderson. He then tore his Achilles tendon, which sidelined him the entire 2020 season.
Following a competitive fall camp and draining injury recovery process this year, Coles' hard work paid off on Saturday, as he followed his lead blockers and rumbled through Wildcats defenders to score the first rushing touchdown of his collegiate career against Bethune-Cookman University. He made Knights fans believers on Saturday. 
"The first thing I thought of was my mom," Coles said in a press conference after the game. "I know she was happy. I just pointed at her and thought about her."
He earned a scholarship two weeks ago & now has his 2nd TD of the game ✊@TrilColes puts us up 63-14 in the 4th 💸 pic.twitter.com/MzneJdRro8

— UCF Football (@UCF_Football) September 12, 2021
Despite Coles' recent success on the field, it has been his triumphant life journey that has sharpened him to handle adversities.
Coles is the only child to a loving and supportive single mother. Williams said she moved to the Orlando area to escape past drama and find a place that would be safe and have a positive impact on Coles.
Williams said it was one of the scariest moments of her life to move alone with Coles early in his childhood, and that she had to make numerous sacrifices for him to succeed. She said giving up her social life, going to every practice and parent-teacher conference, and taking Coles to 6 a.m. training sessions while working a full-time job was all worth it.
"Every unimaginable sacrifice that I've made was all for this moment," Williams said. "Just for him to get the opportunity for the world to see him, for Knight Nation to see him. He's my giant."
Williams signed Coles up for football at the age of 10. She wanted to challenge him early on the football field and chose to sign him up for pop warner football for the Winter Park Tigers. Coles would go on to earn the nickname "Trilly TD" in high school for his ability to score touchdowns.
Williams said she realized in his first game that Coles was a special player on the field, scoring a touchdown the first time he ever touched the football. 
"When he did that, the very first time he touched the ball...it was just something different," Williams said.
Coles was among three UCF student athletes who earned a walk-on scholarship two weeks before the 2021 football season on Aug. 27. The scoreboard read "You're on scholarship!," as the football team surrounded them with excitement. It had been a long time coming for Coles, having overcome such a devastating Achilles injury.
"It was difficult," Coles said about his rehab process. "Coming back from a ruptured Achilles is a big deal mentally, but I have people in my corner to help me, people who love me. They told me to just keep my head up, keep pushing, don't give up on my dreams, and that's why I'm here today."
Coles played all four years at Bishop Moore High School under Hornets Head Coach Matt Hedrick. In his junior season, Coles finished with 19 touchdowns and 857 yards; he rushed for 482 yards and seven touchdowns as a senior, according to UCF Athletics. 
Hedrick said Coles represented the Bishop Moore Catholic community extremely well and that he played an integral part for the Hornets in the 5A State Championship game in 2015.
"Trillion was one of the best players we ever had here," Hedrick said. "(He's) one of the best young men who I've ever had the privilege to coach."
Hedrick said he has a lot of pride and joy seeing Coles persevere and triumph over obstacles life has thrown his way.
"He's really an incredible young man," Hedrick said. "His spirit for life is pretty impressive. You can see that in the way people celebrated his success this weekend: it was pretty obvious how much people like him."
After high school graduation, Cole's mother said he received football scholarships from Division I schools such as Marshall University and Central Michigan University, but he chose to stay local in Orlando and walked-on at UCF. As a walk-on freshman, Coles didn't see the field that often. In his sophomore season, he rushed 33 times for 168 yards in seven games, as a running back and on special teams, and earned AAC All-Academic Team honors, according to UCF Athletics.
A muggy Saturday night against Bethune-Cookman led to Coles having the chance of his football career to show he was back and healthy. He had not seen real game action on the field since the Knights played in the 2019 Gasparilla Bowl against Marshall. 
Coles entered the game late in the third quarter as the third running back of the night to see action. On a 3rd & 6 at the BCU 15-yard line, Coles leaked out of the backfield nearly unseen, when UCF quarterback Dillon Gabriel found him in the end zone for a 15-yard touchdown pass.
"Coach always talked about trust," Coles said. "So, the fact that he trusted me to go out there and be able to do what I can do was just an unbelievable feeling for me and my family, so I thank him."
Coles finished the game with 78 yards on 11 carries, including a rushing and passing touchdown, according to UCF Athletics. He said he didn't know if he would play prior to the game, but he was always ready for the opportunity.
"You never really know," Coles said in a press conference. "During the week, you don't really know how many reps you're going to get in the game, or when they're going to need you. You just have to stay ready."
Knights Head Coach Gus Malzahn said in a press conference that after defeating Bethune-Cookman, the coaching staff has been impressed with Coles, and that his work ethic will earn him more playing time.
"Trillion Coles did a really good job," Malzahn said. "(He) went in there, caught the ball well, protected and made a lot of people miss." 
Coles has overcome a devastating Achilles injury, earned a football scholarship as a walk-on student to the school of his choosing, and has made the Dean's List. 
Coles has been spoken about by his mother and previous coach as someone who always remains humble through the ups and downs of life. Coles said in a press conference that his recent success hasn't changed anything about his mindset moving forward in life.
"It doesn't change anything," Coles said. "My mindset is still the same — the underdog. So, I just keep working."
An underdog with a mother who believes in him.