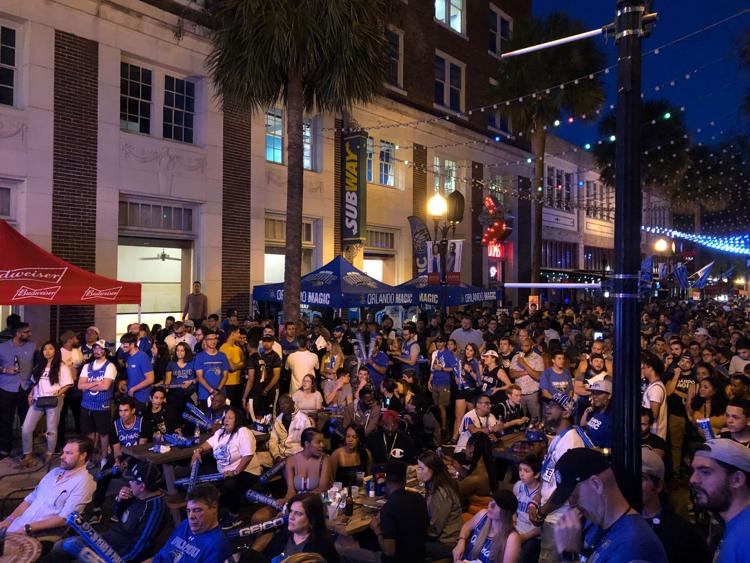 From the cheerful fans to the twinkling Wall Street Plaza lights, Downtown Orlando was jam-packed with blue and white Tuesday night as the Orlando Magic faithful gathered to watch Game 2 of the first round of the NBA Playoffs against the Toronto Raptors.
A DJ and cheap beer kept Magic fans in high spirits despite a 111-82 loss to the No. 2 seed Raptors, which tied the series at 1-1.
"I'm just happy the Magic made it to the playoffs. That's a good start. We're getting there," Orlando native and UCF senior hospitality major Travis Starke said. "Even if we don't make it all the way this year, we made it this far." 
Coming off of Game 1 where Magic point guard D.J. Augustin sank a late three-pointer to win the game and shock the Raptors, Orlando native William Carrasquilla, 19, said the Magic should keep three words in mind when going into the rest of the series: home-court advantage. 
"I would be mad if I lost at home," Carrasquilla said. "[The Raptors] worked hard in the regular season for home court, but they won't have it anymore. We got that Game 1 win out of the way – all we gotta do is defend home court. That's it." 
The series will make its way to familiar territory for the Magic Friday night, as Game 3 is set to be played at Amway Center. With the series shifting home, Orlando fans have an opportunity to be part of the team's first playoff berth in seven years. 
Jessica Lima, 32, has witnessed two playoff berths working for the Orlando Magic organization as a premium guest services representative for the past eight years.
Lima said she is excited and hopeful for this playoff series and owes it all to the one-of-a-kind energy exuded by the Orlando community.
"Once you get inside the Amway Center, you see the energy and how everything says 'playoffs,'" Lima said. "It's awesome. Orlando needs this. No one really ever supports the Magic, so it's actually really nice to see people out here now." 
Speaking of Orlando, fans said the sports scene has significantly improved over the last few years with success coming from most teams in the area. 
With the UCF men's basketball team's March Madness bid, UCF football's 25-game winning streak and the Orlando Apollos' single-loss record in the Alliance of American Football, it's not difficult for fans to say they exude so much pride in living in The City Beautiful. 
"For us being a part of this city, it don't matter how many wins you got or how many championships you got," Carrasquilla said. "As long as you represent Orlando in the best way possible, that's all that the city cares about."