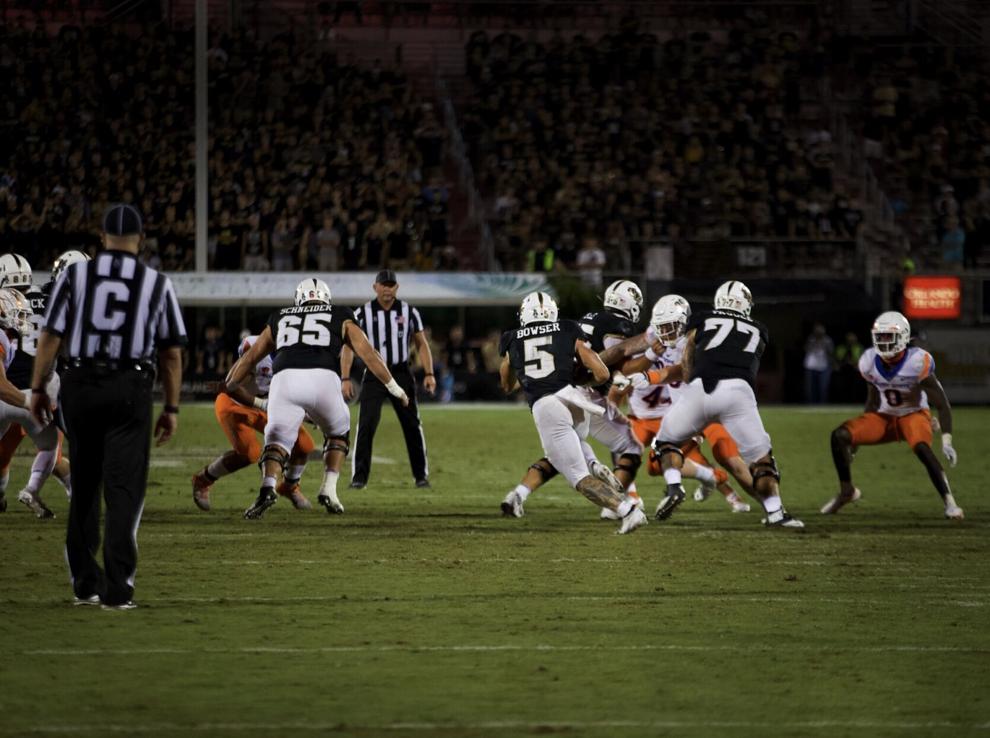 Isaiah Bowser rushed for 172 yards, scoring the go-ahead touchdown late in the fourth quarter to give UCF a memorable 36-31 victory against Boise State University on Thursday night.
"Stud," UCF quarterback Dillon Gabriel said when asked about Bowser. "That dude can run downhill. He's not your typical big back either — he can move."
It took the Knights two days to earn its first win of the season, but the "Gus bus" is finally rolling.
Despite a three-hour lightning delay, UCF matched the largest comeback in program history in a thrilling 21-point comeback victory.
"Our guys fought," Knights Head Coach Gus Malzahn said. "We beat a good team. That's a top 25 team - they'll win a lot of football games. Our guys came in and made plays."
Gabriel threw for 318 passing yards and four touchdowns, including 64 rushing yards on the ground. Gabriel connected with freshman wide receiver Titus Mokiao-Atimalala for an 8-yard touchdown to bring the Knights to a 10-point margin at halftime, 24-14. 
"The key play in the game or the key drive was right before half when we scored with 10 seconds left," Malzahn said. "It changed the momentum of the game. We went into halftime with a lot of confidence.
"We just talked about, 'Hey, let's go down the first drive in the third quarter, and if we score, we win this game.'"
UCF started the game with momentum on both ends of the ball, shutting down Boise State's first offensive possession. The hot start was quickly put out when Gabriel threw his first interception to Boise State cornerback Tyric LeBeauf, which turned into a 100-yard interception to give the Broncos a 7-0 lead. 
The Knights found themselves down 21-0 when Boise State quarterback Hank Bachmeier threw a 19-yard touchdown to wide receiver Khalil Shakir. A combination of bad tackling and not being able to get off the field on third down became disastrous for UCF early in the game. Malzahn said he was impressed with team leaders in the locker room at halftime.
"Our leaders, they willed us to win," Malzahn said. "They refused to let us lose. There were a couple of leaders that stood up at halftime and really challenged the guys and told them what we were going to do."
UCF got the ball to start the third quarter and continued to feed off first-half confidence. Gabriel threw an 11-yard touchdown pass to Tennessee transfer Brandon Johnson and found wide receiver Jaylon Robinson for a 21-yard touchdown to cut Boise State's lead to 28-24. 
The Broncos shortly regained a 31-30 lead, with eight minutes left remaining in the fourth quarter, when Gabriel threw his second interception of the game to LeBeauf. Malzahn said the team had to overcome adversity and mistakes, but he couldn't be more proud. 
"We made all kinds of mistakes out there," Malzahn said. "First game, especially when you're a new coach with a new team, we know there's going to be some things. I told our guys the key to this game is dealing with adversity.
"That's it. We're going to deal with adversity like champions. And they did that."
The Knights offense finished with 573 yards of total offense, with the defense giving up 283 total yards, including just 20 rushing yards. Kalia Davis, redshirt senior defensive lineman, said once the defense stopped the run and cleaned up the tackling, the game started to unfold.
"We thought that we were the more dominant team on the field, the more powerful team," Davis said. 
UCF will host Bethune-Cookman University in the Bounce House on Saturday, Sept. 11, at 6:30 p.m.
Davis said it felt good to have students and fans in the Bounce House this week and that they stuck around throughout all the weather delays. 
"That was love man," Davis said. "I really didn't know if they were going to stay, but seeing that many people there just shows how crazy our fanbase is."