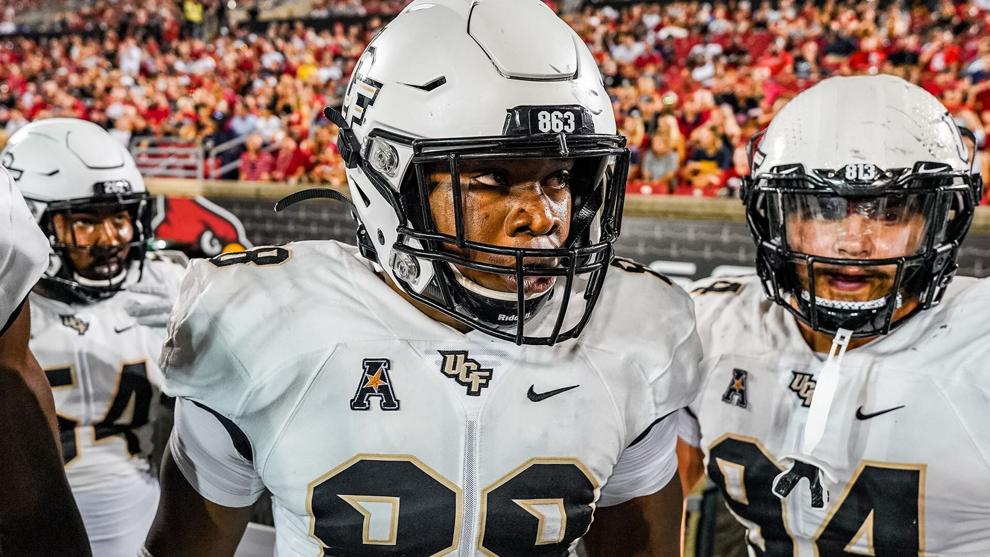 With 25 seconds left in the fourth quarter, University of Louisville quarterback Malik Cunningham had his throw deflected into the air. 
It fell into the welcoming hands of UCF defensive lineman Tre'mon Morris-Brash for an interception, giving the Knights excellent field position and a chance for quarterback Dillon Gabriel to seal the game at Cardinal Stadium. 
"We thought we were about to win it," said Samuel Jackson, Knights offensive lineman. 
On the very first play of the next drive, Gabriel threw an interception to Cardinals linebacker Jaylin Alderman, who took the ball 66 yards for the game-winning touchdown and a final score of 42-35. This was just one example of the drama that unfolded in Louisville, Kentucky, on Friday. 
UCF (2-1) got the ball rolling early with a score on its first drive of the game. UofL (2-1) went for it on fourth-and-one and turned the ball over at the 44-yard line, giving Gabriel the chance to throw a 41-yard touchdown pass to wide receiver Ryan O'Keefe after only 13 seconds of game time. 
Clock work. Dillon Gabriel to Ryan O'Keefe for 6 pic.twitter.com/JRdKv74N2n

— Joe Broback (@joebroback) September 17, 2021
The Cardinals answered back at the end of the first quarter, driving 94 yards down the field in 10 plays, capped off by a run into the end zone from Cunningham. In total, the Cardinals rushed for 105 yards in the first quarter. This was disappointing for a UCF unit that came into the game with the No. 1 rush defense in the country. 
With 14:22 to go in the second quarter, Knights wide receiver Jaylon Robinson caught a one-handed pass to reclaim the lead 14-7. It was Robinson's second touchdown of the season. Fellow wide receiver Brandon Johnson called the play "awesome". 
Jaylon Robinson snatched the ball out of the air 😱Touchdown UCF. pic.twitter.com/0Ev6wLv140

— SportsCenter (@SportsCenter) September 18, 2021
"It's nothing new," Johnson said. "He makes awesome plays like that in practice all the time." 
Five minutes later, the Cardinals scored again to cut it back to 14 after another long drive of 75 yards. With 22 seconds left in the quarter, the Cardinals took a 21-14 lead from a one-yard touchdown pass to Cardinals wide receiver Justin Marshall. 
At halftime, UCF had rushed for 44 yards, compared to UofL's 126. 
The coaching staff switched it up for the third tie of the night, with a trick play double-pass between Gabriel and O'Keefe. Gabriel tossed it to O'Keefe, and O'Keefe passed it back to Gabriel, who ran it in for the easy score. O'Keefe has some experience throwing a football from playing quarterback in high school. 
TRICK PLAY TDRyan O'Keefe to Dillon Gabriel 👀 pic.twitter.com/0YEnRTtgrm

— The Transfer Portal CFB (@TPortalCFB) September 18, 2021
The tie didn't last long as the Knights' defense continued to give up big plays, including a 25-yard pass to Marshon Ford to set up the Cardinals' touchdown, making it 28-21. UCF came out strong in the fourth quarter, tying the game again with a six-yard touchdown catch from Johnson.
Dillon Gabriel with the LASER to Brandon JohnsonUCF and Louisville are tied in the 4th quarter 👀 pic.twitter.com/PEyIS31i0h

— PFF College (@PFF_College) September 18, 2021
UofL tried to run a fake punt with 12:29 left in the quarter but were stopped a yard short. The stop was in vain, however, as UCF failed to take advantage of the field position. 
The Cardinals ran a trick play of their own with 9:15 left on the clock. Cunningham passed it to wide receiver Braden Smith, who found running back Trevion Cooley; Cooley had an open field to run through for the score. 
UCF/Louisville is off the railsLouisville HUGE trick play TD pic.twitter.com/awBH3lis2h

— The Transfer Portal CFB (@TPortalCFB) September 18, 2021
Gabriel responded with his third touchdown of the night, running it in for a six-yard score. This wasn't enough, however, with Alderman's pick-six crushing what would have been a well-earned away win.
W O O O W 🤯LOUISVILLE PICK-SIXpic.twitter.com/qy151LkEMx

— PFF College (@PFF_College) September 18, 2021
"Disappointed locker room, obviously," Knights Head Coach Gus Malzahn said in a press conference Friday. "I really believe this will be one of the defining moments of this year's team."
The Knights finished with 420 yards of offense, compared to 501 for UofL, after coming in with the No. 2 offense in the country. UCF was plagued by injuries throughout the game too, starting with the loss of running back Isaiah Bowser, who Malzahn calls an "impact player." Bowser has run for 231 yards since the start of the season, accumulating five touchdowns and an average of 5.1 yards per carry. 
The Knights had to dig deep in their talent pool to make up for his loss, highlighted by running back Johnny Richardson and former walk-on Trillion Coles, who missed all of last season with an Achilles injury. Richardson and Coles finished with 101 yards and 51 yards respectively. 
"It hurt not to have him (Bowser) on the field, but I feel like our guys stepped up to the plate," Jackson said. 
Other players who left the field due to injury include offensive lineman Matthew Lee, linebacker Tatum Bethune, defensive back Corey Thortnon and Robinson. Gabriel was also seen in a sling postgame.
With the win, UofL improves to 2-1 in all-time contests against UCF. Johnson said all they can do is take a look at the film and make corrections. 
"The past is the past," Johnson said. "All you can do is learn from it, so I think the best thing to do is keep the train moving forward." 
The Knights will take a bye week and regroup before heading to Annapolis, Maryland, to take on the United States Naval Academy Navy Midshipmen at 3:30 p.m. on Oct. 2.