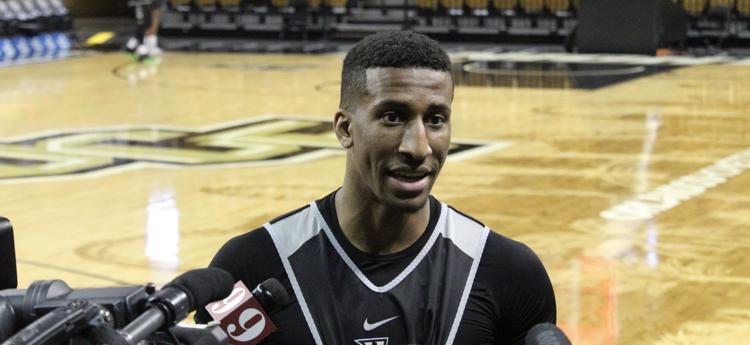 The UCF men's basketball team will have the opportunity to knock off the top team in the American Athletic Conference and the No. 12 ranked team in the nation — the Houston Cougars — on Thursday.
Houston (21-1, 8-1 AAC) has won five of the last six games against UCF (16-4, 6-2 AAC) and are 14-10 overall against UCF, according to a Wednesday press release from UCF Athletics.
Last year, the Cougars ended the Knights' season in the conference tournament. Houston's 84-56 win over UCF has not been forgotten and the team is motivated to not let it happen again. 

"It's been addressed," redshirt junior guard Aubrey Dawkins said. "The last time out against them, we lost. We want to get that taste out of our mouth. We want to beat these guys and play a good game." 
Going into the game, UCF is keeping an eye on Houston's three players who shoot 30 percent or higher from the three-point line.
Senior guard Corey Davis Jr. is leading the Cougars in scoring with an average of 15 points per game, while junior guard Armoni Brooks has the highest three-point percentage on the team shooting 39 percent from behind the arc.
UCF head coach Johnny Dawkins said that UCF's perimeter defense is going to be key to stopping Houston's shooters. 
"It's going to be important," he said. "Those guys are really good shooters, Brooks and Davis, but they have more guys ... that can step outside and knock down shots. We just need to be aware of where they are at all times because we know they're capable of making multiple threes at any game." 
Going into the game, Houston is the top team while UCF is the third best team in the conference. 
The last time that UCF defeated a top 15 team was in 2016 against the Cincinnati Bearcats, who were ranked No. 15 at the time.
Johnny Dawkins said he hopes for a great atmosphere and a strong turnout for the game against Houston. 
"We all need to take ownership of what we're doing here, not just our team and not just myself," he said. "We're going to do something special when everyone is involved and everyone sacrifices and gives us that type of support." 
Tipoff for Thursday's game against the Cougars is at 7 p.m. at CFE Arena.