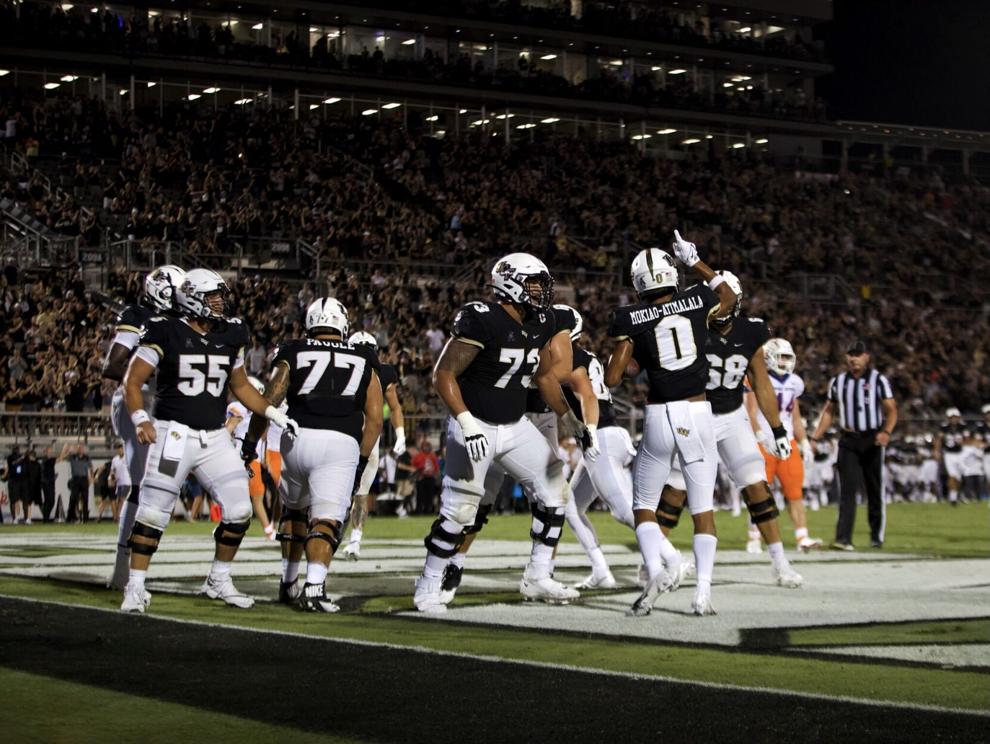 The Knights have a chance to correct early season mistakes, as they face Bethune-Cookman University at the Bounce House on Saturday. 
Knights Head Coach Gus Malzahn said in a press conference on Monday that the team knew mistakes were going to happen in the first game of the season, but improving week to week is the goal.
"Our guys played extremely hard, which was very encouraging, but we got to correct our mistakes," Malzahn said. "I just told our guys we've got to improve from game one to game two. That's our goal."
UCF, with a season score of 1-0, will host the Bethune-Cookman Wildcats, who have a season score of 0-1, on Saturday, Sept. 11, at 6:30 p.m. The Knights have a seven-game winning streak against the Wildcats, having not lost a match since Sept. 1, 1989, according to UCF Athletics. The two programs last met on Sept. 20, 2014, which was UCF's largest margin of victory: a score of 41-7, according to UCF Athletics.
Wildcats Head Coach Terry Sims has a record of 34-21 in his five seasons, according to BCU Athletics. Bethune-Cookman canceled its remaining 2020-21 athletic season because of the coronavirus pandemic and has won only one of its last five games, according to BCU Athletics. The Wildcats fell short in their 2021 season opener to the Miners of the University of Texas at El Paso, 28-38, on Saturday, according to BCU Athletics.
The Wildcats' offense is led by redshirt senior quarterback Shannon Patrick. Patrick passed for 215 yards with two touchdowns and one interception against UTEP, while running back Que'Shaun Byrd tallied 12 carries for 98 total yards on the ground, according to BCU Athletics.
"What stood out to me is they played UTEP close..." Malzahn said in a press conference on Monday. "They were flying around; they finished the game well. Offensively, I think they had three or four drives, and then they scored: they got stronger as the game went on."
Last week, the Knights rallied back to match a program-high, 21-point comeback against Boise State University, winning 36-31 in the Bounce House. UCF's defense gave up just 20 total rushing yards but allowed 263 passing yards, according to UCF Athletics. Knights Defensive Coordinator Travis Williams said the defense will look to clean up a string of mistakes, such as tackling in open space.
"We have to get better at tackling..." Williams said in a press conference on Sunday. "We have to tackle guys. When we get our bodies on them (and) when we get our hands on them, they have to get on the ground."
In his first game since opting out in 2019, defensive lineman Kalia Davis was named Defensive Player of the Week by the American Athletic Conference for his disruptive performance against Boise State. Davis finished with career highs of six tackles and three tackles for loss, according to UCF Athletics. 
"I've been trying to tell people about him," Williams said in a press conference on Sunday. "I call him 'gorilla': he just does stuff and he's so powerful... He doesn't say a lot, but when he's on the field and the ball is snapped, he's like a man possessed."
For the offense, UCF quarterback Dillon Gabriel finished 25/37 on pass attempts for 318 passing yards and four touchdowns. Gabriel threw only four interceptions last season but ended game one with two, including a 100-yard interception return, according to UCF Athletics.
"We got to clean up the turnovers," Malzahn said in a press conference on Monday. "If we hadn't had the turnovers, I think that would have been a different story."
The Knights' offense finished the season opener with 573 yards of total offense, according to UCF Athletics. Running back Isaiah Bowser stepped up for UCF's rushing attack, contributing 172 rushing yards and one touchdown.
"He reminds me of the turtle off of Mario Kart; he's (Bowser) a big dude," UCF wide receiver Jaylon Robinson said during a Sept. 3 press conference. "I love him. I'm glad to have him on my team." 
Despite the distractions that can come with winning a high-profile game, Malzahn said that it won't be hard for the team to shift focus to Bethune-Cookman because it's another week to get better.
"We learned a whole lot about our team the first game like we knew we would," Malzahn said in a press conference on Monday. "I told our team the other day that I think we got a chance to be a good team, but we got to improve."