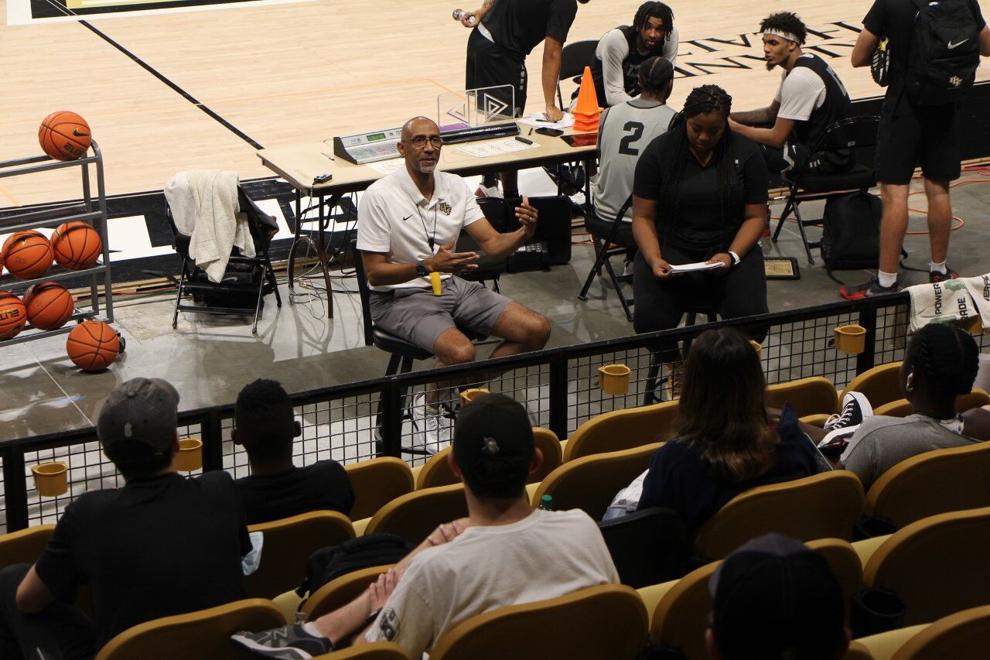 As sophomore forward Isaiah Adams went for a dunk, he was met at the rim by University of Nevada, Las Vegas transfer and redshirt senior forward Cheikh Mbacke Diong, who delivered a powerful block. 
The action was met by several oohs and aahs from members of Knightmare Society, who were in attendance for a members-only practice experience and Q&A session with Knights Head Coach Johnny Dawkins Tuesday. 
Knightmare Society is the official student donor program for UCF Athletics, giving students access to game day exclusives and secret events. Tuesday's event allowed students the opportunity to witness a basketball practice firsthand. The students also had the chance to speak with Dawkins at the end of practice.
Members got an inside look at Dawkins' relationship between him and his players, witnessing important moments in Dawkins' coaching philosophy of ensuring each player is living to their full potential.
"You need to value these possessions," Dawkins said, after noticing laziness on inbound passing. "You guys don't want to develop bad habits."
Toward the end of practice, Dawkins brought his players into a circle around the UCF logo. He told his team of Knights they are getting better every time, but they just need to show up every day.
"The coaching staff will always come prepared," Dawkins said. "I want the same from all of you." 
After practice was over, players, including fifth year guard Brandon Mahan, went over to the Black and Gold Club, an exclusive fan club for VIP ticketholders. Players sat around and expressed their gratitude for Knightmare Society showing its support. Chick-fil-A was served at the event for members, but players also made off with some food for themselves, including junior guard Tony Johnson Jr., who snuck away from the Black and Gold lounge after coming away with a heist of sandwiches for himself.  
Shortly after talking with other coaches about the practice, Dawkins joined Knightmare Society members in the Black and Gold Club at Addition Financial Arena for a Q&A session. Dawkins said the players feed off the energy of fans in attendance. He also said when players realized there were members of Knightmare Society in the stands at practice, he noticed a shift in how the Knights performed.
"Your energy and enthusiasm helps propel these guys to success," Dawkins said. "These guys are going to be committed to playing hard for you."
Even before taking his head coach job in 2016, Dawkins said he recognized UCF is a special place to be and that a bright future lies ahead for the university, both athletically and academically. 
"When I walked this campus, I knew it was special here," Dawkins said. "UCF has the chance to have a top 25 program and become a top 25 university. We are building something special here."
As the session concluded, Dawkins expressed his gratitude for Knightmare Society showing up and said he hopes to see the group again when the season starts.
Redshirt sophomore guard Tyem Freeman, a transfer from Indian Hills Community College, said he's ready for the upcoming season, including the opportunity to feed off the energy of the crowds. 
"We really appreciate you all coming out and showing support," he said. "It really gets us going." 
The Knights are set to kick off their season Nov. 10 in a home game against the Robert Morris University Colonials.