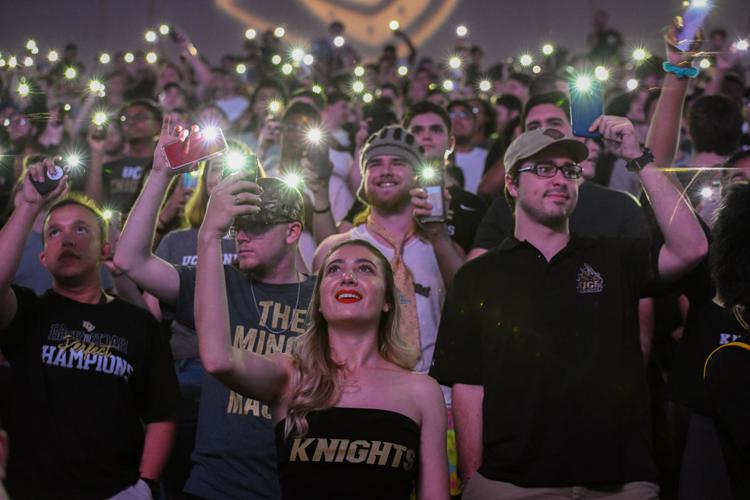 Spectrum Stadium is known as the Bounce House for a reason — Knights fans jump and bounce to the tune of Zombie Nation, causing bleachers to tremble and locker room doors to shake, giving the Knights a home-field advantage and fans a unique experience.
At Friday's football game versus the University of South Florida, whenever Zombie Nation would play, bright, strobing lights shining from smartphone flashlights illuminated Spectrum Stadium from all angles.
But instead of rocking the Bounce House, some fans were a bit more preoccupied with getting their phones out to set up the light show, according to comments made by UCF fans on social media.
"I thought it was too much work to keep getting my phone out for a 20 second effect," said UCF alumna Caitlyn Beersdorf in a Facebook post. "I'd rather be jumping, clapping and screaming."
Knight Lights, a feature on the UCF Gameday app, syncs fans' phones to music cues and was introduced at the beginning of the 2019-2020 basketball season. It was beta tested at the War on I-4 rivalry game on Friday.
This new fan engagement opportunity gives smartphones the option to join in on the fun when Zombie Nation starts playing using CUE Live technology, according to UCF Athletics. Phone flashlights and LED screens will sync subsequently once the app is opened after the cue the audience has been given.
"The basis of it is that it doesn't require any connectivity," said UCF Associate Athletics Director of Brand Advancement Jimmy Skiles. "It doesn't use bluetooth or wireless or any sort of cell phone signal at all. It just uses the microphone on your phone and it picks up the cues in the songs that sync the light to the light show."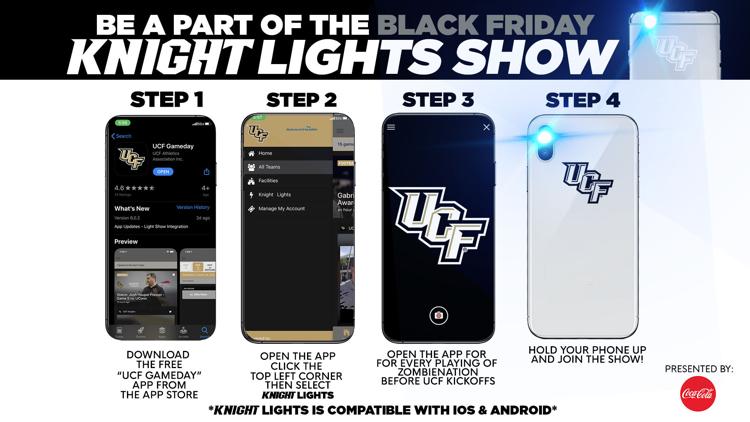 Skiles said 4,725 new downloads have been confirmed by the app provider in the last week. Despite the spike in recent downloads, he said the monthly fee required to maintain and use the program plays a huge role in whether or not Knight Lights will be implemented on the court and the field next season.
"This is not something that [UCF Athletics] committed to do for the future for football," Skiles said. "I'm not completely sold on it going forward for football. I think for basketball it can be awesome — basketball has those moments with the intro video where the lights go out and all that cool stuff."
Despite the lack of connectivity required for the app to function, UCF fans in attendance on Friday took to social media to express their concerns about the app's longevity at the Bounce House.
Skiles said he even asked his Twitter followers about their experience with Knight Lights, wielding mixed reviews amid an overall positive future for the app.
Did we like the #KnightLights show for Zombie or prefer the traditional method? pic.twitter.com/PuhaGKWDu8

— Jimmy Skiles (@JimmySkiles) December 1, 2019
Main concerns included the lack of ample time to physically get their phone to sync to the audio cues before the music started, lack of promotion prior to the game explaining how the feature works and lack of bouncing time during Zombie Nation because the audio cue and playback time wasn't long enough.
UCF alumnus Patrick Nurse said Knight Lights worked for him only once out of at least a dozen tries on Friday.
"My personal experience was less than stellar," Nurse said. "I work in [information technology], so I guess I have high expectations when a new product comes out. When it didn't work, I would just switch to my normal flashlight."
Nurse said he was also disappointed that this feature was tested on the last game of the season because it could have been a great addition to the football game day experience at UCF.
UCF alumna Liz Kelsey also said she would be sad to see Knight Lights done away with at football games because it definitely "upped the anti" and "added a level of excitement" during kickoff.
Kelsey said she and her friends were able to figure out how the program works early on, practiced navigating the app and appreciated the fact that it didn't require cell signal or suck the life out of her phone battery.
Once they figured out the timing of the high-pitched audio cues throughout the game, she said Knight Lights "worked without a hitch" as long as the app was open in time.
"For a beta test rollout, I was actually kind of impressed with the number of people who got it to work, especially without any sort of front-loading of information of exactly how it was going to work," Kelsey said. "I know there's a lot of frustration among some fans that it was an 'epic fail' and a lot of that comes with no one really knowing how it worked without going into it."
Skiles said UCF Athletics will discuss the future of Knight Lights in the coming months before football season starts again.
"We'll evaluate [if it's something we want to continue next year] in the off-season and figure out if we want to spend money on it again for the whole season or if we want to use it as a one-off or if we want to use it at all," Skiles said.
Fans will be able to light up the court with Knight Lights on Saturday when UCF men's basketball takes on the New Jersey Institute of Technology Highlanders at the Addition Financial Arena at noon.