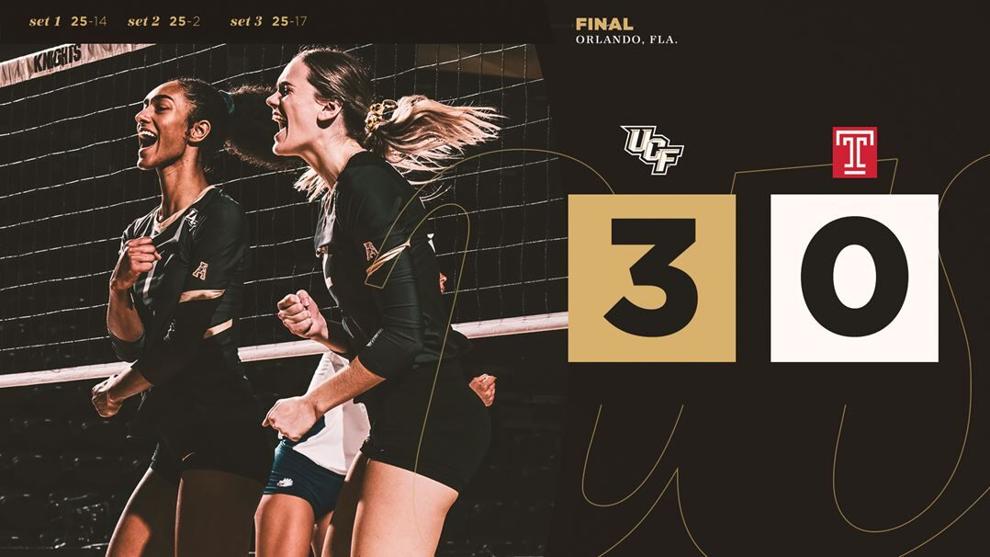 After facing off against the Temple University Owls on Friday the the Venue, UCF Volleyball was able to secure a 3-0 win and a share of the 2021 American Athletic Conference title on Senior Knight.
The win gave the Knights their fifth conference title and expands the team's winning streak to 13 games. Knights Head Coach Todd Dagenais said the win was a suitable way to mark the Knights' final match at The Venue this season, as well as say farewell to the team's graduating seniors. 
"You can't script a night like that," Dagenais said. "It was a fitting way to send off our seniors. I was proud of how our team responded to a pressure situation, with a chance to clinch at least a share, and set up a chance to win it outright in the next match."
In the first set, the Knights set off with a 3-0 lead. Halfway through the set, the Knights had a 6-0 run, resulting in an 18-7 lead. Before the end of the set, middle blocker Kathryn Wesolich was able to score additional points with a kill that was assisted by setter Amber Olson, securing the Knights a 25-14 set win.
Things began to get interesting in the second set, as the Knights started off with a 7-0 lead. From there, the Knights continued to dominate the Owls with a 16-0 run and ended the set with a gaping 25-2 win.
In the third set, the Knights started off with a 4-0 lead. Soon after, the Owls were able to make a comeback with an 11-9 score. However, toward the end, Knights middle blocker Nerissa Moravec was able to lock in a 25-17 win for the set with a kill that was assisted by Olson.
The final scores were: 25-14, 25-2 and 25-17. During the game, Moravec said she and her teammates were more concerned with having fun and sticking together, rather than leaving a legacy behind.
"I think it's awesome that we don't think about the records or the legacy we may leave behind, but we go out there, have fun and stay together," Moravec said. "That has helped us reached those accomplishments. This was a good piece of closer to be able to do that for our fans, each other, family and our support systems.
"It is a great feeling to be able to do that together."
Up next, the Knights will face off against the Tulane University Green Wave at the Avron B. Fogelman Arena in the Devlin Fieldhouse on Wednesday at 7 p.m.