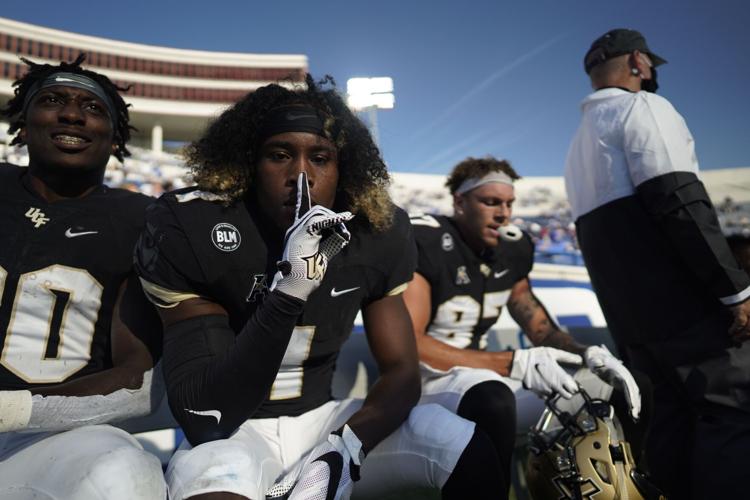 Jaylon Robinson returned home in a Halloween victory over Houston in front of his family and friends.
Robinson was productive immediately, hauling in a 49-yard pass from quarterback Dillon Gabriel on the second offensive play for UCF.
For the Fort Worth, Texas, native it was another showcase for the man they call "Flash."
In this case, not a superhero, but an athlete with the one quality that personifies the Knights offense: speed.
"I knew J-Flash was from here because he asked for all my tickets like six weeks ago, before the season even started," running back Greg McCrae said after the Houston game.
Robinson has been one of Gabriel's deep threats this season, with 709 yards on 37 catches, routinely flying past corners for big gains. This was seen on Sept. 26 against East Carolina, when Gabriel connected to a wide-open Robinson for a 64-yard trip to the end zone for Robinson's first touchdown. Robinson is seventh in the nation in yards and sits behind teammate Marlon Williams for the yards crown in the AAC.
A four-star recruit from Rivals, Robinson yielded offers from schools such as Baylor and Georgia before committing to play for Lincoln Reilly's Oklahoma Sooners in 2017.
One could see the fit, as Robinson was joining a receiving corps that included Marquise Brown and CeeDee Lamb. Both Brown and Lamb went on to become first-round picks in the NFL Draft for the Baltimore Ravens and Dallas Cowboys respectively.
However, after a freshman campaign saw Robinson appear in only four games, he entered the transfer portal in 2019. That decision brought Robinson to Orlando, where he credited God's plan for getting him here.
"I love it here," Robinson said in a press conference on Wednesday. "It's actually a dream come true. God put me here and I appreciate everything for that, because I didn't think I'd be in the position I'm in now."
Upon the transfer, Robinson had to sit out a full season per the NCAA's transfer rules. Despite not being able to play, Robinson said he learned a lot from watching other receivers like Gabe Davis, now receiver for the Buffalo Bills.
"It's always hard not playing and watching. You know, it hurts. I'm a ballplayer, I love football and I've wanted it since I was born," Robinson said in a press conference on Oct. 19. "A few positives I could take out of it, is that I learned from Gabe. I learned from watching this offense. This offense is pretty different, so watching the older guys do it and at practice, learning how they run routes and learning how to break out of our routes and the way we do things, it actually helped me this year."
Robinson's love for football came from his dad, who played cornerback at TCU. His dad would play a big role in deciding where Robinson would end up playing high school football.
Robinson attended All Saints' Episcopal School, starring on a Saints team that went 11-1 in 2017 during his senior season. Robinson was a force on head coach Aaron Beck's offense, catching 65 passes for 1,078 yards and 18 touchdowns.
Beck said a member of his coaching staff played with Robinson's dad, Dana, and helped facilitate Robinson's move from Paschal High School to all All Saints' Episcopal.
"I had seen some highlights of offseason workouts and some games he had played as a younger athlete," Beck said. "And man, there's certain things kids have that you can't coach. That's height and speed, and Jaylon's natural football ability you could see very early on. When the opportunity came open that he could join our school, coming from the program where he did into ours, and the time that he hit it, it was just a really good fit."
Beck said besides his physical traits, what stood out to him was the unselfishness and maturity Robinson had as a younger athlete.
"Out on the field, he's really unselfish," Beck said. "And that's what impressed me the most about the kid, even more so than his athletic ability, because sometimes when guys are extremely athletic, they turn into 'me monsters' and he was not that at all."
That unselfishness carried over to his teammates, where Beck recalled Robinson helping another receiver on the team learn how to block, so it would help his teammate's recruitment.
Coming over from public school to private school, Beck said Robinson was nothing but humble for the opportunity to play for a winning program, something Beck said he did not get to do at Paschal.
"He and I were driving back from practice one time during August," Beck said, "and we got out and he goes, 'Hey coach, I want to thank you for the opportunity. I want to thank you for the chance to come over to All Saints. I just want to say, I really do appreciate you, man.' And so, you'll give people the shirt off your back when they're grateful and thankful, and while he's got some swagger to him, it's good swagger."
Beck compared Robinson to a "basketball gym rat," where he said he could always find Robinson on a field working, regardless if it was the weekend or not.
"Always working on his game and his hairdos," Beck said. "It seems like I remember him you know, always liked to put a lot of time into his hair as well."
Playing in one of the nation's most prolific offenses, Robinson said he loves the up-tempo style and that everything he's done this year has blown him away.
"With my stats, I didn't think I would have the stats that I have right now, just because of the depth," Robinson said. "I didn't think they would trust me yet, but I've built a lot of trust and they gave me a lot, putting a lot on my plate now and I'm running with it."
Robinson has seen a bond grow with fellow Texas native, Ryan O'Keefe. The fellow wideout said it was awesome for them both to have the chance to play in their home state.
"Me and Flash, we are like really close," O'Keefe said after the Houston game. "This was an exciting moment for us to come back home and play, like we call this the homecoming game because it's our home state. So yeah, we were battling for tickets. We were blowing up our teammate's phones trying to get extra tickets for our families and everything. It was surreal."