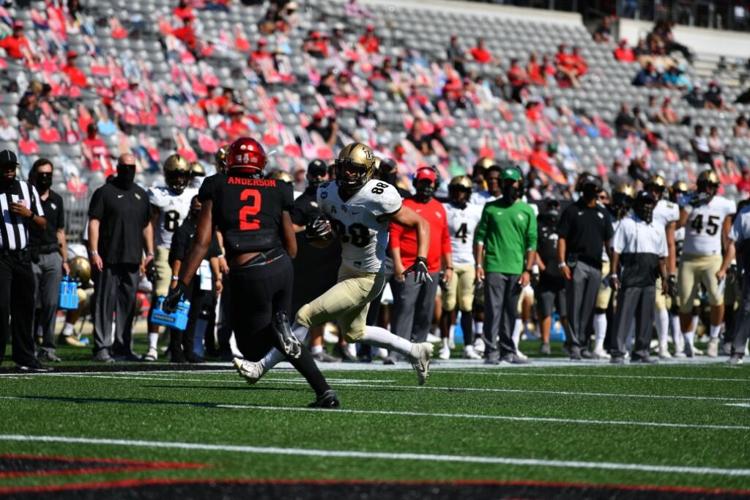 Redshirt senior tight end Jake Hescock announced Tuesday via a Zoom press conference that he will be returning next year with his additional year of eligibility granted by the NCAA.
Back in August, the NCAA's council members agreed to grant all football athletes an extra year of eligibility due to the impacts of COVID-19.  
"I don't think I'm quite ready to hang it up yet," Hescock said. "If I can keep playing, I'm going to try and exhaust every out that I can, so that's my plan for now."
Saturday was senior night at UCF, as the Knights hosted the Cincinnati Bearcats. Before the game, there was a small ceremony for the seniors, but noticeably absent from that was Hescock. 
The former Wisconsin transfer who has primarily been used as a pass blocker in his time at UCF, has seen his role expand on the offense this season. Hescock has hauled in eight receptions for 48 yards and two touchdowns this season.
Co-offensive coordinator Alex Golesh made an emphasis on involving Hescock more in the offense this year. Hescock attributed part of his decision to his conversations with Golesh. 
"Golesh got the chance to sit down with me and say his plans for next year and this offseason, what kind of work we're going to put in for my game, especially the things I need to work on," Hescock said. "It was really exciting to hear that." 
Hescock has been challenged by the coaching staff to step up as a leader this year for the offense and the tight end room which includes underclassmen Alec Holler, Jordan Davis and Tony Forrest Jr.
"I just keep challenging him to not get complacent and to continue to bring other guys along with him," Golesh said. 
Hescock has accepted that role and is looking to continue on it next season. 
"It gives me the opportunity to kind of leave a legacy with those guys, help them figure out how to get things done, the process of being a college football player," Hescock said. "If I can stay and pass that along to those guys and get another year under Golesh and grow, that sounds good to me." 
With the opportunity to play one more year, Hescock looks to leave it all out on the field. 
"Hopefully I create some more memories next year," Hescock said.