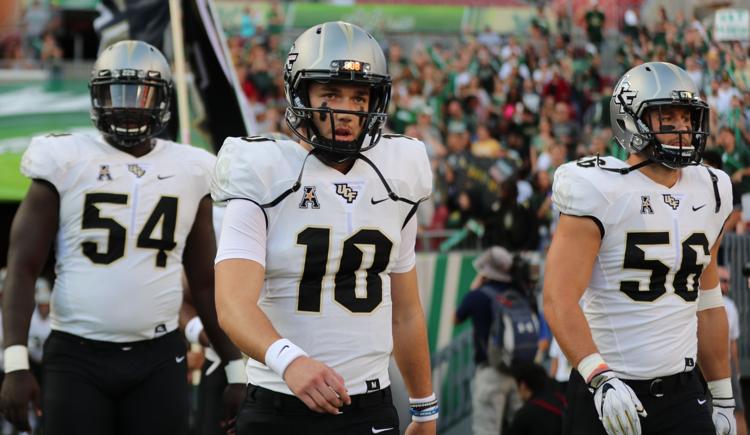 With a career 630 passing completions and over 8,000 passing yards, injured quarterback McKenzie Milton said his game knowledge is helping him to connect with the new quarterback prospects for the 2019 season. 
"I'm one of the guys in the QB room that has played the most snaps," Milton said. "I don't think you can simulate that kind of stuff."
After a devastating knee injury during the game against the USF Bulls in November 2018, Milton is helping the team by taking on a coaching role while recovering from his injury. 
"He has a really calm demeanor and presence when coaching those guys," UCF head coach Josh Heupel said. 
During the War on I-4 rivalry game, Milton tore two ligaments in his right knee and was carted off the field.
Milton said he is two months out of his last surgery and is able to put about 75 pounds of pressure on his leg. He said he hopes to be walking with just a brace and to be fully weight-bearing by the end of April. 
"This injury has been best-case scenario," Milton said. "I only tore two out of the four ligaments — usually when you dislocate your knee you tear everything — that's a blessing in itself." 
Milton said getting back on the field is the goal, but he is taking recovery day by day.
"I'm trying to get as strong as possible in every aspect of my body, not just my knee," Milton said. "Upper body, core, everything, [especially] mentally. I think that's the most important thing, being mentally right when I come back."
Milton said although everything happened quickly the day of his injury, he remembers people praying over him and said it meant a lot. 
"The way Orlando rallied together has been very cool and I think it's only up from here," Milton said.
The players have gotten to see Milton in a new role during his time off the field, even though they have looked up to him as a leader for a while.
"McKenzie has always been a coach on the field, even when he was playing," junior wide receiver Gabriel Davis said. "He's one of the smartest QB's I've been around."
Milton said he still has, and probably always will have, a desire to play football.
"It's going to be a long, slow process," he said. "I think with all things considered, I'll make a full recovery and hopefully be back on the field."
Milton said he will continue to help the team as he recovers and looks forward to the Spring Game on April 13 at 2:30 p.m. at Spectrum Stadium.