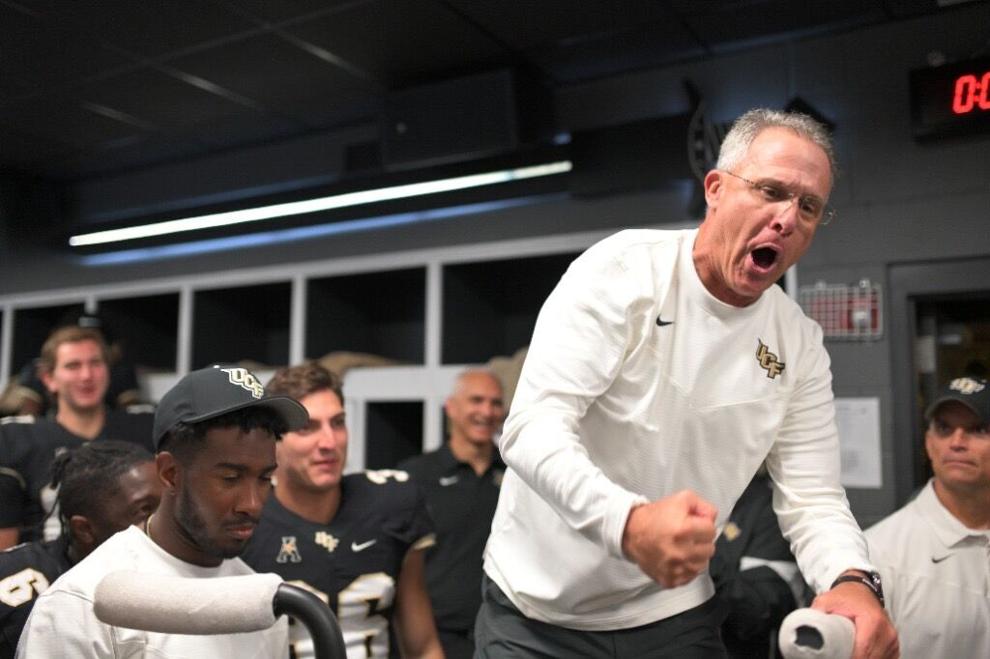 UCF Football head coach Gus Malzahn made a splash in the transfer portal on Wednesday, landing commitments from senior offensive tackle Ryan Swoboda and sophomore wide receiver Kobe Hudson.
Swoboda, who transferred from Virginia, announced his commitment to UCF on Wednesday via Twitter.
BOOM! Let's do this Knight Nation! #ChargeOn @UCF_Football @CoachGusMalzahn @CoachHand pic.twitter.com/4WMIspWETh

— Ryan Swoboda (@ryan_swoboda) January 12, 2022
"Thank you to Penn State, Miami, FSU, Mississippi State, and every other school that recruited me during this process," Swoboda said on Twitter. "With that being said, I will be returning home to the University of Central Florida."
Swoboda played in 44 games at offensive tackle for Virginia. The 6-foot-10, 325-pound linemen blocked on an offensive line that helped the Cavaliers average 515.8 yards of total offense, the third-most of an FBS program this past season. 
Swoboda is ranked as the No. 21 overall best available transfers in the portal, according to The Athletic. He is the second offensive lineman this offseason to transfer to UCF, joining Jacksonville State transfer redshirt sophomore Tylan Grable, who earned FCS All-American honors following the 2021 season.
Shortly after Swoboda's transfer, Hudson, a former Auburn Tiger, announced his commitment to UCF on Wednesday via Twitter.
🌴🌴🌴🌴 pic.twitter.com/w7H6mBCrf7

— Kobe "BIG5" Hudson (@GoLiveK5) January 12, 2022
He was dismissed from Auburn on Jan 3. for unknown reasons. 
Hudson racked up 44 catches for 580 yards this past season, leading Auburn in both categories. His four receiving touchdowns was also tied for a team-high. Hudson was viewed as the No. 19 ranked receiver in the country for the 2020 recruiting class, according to 247Sports.
The two newest members of UCF joined other recent offseason additions in freshman linebacker Terrence Lewis and junior quarterback John Rhys Plumlee.
Lewis took to social media on Jan. 3 to announce his transfer from Maryland to UCF.
LIKE RIGHT NOW TODAY ! #TripleL #OpaLockaBaby pic.twitter.com/MThSIg4cmU

— TerrEnce Not TerrAnce (@lewis_t2) January 3, 2022
"Blessed with this second opportunity, I'd absolutely love to thank Travis Williams for never giving up on me and still believing in me," Lewis said on Twitter. "Gus Malzahn thank you Coach, for accepting me. I can't wait to make the team better. Thank you UCF." 
Lewis was the No.1 linebacker in country and No. 21 overall prospect coming out of high school in 2021, according to 247Sports. 
Lewis entered the NCAA Transfer Portal at the end of November after not appearing in a game at Maryland due to a torn knee ligament that required surgery to repair. He has four years of eligibility remaining and can play right away for UCF.
Plumlee announced his move from Ole Miss to UCF on Jan. 9 via Twitter.
Go Knights! #G10rytoGod pic.twitter.com/p1PQsl70FB

— John Rhys Plumlee (@PlumleeJohn) January 9, 2022
Plumlee had 201 receiving yards in 2021, and saw time in 2019 as the starting QB at Ole Miss. He also played baseball last year with the Rebels, where he started in 18 games, hitting .267 at the plate.
At quarterback, Plumlee started eight games in 2019, throwing for 910 yards and four touchdowns. He also rushed for 1,023 yards and 12 touchdowns.
Plumlee will join a UCF quarterback room that features freshman quarterback Mikey Keene, redshirt freshman quarterback Parker Navarro, junior quarterback Joey Gatewood and freshman quarterback Thomas Castellanos. Plumlee looks to make an impact on the football field and on the diamond for the Knights.
Out of the new transfers, Hudson is the latest of six to announce their intentions to come to UCF since the season ended, joining Swoboda, Lewis, Grable, Kentucky sophomore linebacker K.D. McDaniel and Austin Peay graduate student defensive back Koby Perry.