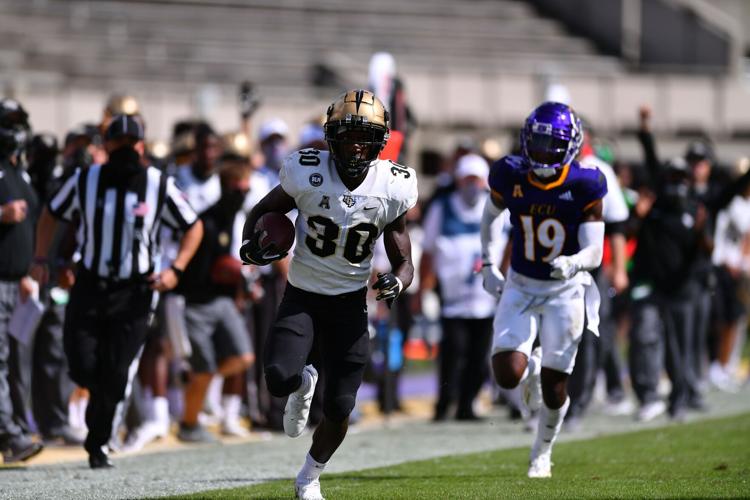 From walk-on freshman to making UCF history, running back Greg McCrae relished his opportunity to suit up this 2020 football season.
Originally a Navy football recruit out of Miramar High School in Miami as an ESPN three-star player, McCrae walked on to UCF's football team in 2017, appearing in all 13 games at running back and on special teams as a freshman, according to UCF Athletics. He totaled 151 yards on 26 carries with two touchdowns.
McCrae saw all his work pay off when he received a scholarship months prior to the start of his sophomore season in 2018. He responded that year by being the first Knight to rush for 1,000 yards since former running back Storm Johnson in 2013. He led the Knights in rushing yards-per-game, yards-per-carry and rushing touchdowns.
Fast-forwarding to his senior season, McCrae is UCF's career record holder with a yards-per-carry average of 7.2 and tenth all-time with 19 career rushing touchdowns.
"His consistency in who he is and how he approaches every day is the number one thing he brings to the table," UCF Head Coach Josh Heupel said on Monday.
McCrae said his teammates, dating back to former linebacker Shaquem Griffin and former wide receiver Tre'Quan Smith, are the ones to credit for his growth while in the program. Griffin and Smith are both on NFL rosters today. McCrae also mentioned redshirt senior quarterback McKenzie Milton as part of that core of players.
"They've helped me out so much," McCrae said on Wednesday. "They've been there for me every step of the way, as a team, the coaches, the training staff, they've all been there for me. They've basically helped mold me to the guy that I am now."
In the season opener at Georgia Tech, McCrae recorded 50 rushing yards and a touchdown before being prematurely taken out of the game due to injury. He was able to return for the second game at East Carolina as the go-to running back, leading the team with 83 rushing yards and 16 carries as well as adding the first touchdown for UCF on a 1-yard rush.
"He's got a great skill-set," Heupel said. "He understands what we are doing, but in that way, he's providing great leadership for the running back group, but also for our offense in our football team every day that he's been a part of our program. I think that's why, you know, a guy that gets nicked up in week one is able to bounce back in week two and play the way that he did this past Saturday."
First year co-offensive coordinator Alex Golesh said the quality that strikes him the most about McCrae is his ability to stay calm and collected in "chaotic" situations. He said in a running back group where there are a lot of different personalities, McCrae's calm demeanor helps other players stay calm and that his personality resembles that of Anthony Tucker, co-offensive coordinator and running backs coach.
With McCrae being a walk on, Golesh said he has had to earn everything he's gotten from the moment he stepped foot on campus.
"I think any time you can get a guy that comes in and literally earns his stripes and comes up the rough side of the mountain there a little bit," Golesh said on Wednesday. "I think the guys respect the heck out of him."
McCrae said after getting the first game at Georgia Tech out of the way, the team's focus became to go 1-0 every week. 
"Honestly, Georgia Tech, I was so excited just to get out there," McCrae said. "My first job, I was honestly exhausted cause I was just rushed with adrenaline just being able to be out there and just run around."