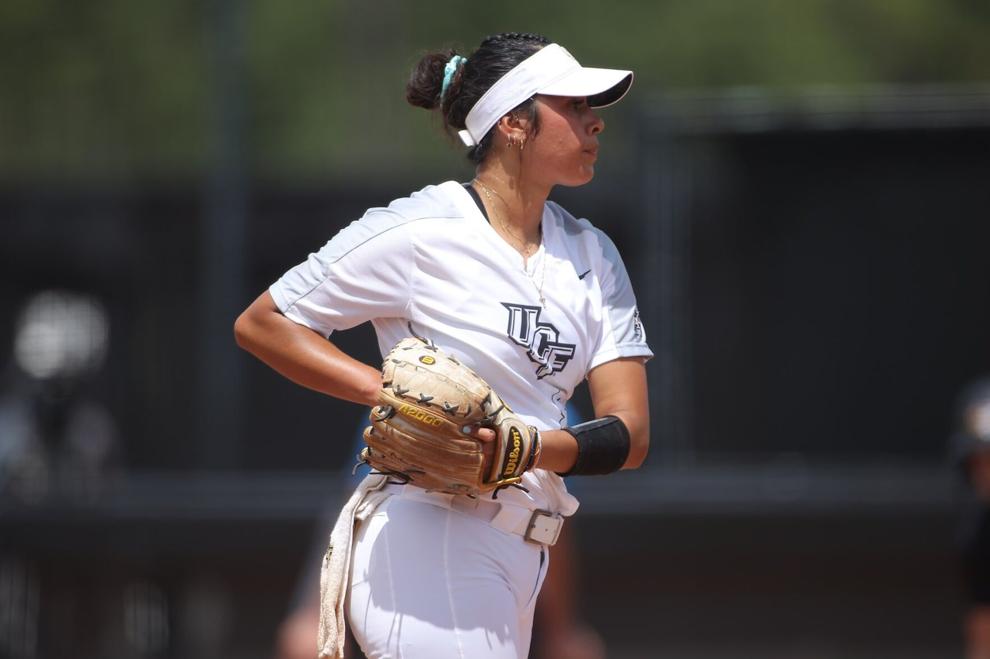 With eight strikeouts under her belt, senior righty Gianna Mancha was one out away from her second career no-hitter.
After giving up a walk in the sixth inning, Mancha was able to get her 18th and final out to secure the win and no-hit performance against Furman on March 19.
Mancha became the fourth UCF softball pitcher of all time to throw two or more no-hitters, joining UCF Hall of Famer Allison Kime, as well as Shelby Turnier and Mackenzie Audas.
"It's awesome," Mancha said in a postgame press conference on March 19. "I'm honored to be a name thrown in with them."
During her no-hitter, Mancha silenced the Paladins with eight strikeouts, and the Knights gave their starting pitcher plenty of run support. UCF scored eight runs on eleven hits and ended Mancha's no-hit outing by the run rule in the bottom of the sixth.
Seeking guidance from head coach Cindy Ball-Malone and her teammates, Mancha said she feels more confident than she ever has in her outings with a 16-3 record this season.
"I feel great, you know all through summer I worked with Coach Bear and then all fall," Mancha said in a postgame press conference on April 8. "Especially going head-to-head with Kama and Kate, Grace, Ang, and they're just making me better every single day."
Redshirt senior righty Kama Woodall said she models her pitching style after Mancha. After every outing, they review what works and what doesn't.
"We always discuss what her plan was and how she was successful the game before, and that impacts how our plan goes the next day," Woodall said in a postgame press conference on April 9. "But when you see someone get their job done consistently, it fires you up to get your job done as well."
With three series left in the regular season, Mancha leads the team in the strikeout column with 137 and is on track to have a new career-best compared to 139 punch outs last season.
In high school, Mancha went 17-4 with a 0.73 ERA during her senior year at Central High School in Fresno, California, maintaining a .478 batting average as a hitter as well.
With her impressive high school career translating deep into her college performances, Ball-Malone said she recognizes what makes Mancha stand out from the rest.
"I mean, she makes the ball dance, makes it wiggle," Ball-Malone said in a press conference on March 19. "That's why Gianna is good because she can throw all the pitches, and when something's on, she can run with it, and she mixes speeds."
Mancha tossed her fifth complete game shutout this season against Memphis on April 8.
After the game, sophomore Jada Cody said they connect well together every time Cody is behind the plate catching. The duo held Memphis to three hits while Mancha fanned six.
"Knowing that this is her last year and everything that's finally coming together, I think this is literally the best year so far," Cody said in a postgame press conference on April 8.
In her last start on April 14, Mancha pitched another gem against ECU, shutting out the Pirates in a one-hit, dominant effort.
The Knights are currently undefeated in conference play at 9-0.
While holding her opponents to a .165 batting average, Mancha said she relies on UCF's offense to seal the deal. The Knights have backed her up so far as they sit top 20 in the nation with a .403 on-base percentage as a team.
Just like the Knights did in Mancha's no-hitter, she said anything is possible when her teammates are hustling to protect their pitcher.
"I think any pitcher can speak to that, it's good to have a lot of run support," Mancha said in a postgame press conference on March 19. "And you don't feel like you need to tense up and throw plate pitches, I love it."