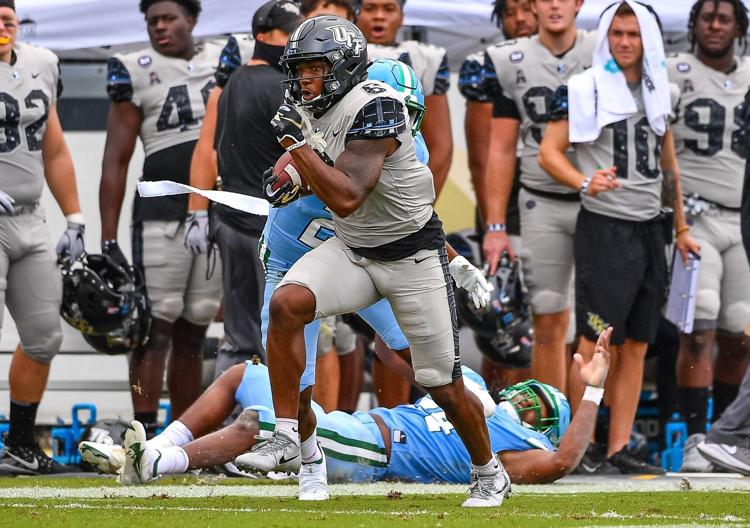 Dillon Gabriel found Marlon Williams for a 54-yard touchdown to give UCF a 10-7 lead against Tulane on Saturday. 
It was the first of three touchdown connections for the quarterback-receiver duo, a sight familiar to UCF fans this season.
After the 51-34 victory over Tulane, Williams said it is very fun to be playing with Gabriel.
"It's actually really fun," Williams said. "He's a young guy, but he's very mature for his age. The growth he had from last year to this year is amazing and he can only go up. It's a pleasure playing with him."
That growth from Gabriel has vaulted him to the top of the FBS leaderboard in a number of categories. 
Gabriel is first with 2,178 passing yards and 19 touchdowns this season. With five more touchdown passes against Tulane, Gabriel became the first UCF quarterback to throw for five or more touchdowns since Darin Slack in 1987. 
Earlier this year, Gabriel became the first UCF quarterback to throw for 400 yards plus in back-to-back weeks. As such a trend with Gabriel, every game sees a UCF passing record fall to the wayside. 
UCF's Dillon Gabriel is averaging 461 yards per game through 5 games in 2020.The NCAA record is 474.6 yards per game by David Klinger of Houston back in 1990; he had 11 games.

— Mike (@MDKnight2016) October 25, 2020
UCF receiver Ryan O'Keefe said Gabriel is the best quarterback in college football.  
"Dillon puts it in the perfect spot every time," O'Keefe said. "You know, like he's one of the best quarterbacks, if not the best. In my opinion he's the best in college football. But you know, it's a blessing being able to work with him every day."
Only 18 games into his UCF career, Gabriel finds himself chasing the all-time Knights' passing record.
Gabriel currently sits sixth in yards by a UCF quarterback with 5,831 and fifth in touchdowns with 48. Atop those lists is Ryan Schneider, who put up 10,976 yards and 82 touchdowns from 2000-2003. 
The sophomore Gabriel will look to shatter both those records before his time is up in Orlando, as he's eligible for at least one more year as the man under center.
Despite the records, Gabriel said none of it matters, and he is only focused on winning. 
"I don't ever care about any stats that have anything to do with that," Gabriel said. "It's just finding ways to win and that's all I care about. I want to be there for my teammates, be able to do the best I can to win. That's my main goal and forever will be."
After a nine-catch, 174-yard and three touchdown performance in the win against Tulane, Williams now leads the FBS in receptions with 54 and yards with 753 through five contests. Williams surpassed his numbers from last year, where he served as the third option behind Gabe Davis and Tre Nixon. 
With Davis off to the NFL and Nixon sidelined due to injury the last four games, Williams has become the focal point of the nation's number one offense in his senior season at UCF.
"I knew what I was capable of, my coaches knew what I was capable of," Williams said. "It was just a matter of the right time you know, I mean it's just amazing. I'm glad and I'm thankful for the season I'm having. I just got to keep building on it."
Williams sits 12th on the all-time receiving list for UCF, 774 yards away from catching the all-time leader and current New Orleans Saints receiver, Tre'Quan Smith. With at least four games remaining and a potential bowl game, Williams will have to slightly exceed his current pace of 151 yards per game to catch Smith's record.
However, Williams is in striking distance of catching Davis' single-season record of receiving yards with 1,241. Davis, the 2020 fourth-round pick by the Buffalo Bills, set the record last season in 12 games. 
UCF head coach Josh Heupel lauded Williams for his growth from year one to year four.
"It doesn't just happen because you want it to happen," Heupel said. "You've got to put in the time and effort, and that's one of the things that Marlon has done. He's stayed the course and had a huge week last week but having a good season as well."
Williams has sprung his way onto NFL draft boards, where he was noted as one of the top five players to have increased their draft stock during this season. 
#UCF WR Marlon Williams is having the productive senior season NFL scouts were hoping to see from him.He leads the FBS in:Receptions (54)Receiving yards (753)Yards after the catch (325)

— Dane Brugler (@dpbrugler) October 26, 2020
Both will go down in the UCF record books, but before they arrived as Knights, they could have been Trojans. 
Gabriel shunned USC and Georgia before committing to UCF in 2018. 
Williams was to be at USC, before de-committing and choosing UCF in 2017.
Perhaps Gabriel to Williams could have been the new Matt Leinart to Dwayne Jarrett, the quarterback-receiver duo that led USC to a 2004 BCS National Championship victory. 
But Gabriel to Williams was to be for Orlando's hometown team, following in the footsteps of McKenzie Milton to the aforementioned Smith. 
As UCF continues to put up record numbers on offense, so will Gabriel and Williams.
Gabriel and Williams will have done it not in scarlet and gold, but black and gold. Not as the Trojans of Los Angeles, but the Knights of Orlando.