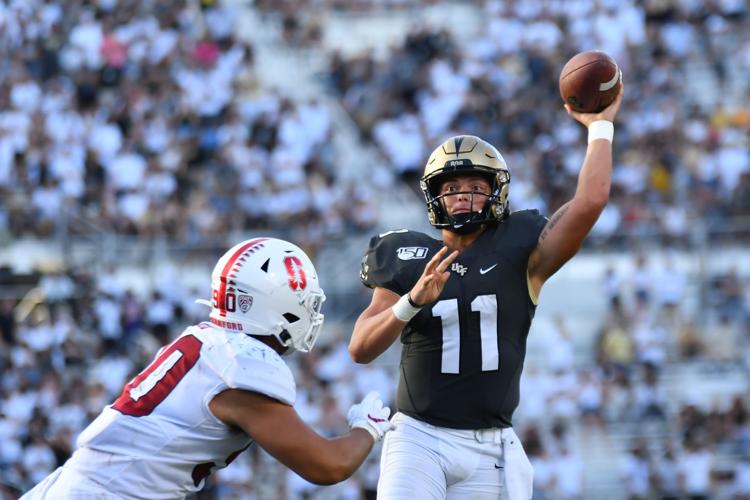 On a particularly windy Saturday afternoon in front of a crowd of 45,008, the UCF Knights leaned on a dominant first half of football to defeat the Stanford Cardinal 45-27 in UCF's first matchup against a Pac-12 team since 2015.  
The first offensive drive for UCF (3-0) began with two quick strikes to senior running back Adrian Killins jr. from freshman quarterback Dillon Gabriel. After a targeting call on Stanford (1-2) senior defensive end Jovan Swann, Gabriel responded with a 28-yard TD to junior wide receiver Marlon Williams.
Gabriel's pass to Williams makes this the third consecutive game UCF has capped off its opening drive with a TD.  
UCF's defense got after the ball early with quick pressures from sophomore defensive end Randy Charlton. UCF redshirt junior cornerback Aaron Robinson picked off a deflected pass intended for Stanford junior tight end Colby Parkinson during the second drive of the game for Stanford, and nearly brought it into the end zone. 
Robinson said his interception was the result of a lot of challenges being overcome after suffering a season-ending neck injury in the first game of the season last year.  
"Just thinking back on all the adversity I've been through made that pick feel a little bit more special for myself and for my teammates and everyone who's behind me, rooting for me," Robinson said. "It just brought out the emotions and made everything feel great looking back on it." 
Later in the first quarter, UCF junior running back back Greg McCrae and the Knights took advantage of the impeccable field position, as McCrae dived into the endzone for a 1-yard rushing TD with 10:44 left in the quarter. It's McCrae's third rushing TD of the season. 
McCrae finished the game with 109 yards rushing, including an explosive 73-yard run and a TD. 
Gabriel continued to shine in the passing game, launching a 38-yard pass to redshirt junior wide receiver Tre Nixon to put the Knights up 21-0 with 8:21 left to play in the first quarter. It's Nixon's second TD of the season.
Gabriel was 22-for-30 passing for 347 yards and four TDs.  
"I think it speaks for how much talent we have around the ball," Gabriel said. "I wouldn't want to be a defense against us just because I wouldn't know who to cover. I think every guy is capable of making plays and it showed."   
For UCF head coach Josh Heupel, the poised and silent leadership of his freshman quarterback was apparent from the moment he stepped on campus, Heupel said.  
"He's gained more knowledge and understanding and grasped what we're doing offensively, it's kind of who he is every single day," Heupel said. "I think you can see the confidence in him from our offensive players and our entire program and coaches too."
Stanford answered back UCF's initial hot start, scoring the first opposing team TD of the year at Spectrum Stadium, with a 35-yard rushing TD from freshman running back Austin Jones.  
PHOTOS: Gabriel shines on national stage, leads UCF over Stanford
UCF Football takes charge against the Stanford Cardinals at Spectrum Stadium on Sept. 14. The Knights remain undefeated, beating the Cardinals 45-27.
Facing pressure from UCF's front seven, Stanford senior quarterback K.J. Costello was held to 61 passing yards and a 55.1 passer rating in the first half.   
A 21-yard field goal in the middle of the second quarter from UCF redshirt senior kicker Dylan Barnas put the Knights up 31-7. UCF has scored 30-plus points in 29 straight games — the longest active streak in the Football Bowl Subdivision. 
Outside of Robinson's early interception, one of the other big plays from the UCF defense came with 10:31 left in the third quarter. As Stanford was driving into UCF territory, UCF redshirt freshman defensive end Landon Woodson recorded a chase down tackle for loss and the Knights defense forced the Cardinal's to settle for a field goal.  
Gabriel's game was tested in the third quarter with the Cardinal's defensive pressure limiting the UCF offense to 56 total yards and holding UCF to its first scoreless quarter of the season.  
Costello picked himself up after a poorly played first half, finding sophomore wide receiver Michael Wilson in the end zone for a 24-yard TD to lessen the Knights lead to 38-17 at the start of the fourth quarter.  
The UCF offense responded with full force with Gabriel finding redshirt senior wide receiver
 Jacob Harris for a 40-yard gain, putting the Knights at the 1-yard line. The Knights would cap off the drive with a TD pass to redshirt junior tight end Jake Hescock. It was Hescock's first receiving TD this season. 
Playing with a solid confidence in himself and the program behind him, Gabriel said he pays no attention to the national recognition that he or UCF receive, he just wants to do his job.  
"All I care about is what's in our locker room, what's in our building," Gabriel said. "It goes from equipment staff, trainers, our strength staff, our coaches and our team. That's truly all that matters. I'm not focused on anything else." 
Despite holding on to a commanding lead, penalties continued to be an issue for UCF the entire game. The Knights committed eight penalties resulting in 72 yards for the opposing team.  
Heupel said he applied a more conservative approach to his offense in the second half to drain the clock. 
"In this game, because of the two contrasting styles we had an opportunity, if we play fast and good early on to make them play a little bit different than they are used to or accustomed to," Heupel said. "At the same time we talked about playing like it's 0-0 no matter which side of the scoreboard we're on."   
Defensively the Knights were able to take back control late in the second half after allowing three consecutive scoring drives from the Cardinal's offense.   
UCF junior safety Richie Grant led the way with eight tackles and three crucial pass breakups for the Knights.  
With the national spotlight back on UCF, Heupel said he takes every opponent on a week-to-week basis. Whether that opponent is a Power Five team or not, he wants his team to go 1-0 every week.   
"If you look at our league and how they play against those other Power Six conferences, we'll hold our own every single week," Heupel said. 
The Knights and Cardinal's met once back in 2015 with Stanford utilizing the help of former running back Christian McCaffrey to defeat UCF 31-7. UCF finished 0-12 that season. 
UCF extends its regular season win streak to 27 and its program-record winning streak to 17 games at home. 
Looking ahead, UCF will face the Pittsburgh Panthers (1-2) next Saturday at Heinz Field in Pittsburgh. Kickoff is at 3:30 pm. The game will broadcast live on ABC or ESPN2.