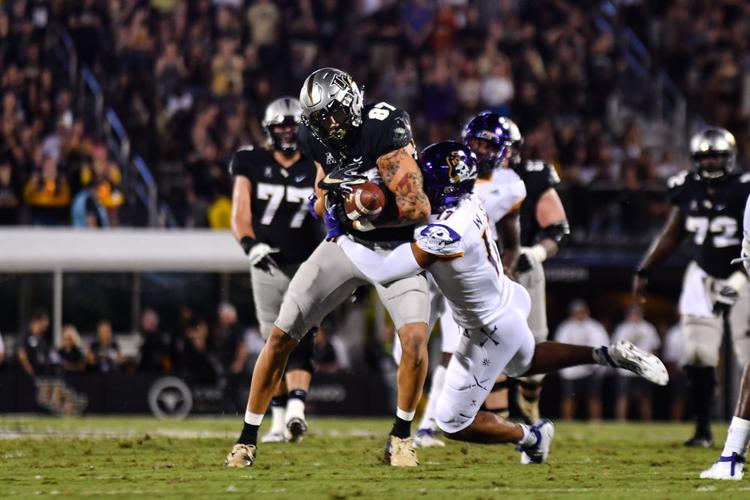 Jacob Harris stood a district champion in soccer during his senior year at Palm Harbor University High School in 2015. 
"He dominated with his height and with his athletic ability," said Huse Wipoj, Palm Harbor University High School boys' soccer head coach. "He helped me and the program win the first district title with him, and then we won the next three years after him, so he left a lot of influence on the younger guys before he left."
Wipoj was Harris' agriculture teacher in eighth grade and said he recalled Harris always talking to him about his love for the game of soccer. Fast forward a few years, and the two would reconnect as Wipoj became the head coach of Palm Harbor in 2013. 
After his senior season at Palm Harbor, Harris scored five goals and recorded two assists as a striker, becoming a highly coveted recruit. Wipoj said Harris grew 20 pounds of muscle during his senior year and his commitment to owning his skill had college coaches looking at him. 
Harris also took aim on the gridiron during his senior year, playing defense under head coach Reggie Crume. Crume said Harris was best friends with a linebacker on the team that urged him to come out due to his size and speed. 
Crume said it is a testament to Harris' will to want to get better that he has gone on to have success as a receiver after having no experience at Palm Harbor. 
"Jacob's where he's at now because he wants to get better," said Crume, now head coach of Calvary Christian High School in Clearwater. "He played safety for us; he didn't even play receiver. I mean, he never played one down of receiver for his entire senior year because quite frankly, he wasn't comfortable catching a football yet like most soccer players."
As Harris' senior season went on, Crume said he started catching the football better which prompted Crume to appoint Harris as the kickoff returner. 
Harris returned two kickoffs for touchdowns, including an 86-yard score against Dunedin High School on Oct. 10, 2014. 
Crume said Harris has always been a hard-worker and was easy to like as a person. 
"He's going to win anybody over that he comes into contact with because he's such a great kid," Crume said. "You know, I always say: if i'm going to let my daughter date a guy, hopefully he will be like Jacob Harris."
Armed with a 6-foot-5 frame, Harris verbally committed to Florida Gulf Coast University to play soccer. Harris' time in Fort Myers lasted one week, when he returned home after calling Crume and telling him he wanted to play college football.  
"It was literally March, and I was driving and Jacob calls me and says, 'Coach, I've been thinking and I really want to play football in college,' and I'm like 'What? I wish you would've told me this because signing day was over,'" Crume said. "Once again though, there aren't many guys who are 6-foot-4 and that can run like him, so I got the film out and starting making phone calls."
Western Kentucky took a flier on Harris as a preferred walk-on before he left after the 2016 season and returned home. Crume said Harris took a semester off and helped coach the junior varsity team at Palm Harbor while maintaining his workouts. 
Harris began knocking on the doors of UCF, USF and FIU before the Knights accepted him for the 2017 season. 
After redshirting in 2017, Harris played on special teams in 2018 before garnering a receiving role in 2019. Harris hauled in 19 receptions for 448 yards and a score for the Knights' last season. 
Harris said during a press conference on Wednesday he is continuing to improve his pass catching during every practice. 
"Jugs, every day. Catching the jugs constantly every day before and after practice as well as those tennis ball machines," Harris said. "I feel like the tennis ball machine really helps with hand-eye coordination, but I'm also taking it a step further with the training staff. You know, they're always helping me, they have special goggles and just working hand-eye coordination and peripheral vision."
Those special goggles came from wide receivers coach Darrell Wyatt. Harris said the goggles block his peripherals and help maintain focus on dialing in with his vision. 
UCF head coach Josh Heupel said on Monday in a press conference he was proud of Harris' development over the past three years at UCF.
"I talked to him about how proud I am, just how much he's grown as a player from year-to-year," Heupel said. "You know, young and inexperienced our first year here, grew into a dominant special teams player, last year starts at the wide receiver position getting more opportunities playing. I thought he grew throughout the course of the year, but he's really taken his game to another level."
With more opportunities this season amid the two game absence of receiver Tre Nixon due to injury, Harris has 10 receptions for 120 yards and two touchdowns through three games. 
Being around Buffalo Bills receiver and UCF alum Gabriel Davis for three seasons, Harris said he has learned a lot from Davis on having the right mentality to play the game. 
"Gabe, especially his mentality, is the best of the best," Harris said. "He's a guy that's able to come in every day and have that same mentality, same work ethic, and that's been what I've been trying to do, and regardless of how I'm feeling, just trying to go out there."
From district champion to AAC champion, Wipoj said that Harris' dedication to football made him proud and said Harris has only impressed him even more. 
"I think it's impressive," Wipoj said. "For him, I knew he was struggling at the beginning, but it took a lot of work and dedication. "And you know, he really fell in love with the game of football when he started to play as a wide receiver."