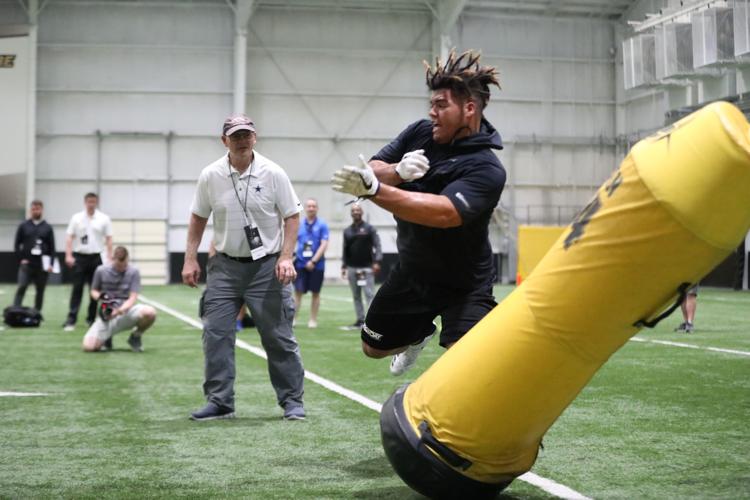 Former UCF defensive lineman Trysten Hill scored plenty of praise at UCF's pro day Tuesday afternoon at the Nicholson Fieldhouse.
Hill, who declared for the NFL Draft after the Knights lost in the PlayStation Fiesta Bowl to the LSU Tigers, only participated in the individual defensive drills.
During the workouts, Hill was immediately recognized by Dallas Cowboys defensive coordinator Rod Marinelli, who called him by his last name — while he was calling the other players by their numbers.
After his workout, Hill talked about getting feedback from the scouts, including Marinelli, about his performance.
"I had some good feedback," Hill said. "I moved well through the drills, I weighed in good. I was proud of myself, you know, being able to go through that, especially with coach [Rod] Marinelli. He's known to get after it."
Hill was also very vocal in cheering his teammates on during the drills.
"Being here for my teammates was just the biggest part of that," Hill said. "That's what I enjoy the most. Watching those guys bench and being there for them is what I liked the most."
Hill was the Knights' only NFL Draft hopeful that received an invite to the NFL Scouting Combine at Lucas Oil Stadium in Indianapolis, Indiana. The annual event ran from Feb. 26 through March 4. 
At the combine, Hill ran a 5.04-second 40-yard dash, did 28 reps of 225 pounds on the bench press and ran the three-cone drill in 7.7 seconds.
During the offseason, Hill said he went after his core and changed his body composition leading up to pro day and the NFL Draft.
"I went from 243 lean muscle mass to 256," Hill said. "Changing how I look, changing how my core feels and I how I feel mentally. The right food and stuff like that is what I worked on."
Hill said taking care of his body and being able to go his hardest is what it will take to make him a successful NFL player.
"Everybody can ball, everybody can tackle," Hill said. "Being able to do it 100 percent is what makes your money for sure."
The 2019 NFL Draft starts with the first round on Thursday, April 25 and runs through Saturday, April 27.