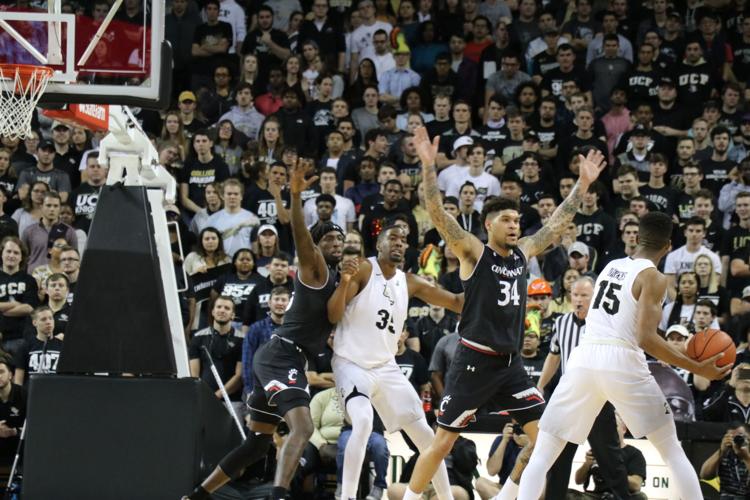 The UCF men's basketball team made history on Sunday evening by earning its first-ever at-large bid in the NCAA Tournament, but the team said just making the tournament is not enough.
This will be the fifth time that the Knights have played in the NCAA Tournament, but they have been unsuccessful in the previous four attempts.
Senior guard B.J. Taylor said that the team is not satisfied with just making the tournament.
"We're really happy to be here and it's really great for the school, but it would be even better if we go out there and get a win," Taylor said Wednesday.
The last time the Knights were in the tournament was 2005, when they lost to the UConn Huskies by a final score of 77-71.
UCF head coach Johnny Dawkins said it would be huge for the program to pick up its first win in the tournament.
"It's another sign of showing what's possible here at UCF in basketball," Dawkins said. "So, we're excited. We're not looking at anything negative. It's all positive for us. We want to go there and compete and we want to change that around and we want to win."
Senior center Tacko Fall said regardless of the outside noise, it's still a basketball game at the end of the day.
"We just have to go out there and compete and have fun and compete and everything will come together," Fall said.
The only player on the team that has previous experience in the NCAA Tournament is redshirt junior Aubrey Dawkins, who played in it when he was with Michigan in 2016. He transferred to UCF after that season.
Johnny Dawkins also has experience from back in his playing days at Duke and from when he was the head coach at Stanford.
Senior forward Chad Brown said both have talked about what it takes to play in the tournament.
"They talked about how you have to grind it out every single possession and every possession matters," Brown said. "They talk about that every time and give us motivation and gives us confidence that we can do that, because we've done that all year and now it's the time to show everybody what we're capable of becoming."
UCF will travel to South Carolina to take on No. 8 seed VCU in the first round on Friday night. Tipoff is scheduled for 9:40 p.m.