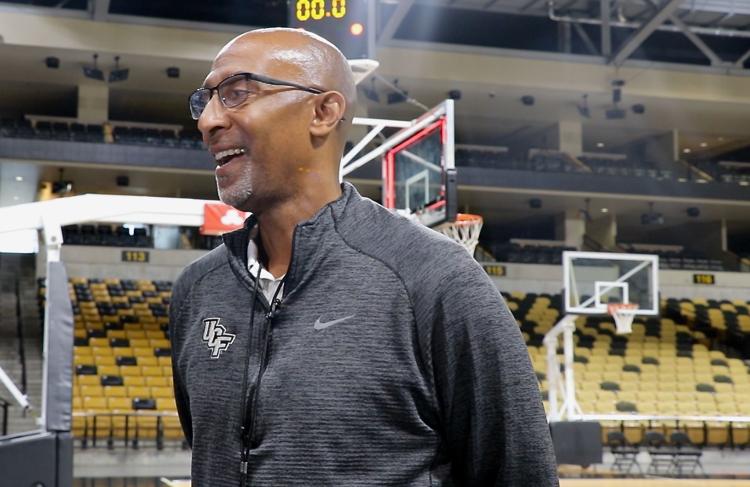 With the UCF Knights men's basketball season beginning in just a little over a month, Knights fans got an inside look into what they can expect this season at the team's inaugural media day on Tuesday.
UCF head coach Johnny Dawkins spoke about the upcoming 2019-20 season. With nine new players being added to the roster, a lot has changed since the Knights' brief run in March Madness.
Here is a short list of incoming players:
Forward Sean Mobley, a transfer from Virginia Commonwealth University, will sit out this season due to NCAA transfer rules. Guard Matt Milon, transfer from William and Mary, is one of the bigger names from this offseason. The Oviedo native comes on board Dawkins' squad after posting a 44.2% field goal percentage as a redshirt junior. Georgia Tech freshman transfer Tony Johnson also comes into the mix at guard.
Freshman guard Darin Green of Charlotte, NC; guard Brandon Mahan transfer from Texas A&M; junior big man Moses Bol transfer from Colby Community College and nephew of NBA legend Bol Bol; center Avery Diggs freshman transfer from Southwest Mississippi College; and redshirt senior Dazon Ingram transfer from Alabama at guard.
Redshirt Ibrahim Famouke Doumbia will also be active on the roster. Originally from Mali, the sophomore guard sat out the 2018-2019 season due to NCAA transfer rules.
Dawkins has coached with his team's new additions for about three months, a big difference after coaching his last team for three years.
"We're still feeling each other out. They're getting to know kind of what my standards and expectations are here, what our culture is. They are receptive so I'm excited about working with them," he said.
Dawkins also touched on the fact that current Boston Celtics center Tacko Fall is no longer with the team after graduating this year.
"You can't replace Tacko. He has such an impact around the basket. There are very few players around the world that can do that," Dawkins said.
When asked who he thinks will be the leader of the team, Dawkins had a lot to say about sophomore Levy Renaud.
Renaud, an academic honor roll student at NSU University School, helped his team win two district championships in high school. In a rare occurrence, Renaud immediately won the approval of his teammates and was voted as one of the captains for this upcoming season.
This was the first time a walk-on sophomore has been voted captain in Dawkins' history of coaching or playing. Renaud has earned the trust he needs from his teammates through the few practices they've had thus far.
Dawkins is excited to see what his new team will be capable of throughout the season and mentioned that as long as the players continue with the energy and the enthusiasm they have right now, then they will continue moving in the right direction.
The 2019-20 season kicks off with the Knights playing Prairie View A&M on November 9 in the Addition Financial Arena at 3 p.m.