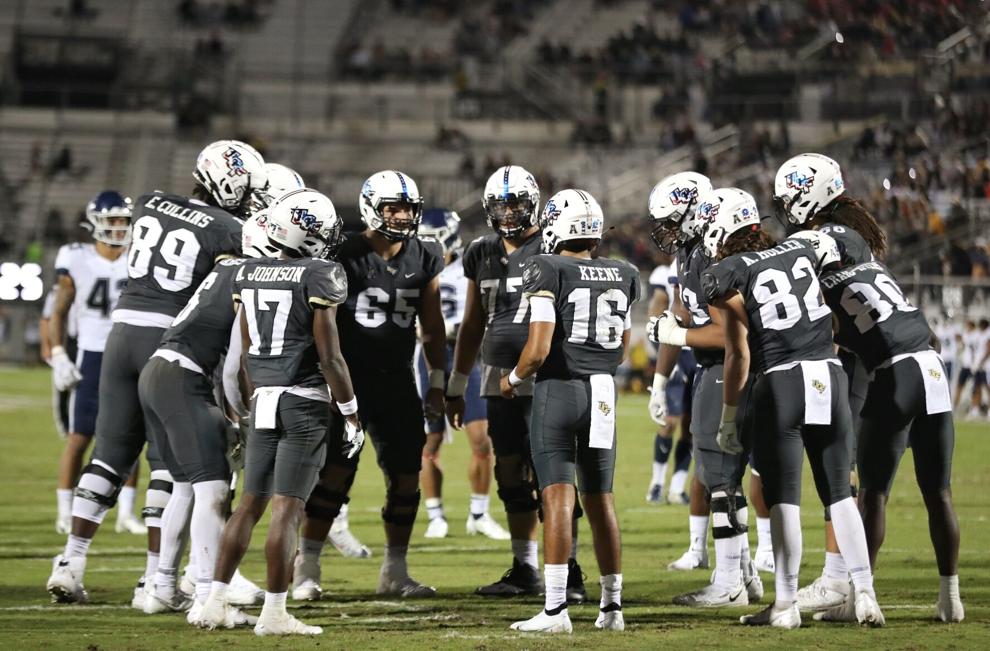 The Gus Bus has reached the end of the line, as UCF hosts in-state rival University of South Florida for the Black Friday War on I-4 battle.
"You're getting the best from both sides," Knights Head Coach Gus Malzahn said in a press conference Monday. "We're getting their best; they're getting our best. That's part of being a rivalry and what makes rivalries special: Throw the records out the door, and see who the best is."
UCF (7-4, 4-3 American Athletic Conference) and USF (2-9, 1-6 AAC) will close out the regular season in the Bounce House on Friday at 3:30 p.m., with coverage from ESPN.
Although the War On I-4 series officially began in 2016, the rivalry between the two schools dates back to 2005, when the Bulls won the first of four straight games. USF won its only contest of the rivalry in a 48-31 win in 2016, totaling over 500 yards and forcing three turnovers. UCF has since won four of the five official War On I-4 contests, keeping the trophy in Orlando since 2017.
With no chance at a bowl game, USF will be prepared to ruin any momentum the Knights have heading into the postseason. Both teams' fans have memories of the back-and-forth 49-42 shoot-out game Nov. 24, 2017, which ended with a 95-yard kick return by Knights defensive back Mike Hughes. Last season, the Bulls and the Knights combined for 104 points and 1,223 yards in a 58-46 shoot-out, in which UCF tied the rivalry series at 6-6.
Knights redshirt senior offensive lineman Samuel Jackson said being from the Sarasota area, he embraces the competitive smack talk with his former coaches and players, who went on to play for USF.
"I remember coming here, and we were down 2-6 or something like that, and I had a coach who played at USF who would always talk about it," Jackson said in a press conference Monday. "He doesn't talk about it anymore though."
Despite withstanding numerous injuries throughout the season, UCF has an opportunity to finish the season at home 7-0, which would mark the Knights' seventh time doing so in their Football Bowl Subdivision era. Malzahn said he knows how important winning in-state rival games is against opponents recruiting in the same area, and he said the future is bright at UCF for recruits and potential transfers. 
"I'm real excited about how recruiting is going here," Malzahn said. "We've got a real chance to finish this thing really strong. I think I've told you this before: It's going to be an unbelievable destination place for transfers."
The Knights offense had one of its more complete games against a snowballing University of Connecticut football program Saturday, amassing 257 passing yards and 280 on the ground. The passing attack was led by true freshman Mikey Keene, who has grown and developed in the starting role since the Knights lost starting quarterback Dillon Gabriel to a broken clavicle, collecting 1,471 yards with 15 touchdowns and six interceptions this season. 
As a result of Knights running back Isaiah Bowser's knee and ankle injuries, the rushing game has featured a mix of Auburn University transfer redshirt sophomore Mark-Antony Richards and sophomore Johnny Richardson. Richards has scored a career-high five rushing touchdowns on the season, while Richardson recorded a career-high 147 rushing yards against the UConn Huskies last weekend.
"He's (Richardson) starting to understand that he's a really good running back," Malzahn said. "A lot of times young guys, it doesn't matter the position, it takes a while — even though they're talented — to understand they're really good. He's got a chance to be really good."
USF parted ways with its defensive coordinator and linebackers coach Glenn Spencer on Monday. Bulls linebackers coach Ernie Sims and special teams coordinator Daniel Da Prato will split duties against UCF. The Bulls currently rank 125th nationally, allowing 489. 3 yards per game and 36.27 points per contest. 
"I really felt that we needed to make a change with our defensive coordinator position," Bulls Head Coach Jeff Scott said in a press conference Monday. "Not something I wanted to do before the end of the season, but (it) really felt like after the last game it was the right time." 
USF is in its second season under Scott, who came to Tampa after 11 seasons as an assistant coach at Clemson University, where he also served as the Tigers' co-offensive coordinator in his last five seasons. The Bulls defeated Florida Agricultural and Mechanical University and Temple University but have lost their last four games, including a contest last weekend at Tulane University. USF was dismantled defensively, allowing over 500 yards in a 45-14 blowout against the Green Wave. 
The Bulls' offense is ranked 99th nationally, led by former Seminole High School state champion freshman Timmy McClain with 1,666 passing yards and five touchdowns, along with 255 rushing yards and three touchdowns. Junior running back Jaren Mangham has also carried the load with 15 rushing touchdowns and 578 yards on the ground. Scott said he wants the Bulls to be competitive for a full four quarters and not rely on the emotions of winning their "state championship game."
"What I been telling our guys all week is that emotion and energy is not going to win this game on Friday," Scott said. "It may make one play for you or a couple of plays, but ultimately it's going to come down to whoever executes better on that day."
The UCF defense has been impressive at times this season with getting to the quarterback and forcing turnovers. Defensive Coordinator Travis Williams, who joined the Knights back in February, has helped the team rank 59th in total defense on the season and third in the AAC in total defense, allowing 374.1 yards per game. 
With a short turnaround and the factor of the Thanksgiving holiday, it will be a busy week for the Knights. Malzahn said Thursday is going to be the team's Friday, giving players a chance to be with their families Wednesday night before returning for team meetings Thursday. 
For some seniors, this will be their last home game and a chance to showcase their skills for fans and recruiters. Malzahn said everyone, especially veteran players, recognizes this significance and that records don't matter in these types of games, given the larger context of in-state rivalry. 
"They're really the main reason that we hadn't folded our tent at times," Malzahn said of his senior and veteran players. "There's been plenty of opportunities to point the finger or throw in the towel, and they haven't flinched. They've really kept this thing together and allowed us to be here at this time.
"We're going to fight like crazy for win No. 8."