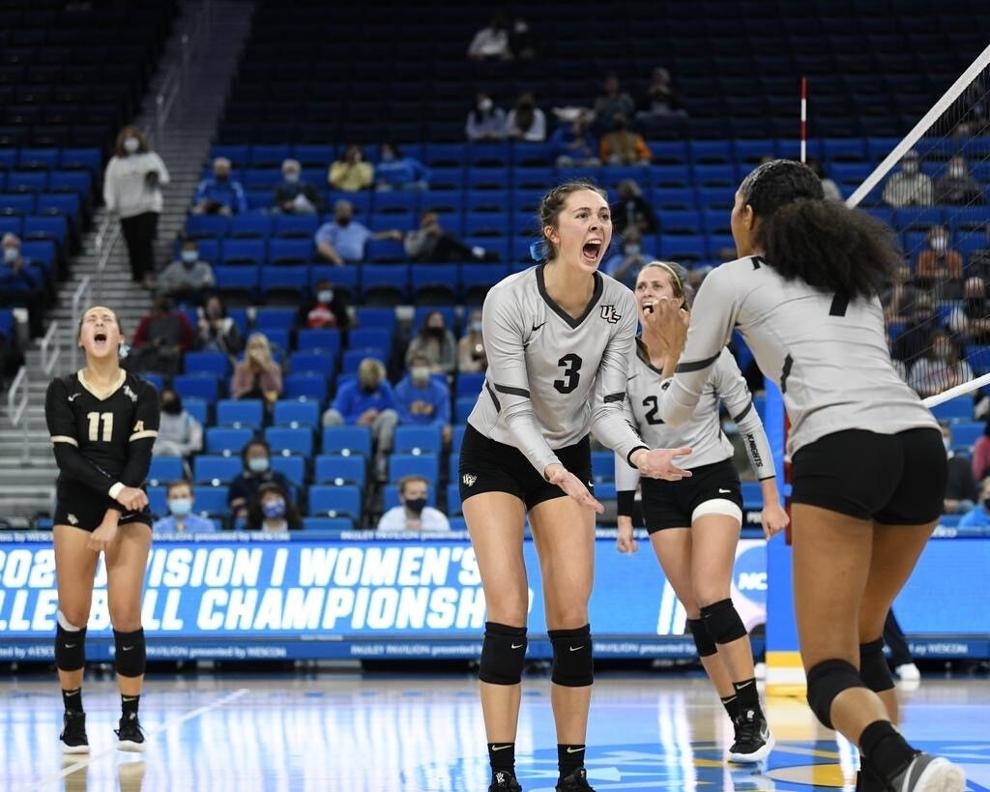 Amber Olson, a graduate setter and two-time AAC setter of the year, has made a massive impact on UCF volleyball with career-bests in assisting and digs this, contributing to the team winning its fifth consecutive conference title. 
Volleyball has not always been a big part of Olson's life. She genuinely felt that softball was her future in college, but since the beginning of seventh grade, Olson was Cary-Grove's junior high volleyball team's manager. After learning the game and gaining relationships with players, Olson wanted to follow her volleyball-playing sister, Erin Olson's, footsteps. 
Olson feels volleyball has taught her numerous life lessons after winning her heart.  
"Playing a sport, you're never going to have any other opportunities such as this one," Olson said. "It gives you so many different people to meet, different backgrounds and teaches you how to build your leadership qualities. It's kind of like my escape." 
After the Knights' matchup against Tulane on Nov. 23, Olson reached a career milestone with 3,800 assists in the book, while also racking up her ninth AAC Offensive Player of the Week this season with two times on the honor roll. 
The Illinois native has 12 double-doubles this season and 42 in her career. She has also recorded 262 digs and 67 blocks for UCF.
"She's the bread and butter of this team," graduate outside hitter McKenna Melville said in a press conference on Nov 23. "She's our quarterback. Without her, we don't run the offense that we do, and to have her for the last five years on the court, it's helped me click with her, and it's helped a big, huge group of us to be able to strive and be successful with her delivering us the ball every game." 
Olson feels her friendships impact her game in a way that shapes her as a player.  
"They have made me the player I am today because with some of the people I had in my club teams or this current team teach me every day to be better because I want to help them succeed, and I want to see them at their best, and in order to do that, I need to also be at my best," Olson said.

Olson started her freshman year in 2018, appearing in all 31 matches and starting nine matches.
Throughout her career, she has dedicated five years of her time and energy to the UCF volleyball team, assisting players and providing digs while remaining active in universal teamwork and growth. However, Olson faced struggles in her sophomore year after losing her starting spot.  
Olson said she would not trade losing that starting position for the world due to it pushing her to becoming a better defensive player. Without losing that spot, she would not have put in more effort to be a leader and get to where she is today.

"She's been the leader of the team for quite some time now, and our offense's success goes through her by words and actions and by what she does in the locker room and how she is with the younger players," head coach Todd Dagenais said. "She has done such a great job of bringing Heidi along as a young player and bringing the middles into a system that is still fairly new to the program. Amber's done a nice job of just kind of bringing everybody — the glue that brings everybody into an offensive system that's proven to be pretty good this year." 
Family has always been the No. 1 support system for Olson, pushing her to play confidently and carefully. 
In 2018, Amber and Erin Olson were known as the setting sisters fueled with competition. The two sisters saw a significant amount of playing time that season in the Knights' 6-2 offense featuring dual setters. Erin Olson now works on the UCF volleyball coaching staff. 
"I couldn't do what I do without them, especially my sister, who inspired me to start volleyball and then to keep pursuing volleyball. Now, having her on the coaching staff, being able to turn to her, I truly can't describe it because without her, I just wouldn't be the player I am." Amber Olson said.  
This season, Amber Olson was named to the All-Conference first team along with Melville. 
Amber Olson's high school coach Patty Langanis feels Olson always set ambitious goals for herself with no self-doubt, willing her to accomplish unimaginable plays. 
"She had no doubt in herself, and I think that's rare to find in athletes," Langanis said. "Nothing came easy. She didn't just walk in and become a great setter.
"She had to work to get to where she is at; that's something that makes her really special. She made herself a natural, and it is amazing to see that progress transform her into a leader."  
Amber Olson is not sure where volleyball will take her in the future. She hopes to continue her journey overseas, but currently, she is focusing on the team and her overall game while continuing to stay true to herself.

"It means the world to me honestly. Without volleyball, I don't know who I would be," Amber Olson said.