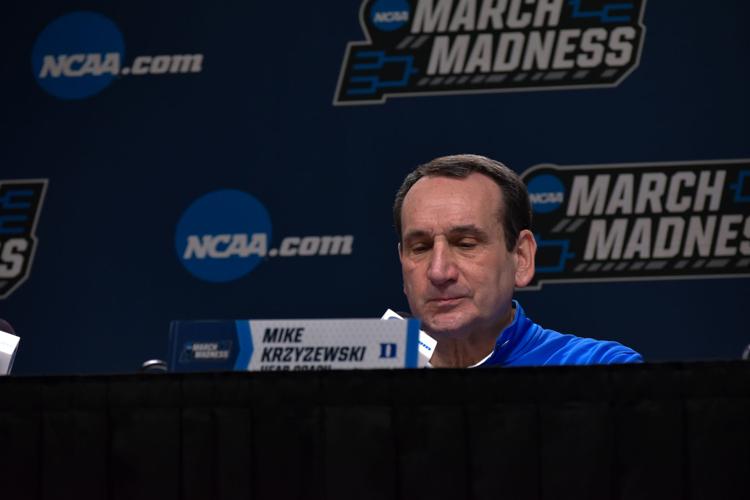 COLUMBIA, S.C. — The emotion from the court during the last seconds of the UCF Knights loss to the Duke Blue Devils in the second round of the NCAA Tournament carried into the postgame press conference Sunday night. 
UCF fell to Duke 77-76 in a nail-biter that came down to a missed tip-in with just seconds left on the clock.
Duke head coach Mike Krzyzewski fought back tears while speaking to the media about UCF head coach Johnny Dawkins, who he said he has a long history with. 
Krzyzewski coached Johnny Dawkins at Duke for four years and spent another decade with him when Johnny Dawkins accepted a coaching role at the university in 1998.
Johnny Dawkins was promoted to assistant head coach in 1999 and worked alongside Krzyzewski until 2008 when he left for a head coaching position at Stanford.
"I love Johnny — I'm going to start crying," Krzyzewski said. "The moments, the times that we've spent together building the [Duke] program, ten years on our staff, and the connections that we've had while he was at Stanford and Central Florida ... We're family." 
Krzyzewski said UCF played better than any opponent Duke has played this season and deserved the win just as much as his team did.
Coach K: "We haven't had a team play any better against us than they did." Nothing but great things to say about #UCF.

— Megan Cruz Scavo (@MeganScavo) March 24, 2019
"I feel bad that [UCF] lost," Krzyzewski said. "I'm happy [we won] — it's like a yin and a yang here because they were deserving of winning. They were so good, and I'm so proud that those kids played at the level of their coach." 
Johnny Dawkins said he is grateful for Krzyzewski and he would not be where he is today without him. 
"I never thought we'd be in this position. It's tough," Johnny Dawkins said. "We're family ... I love that man. That man, without him, I wouldn't be where I am today."
Krzyzewski said seeing Johnny Dawkins' son, UCF redshirt junior guard Aubrey Dawkins, play on Sunday was also emotional for him. 
"Aubrey [Dawkins] was the best player on the court today," Krzyzewski said. "Aubrey wasn't outstanding, he was magnificent."
Aubrey Dawkins scored a total of 32 points for the Knights and went 5-for-7 in three pointers for the night. He said the loss was heartbreaking for him and his teammates. 
"We spent all this time trying to get to this stage, and obviously we want our journey to continue," Aubrey Dawkins said. "When you invest this much in it, it breaks your heart."
Krzyzewski said Sunday's game will stick with him for a while. 
"It's a tough moment," Krzyzewski said. "It will take me a little while to get through it, to be quite frank with you."