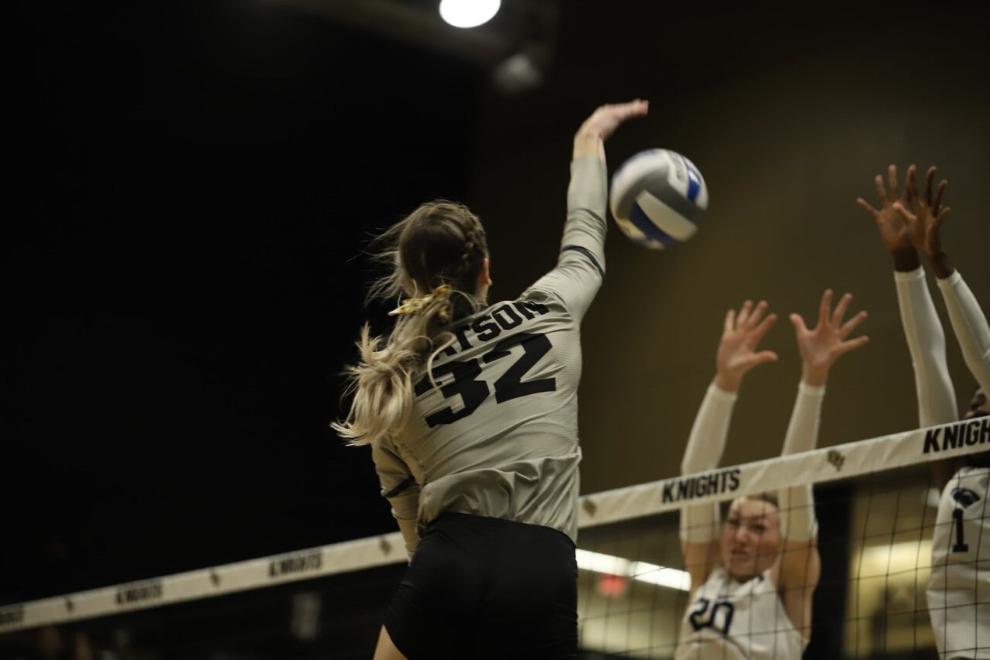 After securing its first win of the season against St. John's University Saturday afternoon, the UCF women's volleyball team ended the final game of the weekend with a 0-3 loss to Penn State at The Venue on Saturday night.
Todd Dagenais, UCF head volleyball coach, said although the team made a few mistakes that were not able to be addressed in the moment, the team's overall effort was carried out well. 
"We just played a really good team, and I think we hung in there against them," Dagenais said.
In the first set, the Knights started off strong, keeping the lead of 12-15 before the media break. After the media break, the Knights sustained their lead by a couple of points. However, Penn State managed to make a comeback and win the first set 27-25. 
Although the Knights did not take the first set, UCF right-side hitter Anne-Marie Watson said the audience's energy gave her encouragement.
"I always love it," Watson said. "It's just always so much fun to be in this kind of atmosphere and to have these kinds of people just supporting us and cheering us on. It's awesome to see, and it's a lot of fun and it pumps us up." 
During the second set, the Nittany Lions took another lead, but the Knights were persistent. At one point, the teams were tied 17-17. Despite their persistence, the Knights fell short and lost the second set 25-21.
In the third set, the Knights took the lead once again, but Penn State overcame the deficit to win 25-19. The final scores were: 27-25, 25-21, 25-19.
"We're not big on moral victories here, but I think the team should be proud of how they performed this weekend against two teams that are going to be top 10 teams by the end the year," Dagenais said.   
The Knights will play again on Thursday, Sept. 2, at 12 p.m., as they face the Clemson University Tigers at the Carolina Volleyball Center.