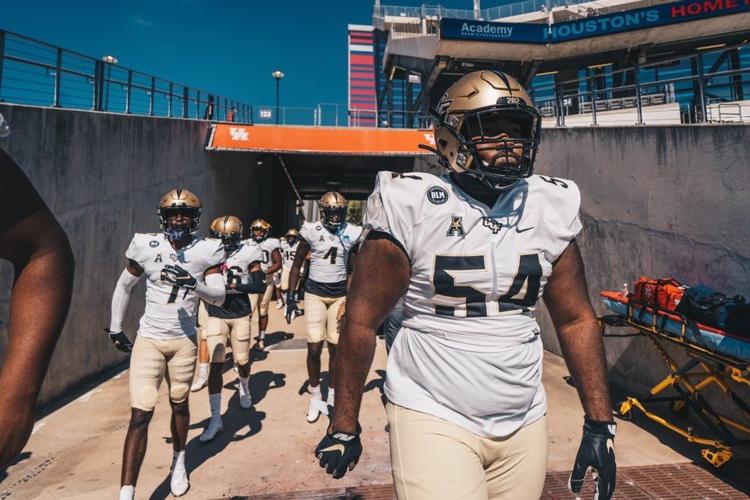 After COVID-19 opt-outs and teammates being dismissed, redshirt sophomore defensive lineman Cam Goode has stepped up for UCF.
Fellow defensive linemen Kalia Davis, Mason Cholewa and Kendrick Wilson opted out due to COVID-19 concerns prior to the season, and Kenny Turnier and Randy Charlton were dismissed from the program. That opened up for the opportunity for Goode to take on a bigger role in his sophomore season.
"In the beginning of the season I prided myself on becoming 'the guy,'" Goode said. "Last year, my freshman year it took me a lot to get acclimated and get used to the college level." 
Goode began his college career at Virginia Tech, where he did not play and transferred following the 2018 season. 
As a redshirt freshman at UCF in 2019, Goode played sparingly in 10 games, recording nine total tackles and a half a tackle for loss. 
Back on Oct. 24 versus Tulane, Goode made his first collegiate start, after having racked up a sack and three and a half tackle for losses up to that point. 
An area where Goode specifically focused on improving as he entered the season was stopping the run. 
"If you stop the run, then you can rush the passer, you gotta earn that right," Goode said. "I'm a gifted pass rusher and and I pride myself on rushing" 
Part of Goode's improvement can be credited to the coaching style of defensive line coach Shane Burnham. 
"He kicks my butt," Goode said. "After a game we'll have a team run, everyone else is jogging. The defensive line is over there doing full-field sprints, 100 yard dashes down the field looking like Usain Bolt." 
It was during training camp when Burnham noticed a difference in Goode. 
"A guy maturing mentally, maturing physically and how to prepare," Burnham said. 
Goode's improvement this season is noticeable in the box score, as he has recorded 15 tackles, six and a half tackles for losses and three sacks. 
Real Goode Sack right there pic.twitter.com/YsxTOpWsg9

— UCF Football 😷 (@UCF_Football) November 15, 2020
He is one of several young UCF defensive players who has been forced to take on a larger role in recent weeks. When it comes to the defensive line, Goode and Tre'mon Morris-Brash have caught their teammates' attention. 
"They're doing exactly what we thought they could," offensive lineman Ed Collins said. "They always give us trouble when we go against them. Cam has always been somebody that's worked hard."
Goode and Morris-Brash were teammates in high school, back at St. John's College in Washington D.C. Now, they are part of the youth movement at UCF. 
"Before the game me and him pray together," Goode said. "We tell each other 'Man we back in high school, don't let any of this college hype get to us.'" 
Despite being one of the younger players on the defense, Goode has taken on a leadership role within his unit. He has stepped up in trying to be a leader and has done a good job at that, defensive lineman Anthony Montalvo said. 
Goode has attributed this change to some of the vocal leaders on the defensive line no longer being on the team.
"I have no other choice to step up and understand that my role is very essential to the team," Goode said. "For these guys to play good, I have to play good and also be vocal to these guys."