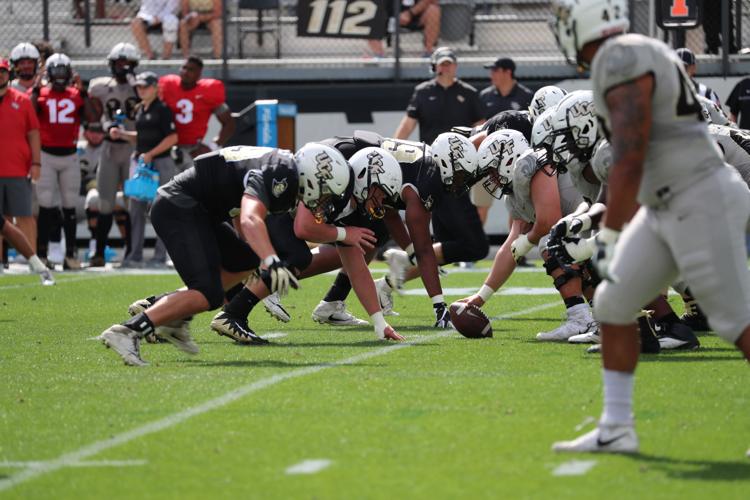 With the no-huddle offense, electric running backs and long touchdown passes; the UCF offense commands a lot of attention.
However, junior linebacker Eriq Gilyard said he believes the Knight defense deserves some attention as well. After all, the Knights finished first in the FBS in tackles for loss last season and third in the FBS in pass efficiency defense, according to the NCAA. Still, Gilyard said he still isn't satisfied.
"We have a chip on our shoulder because like I said, we know how good we are," Gilyard said in a press conference on Monday.
Last year in the AAC, UCF was first in points allowed, giving up just 22.9 a game. They were also first in yards allowed, giving up just 351.8 a game and first in interceptions with 15, according to the American Athletic Conference records.
UCF Defensive Coordinator Randy Shannon said he is not content either.
In a press conference on Aug. 28, Shannon said tackles for loss and third down efficiency will always be the two most important things but with something added to that list this year.
"We also have to do a better job in the red zone. Our red zone wasn't where we wanted it to be at. We have to stop giving up touchdowns," Shannon said.
Shannon's defense plays the majority of its snaps in the nickel formation, 4-2-5, consisting of four defensive linemen up front, two linebackers and five defensive backs.
The most experienced position for the Knights on defense is safety, led by redshirt senior Richie Grant and senior Antwan Collier. Grant started the last 25 of 26 games and was first team all AAC for the second straight year. Collier started all 13 games last year and led the Knights in interceptions with four.
The Knights will have less experience at the cornerback position. They will play without Tay Gowan, a starting cornerback who opted out of the season and declared for the 2021 NFL draft.
They are also still without redshirt senior Brandon "Bam" Moore.
Moore started all 13 games as a sophomore. Last year, he started the first game of the season against Florida A&M but tore his ACL in the third quarter and missed the remainder of the season. While Moore has recovered, he has not yet begun practicing, Shannon said. 
Regardless, Shannon said Moore still pushes the other cornerbacks to step up in his absence.
"On the sideline, he is in those cornerbacks' heads every second of the day," Shannon said.
Those cornerbacks include redshirt senior Aaron Robinson and redshirt junior Zamari Maxwell. Robinson has the most experience of any corners on the roster. The former Alabama transfer started 10 of 13 games at the nickel position last year and landed a spot on the second team all AAC. Maxwell started six games at cornerback last season.
"He has obviously improved a tremendous amount mentally and physically. He's raised the bar to a different level," UCF Assistant Head Coach Willie Martinez said in a press conference on Sept. 10.
Martinez said Knight fans can expect to see a rotation of many different players at the cornerback position, including redshirt sophomore Dyllon Lester.
"Dyllon is somebody that can play multiple positions. We've moved him around. He's playing both the nickel and dime position as well as both safeties. We do that with several of our players at the back end," Martinez said. "That's very important to us because again we want to play the best 11, especially on the back end, because everything is about matchups."
It remains to be seen if recent transfer redshirt sophomore defensive back Divaad Wilson will be allowed to have an impact this season. Wilson, a four-star defensive back out of high school, played 13 games as a redshirt freshman at the University of Georgia last year, getting starts against Notre Dame and Kentucky. Wilson announced his transfer to UCF in early August and planned to  apply for a waiver from the NCAA to receive immediate eligibility, according to Jason Beede of 247 Sports.
"Divaad is a very talented individual. We know about him because we recruited him, we wanted him here," Martinez said. "He's somebody who can play all the positions on the back end, which gives us a great flexibility. We are preparing as if he is going to be ready to go, if the waiver works out for us this year."
Aside from Nate Evans, 11 of the top 12 tacklers from last season returned to the Knights this year. Evans was signed by the Jacksonville Jaguars after going undrafted in the 2020 NFL draft. Evans received second-team all-conference selection by Pro Football Focus, according to UCF Athletics.
Last year, Evans led the Knights in tackles with 112. He had 34 more than the next highest player, redshirt senior Richie Grant, with 78.
On Monday, Gilyard said redshirt senior linebacker Eric Mitchell has stepped up in Evans' place as the new voice of the defense. 
"That's my right-hand man," Gilyard said about Mitchell. "Just being with him every day and the type of intensity and the passion that he brings to this game drives our whole defense. We feed off of him."
Last season, Gilyard and Mitchell tied for third on the team in tackles with 77 a piece.
Up front on the defensive line, the Knights will depend on a number of players. Senior Kenny Turnier tallied the seventh most tackles last season for the Knights, tallying 42. Turnier, the former Oregon State transfer, led the team with 13.5 tackles for loss.
Sophomore Tre'Mon Morris-Brash will join him on the defensive line. Morris-Brash played in all 13 games last season, recording 25 tackles and three sacks. 
Another returning player is junior Randy Charlton, who started five games at defensive end last year. Redshirt sophomore Cam Goode, redshirt senior Noah Hancock and redshirt junior Anthony Montalvo will also return for the Knights this season.
Montalvo earned his spot on the team as a walk-on in 2017 and was awarded a scholarship last fall. Recording 24 tackles and adding two sacks last season, Montalvo said he is focused on improving those numbers this season.
"I had a lot of missed sacks, missed tackles and missed opportunities I want to improve upon," Montalvo said in a press conference on Thursday.
Montalvo was not the only one who missed opportunities last year. The UCF football team as a whole had three missed opportunities, losing to Pittsburgh, Cincinnati and Tulsa.
But, like with every year, UCF has a clean record with a whole college football season ahead. Gilyard is confident in the Knights defensive ability this upcoming season.
"We aren't trying to prove anyone wrong; we are trying to prove ourselves right," Gilyard said.