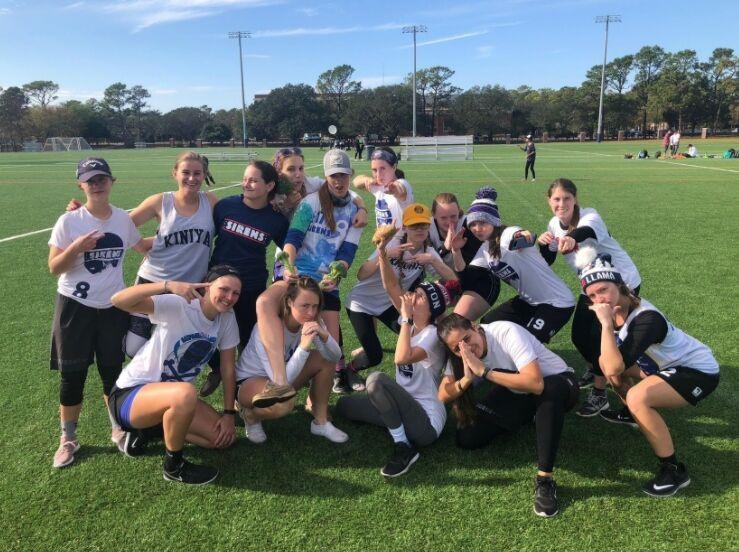 For months, the turf fields at UCF's Recreation and Wellness Center Park remained dormant due to health concerns over COVID-19.
But that changed during this past fall and current spring semester when several UCF sports clubs laced their cleats back up and returned to practice. Not all was the same, however, as limitations were put on these practices, including a 15-person cap for each of the six turf fields.
Clubs like men's lacrosse had to switch out those 15 people during practice so that every member had a chance to participate. But clubs like women's lacrosse and women's ultimate frisbee never even got close to the limit.
"[That limitation] hasn't been a problem because we never really reach that number," said June Cera, captain of the UCF women's ultimate frisbee team. "We average around four to five people coming out to practice."
Cera said the game of ultimate frisbee is seven versus seven, but even having the bare minimum to play won't be enough as substitutions are nearly always needed.
She said despite practice limitations, this lack of participation within UCF women's ultimate has been prevalent long before the pandemic started, especially due to the fact that ultimate frisbee isn't as popular with women as sports like soccer, volleyball and basketball.
But Cera's club is not alone as UCF sport clubs experienced a lack of participation from women overall during the 2020-21 school year.
Courtney Smith, a sport clubs graduate assistant, said during that year, there were 1,457 total UCF sport club members. Despite 37 out of the 44 clubs being open to female participants, 540 of those members were female while 917 were male.
Smith said while the number of female sport clubs' athletes is low, the total number of male and female athletes has dropped since the pandemic started.
She said this decrease could be due to clubs not being able to meet potential members face-to-face at various events held around campus, which is the number one method for recruiting.
Smith also said a lack of engagement with club members could also be an effect, turning off not just new members from the club, but existing ones as well.
"I think it also just stems from the engagement that our clubs, and the work that our clubs put in with their members," Smith said. "If our clubs aren't consistently checking up on their members in the GroupMe, or sending out emails, you're going to lose that engagement and eventually your members are just not going to show up."
Despite these issues with both recruiting and club engagement, solutions and workarounds are still present in order to get more members involved.
Amelia Cuarenta, USA Ultimate's girls national outreach director, said ultimate frisbee clinics for young women can be held by college frisbee teams through the Girls Ultimate Movement, a program that focuses on getting the youth involved so that more participation in women's ultimate frisbee is seen at the high school and college level.
While this method is specifically for frisbee, Cuarenta said introducing a friend to any sport can also be an effective way of recruiting.
"One thing that I think works really well is bringing a friend to practice day," Cuarenta said. "I know a lot of high school teams have done that, and I think it works well in college in the same way. Bring someone you know that might like this to practice with you just to see how it is because it's a good way to recruit people."
Another avenue that could increase participation is the use of social media, something that the UCF women's volleyball club has been effective with.
Victoria Santolin, captain of the women's volleyball club, said the team has been active on Instagram, Twitter, Facebook and YouTube, with good numbers of freshman joining the club this year.
However, because the club's practice is limited to 10 people, most of the members' time is taken up with doing drills, which Santolin said isn't appealing to most returning members who would rather play full scrimmages.
This has led the club's practices to consist of just seven to eight people.
Santolin said these limited numbers can also be seen in the audience during tournaments that occurred prior to the pandemic.
She said the men's and women's volleyball clubs often practiced together and attended each other's games, but due to the difference in skill level, more attended the men's tournaments than the women's.
"I've definitely seen a difference in the amount of people that attend our tournament versus [the men's]," Santolin said. "We both try to attend each other's just to try to make it equal. We're kind of a family that way.
"But you can tell that there's more people that come to theirs."
Women's sports are no strangers to limited audience members, just as clubs like women's ultimate frisbee are familiar with a lack of athlete participation, often to the point where there aren't even enough to play.
Despite this, however, Santolin said it's important for women to be involved in sports, because lessons can be taught with every game, no matter the sport or gender.
"Having the opportunity for girls to be involved in sports and athletics is just a great way, not only for people to go and watch them and see that kind of performance, but just for them as people to make them better," Santolin said. "You learn a lot from sports. You learn a lot about discipline and just how to be a good person.
"All of those things that you look for in your career are things you learn in sports."