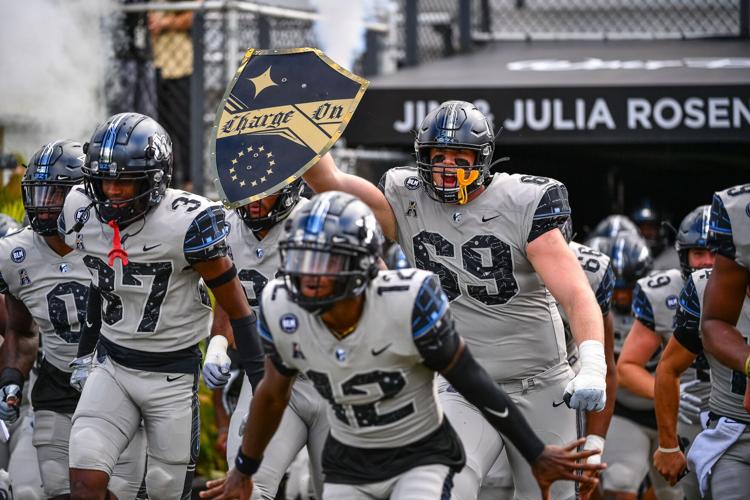 This Saturday's football game will feature two AAC teams coming off convincing victories.
UCF (3-2, 2-2 AAC), led by quarterback Dillon Gabriel and his 422 passing yards, defeated Tulane at home 51-34. On the other side, Houston (2-1, 2-0 AAC) won its last game at Navy 37-21 behind quarterback Clayton Tune's three touchdowns.
The Knights will travel to Houston to face the Cougars at 2 p.m. on ESPN+.
"I think they are extremely athletic at the skill spots, offensively and defensively," UCF head coach Josh Heupel said in a press conference on Monday. "Their quarterback is playing at a really high level. They are throwing and catching it, moving the ball up and down the field."
Tune has thrown for over 300 yards in all three games with seven touchdowns and two interceptions, while obtaining a 66.3% completion percentage.
Marquez Stevenson has caught three of those touchdown passes as Houston's leading receiver. Much like UCF's Jaylon "Flash" Robinson, Stevenson has a similar nickname: Speedy.
Houston head coach Dana Holgorsen said in a press conference on Monday that Stevenson had a tough game last year against UCF, having only 10 receiving yards. He credited UCF nickelback Aaron Robinson with keeping Stevenson uncomfortable.
"I think Speedy is pretty motivated, and he's worked hard on just being an all-around receiver for the last year," Holgorsen said. "He's excited about this matchup, and I'm excited about this matchup cause I think Speedy's improved in a lot of different ways. We're gonna try to get him the ball as much as we possibly can."
Houston's lone loss came to No. 14 BYU before its win last week. The Cougars were up 26-21 heading into the fourth quarter before being outscored 22-0 in the final frame.
"It just shows the resiliency we have to come back off a loss, tough loss," Tune said in a post-game press conference on Saturday. "Come out and get a win and not, you know, not let that get to us. It just shows the character and the fight of this team."
On UCF's side, the team bounced back after two straight losses against conference rivals Tulsa and Memphis.
"It feels good to win, obviously," Gabriel said in a post-game press conference on Saturday. "But after this win, you spend the night, have a little fun, and then you turn the page. Next week it's Houston and that's how the game of football works."
After losing two games in a row against the Cougars in 2015 and 2016, UCF was able to defeat them last season 44-29 in the Bounce House. Houston was leading 23-21 entering the second half, but a 21-0 scoring outburst in the third quarter propelled the Knights to a win.
The Knights only had five penalties in that game for 32 yards. Penalties have plagued UCF this season, averaging 11.8 per game, the second most in the nation. With only four last week against Tulane, it seems UCF has begun turning the page.
Houston is first in the conference in rushing defense, allowing 104.7 rushing yards per game. On the other side of the ball, UCF is third in the conference in rushing offense with 211.2 rushing yards per game.
"Linebackers are extremely active, and just structurally the way they play," Heupel said in a Thursday press conference. "They are able to get an extra hat to the football in the run game more times than not. For us, we still gotta be balanced in what we are doing and win at the line of scrimmage."
Gabriel leads college football with 2,178 passing yards, 250 more than Zach Wilson of BYU. A good portion of those passing yards have gone to senior wide receiver Marlon Williams, who leads the nation with 753 receiving yards. With wideout Tre Nixon's absence, Williams has stepped into a leader for the team.
"I knew what I was capable of, my coaches knew what I was capable of," Williams said in a post-game press conference on Saturday. "It was just a matter of the right time. It's amazing, I mean, I'm glad and I'm thankful for the season I'm having."
"I just gotta keep building on it," Williams said.
Holgorsen said UCF is the most talented team in the league, referencing UCF's streak of 10-plus game-winning seasons. He said UCF's offense is like no other in college football, pinpointing what previous opponents have said.
"It's abnormal what they do from a lightning speed tempo standpoint," Holgorsen said. "Everybody runs tempo, but not like they do. They go extra fast."
A win would give UCF a 7-3 lead in the all-time series against Houston.
"I think our guys gotta be ready to compete," Heupel said. "Gotta match and surpass their energy, their competitiveness, and that will give us an opportunity to go make plays out on the perimeter."