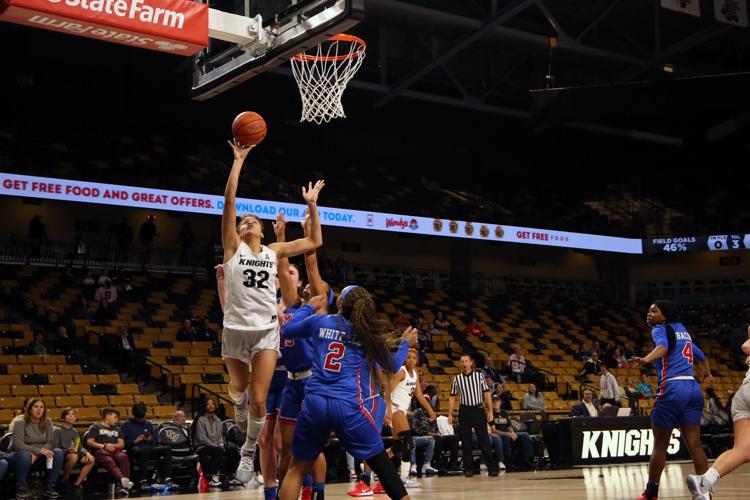 The UCF woman's basketball team will have a different look this season, head coach Katie Abrahamson-Henderson said Tuesday.
This new look stems from multiple departures in the backcourt, one of which is guard Kay Kay Wright. Wright alone accounted for 26% of the team's total points last season, a statistic that Abrahamson-Henderson sees as unlikely to be replicated.
"It's not just going to be one guard doing all the work," Abrahamson-Henderson said.
Stepping up in the Backcourt
Taking up Wright's mantle in the backcourt are returners such as junior Diamond Battles and sophomore Ahna Burney. Battles played in all 30 games last season, starting 18 of them, and finished with 95 assists, second to Wright's 111. Meanwhile, Burney played in only 37 minutes last season, earning three rebounds, six steals and seven points.
Joining the Knights in the backcourt after redshirting last season are redshirt freshman Kiera Brown and Breyanna Frazier. Brown was named Palm Beach 9A-7A Girls Basketball Player of the Year in her senior season in high school while Frazier was named to the 2019 All-New Jersey Sports Zone Girls Team.
Additionally, redshirt junior Miami transfer Becca Ripley is now eligible to play after sitting out last season due to NCAA transfer rules. She was named the 2015-16 New Hampshire Gatorade Player of the Year as a high school junior and to the 2016-17 All-USA New Hampshire Girls Basketball Team by USA Today as a senior. After redshirting her true freshman season with Miami due to injury, she played 61 minutes as a redshirt freshman guard/forward in the 2018-19 season before announcing her transfer to UCF on Sept. 17, 2019.
"We've all been working hard individually as position coaches to get their confidence up and get them to take their game shots," Abrahamson-Henderson said. "They're not gonna be Kay Kay and they don't have to be Kay Kay."
Also departing from the backcourt are guards Sianni Martin and Georgia Gayle. Combined with Wright, the three accounted for 98% of the team's converted three-point shots last season. While Abrahamson-Henderson said Ripley and Burney have consistently been making three-point shots in practice, the team's strength lies in their frontcourt.
"I've never been a three-point shooting coach," Abrahamson-Henderson said. "We're still not going to ever be that team." 
A Familiar Frontcourt 
The frontcourt returns multiple familiar faces from last year. Junior forward Brittany Smith was the team's second leading scorer behind Wright, averaging 10.5 points-per-game while adding five rebounds a contest. Smith led the team in field goal percentage, shooting 51% from the field. Smith also earned All-AAC preseason first team honors last month.
Senior forward Masseny Kaba also returns after leading the team last season in rebounds, averaging 6.7 per game. Kaba also played the role of rim-protector on defense, being the only Knight to average at least one block-per-game.
Kaba said she and Smith have worked a lot together this offseason. 
"I think that's really going to be great," Kaba said. "Brittany's a great score on a low block, and since I'm expanding my game now, they're either going to have to guard me or they're going to have to guard her."
Also returning in the frontcourt are senior guard/forward Courtajia Sanders, sophomore forward Destiny Thomas and senior forward Jnaya Walker. 
New Additions
Kaba said that many of the young players have impressed the team. 
This group includes 5'3" freshman guard Maniya Custis, 5'10" Miami-native Colleen Bucknor, also a guard, and 6'2" freshman forward Ashton Verhulst.
Additionally, two transfers have also joined the team this past offseason. 5'7'' sophomore guard Alisha Lewis transferred from Syracuse and was ranked No. 35 overall in ESPN W's 2019 HoopGurlz Recruiting rankings. Meanwhile, 5'9" sophomore guard Asia Todd transferred from Liberty, where she started 25 games as a freshman and made the second-most three-point shots for Flames last season with 38.
NCAA Transfer rules dictate both Lewis and Todd will have to sit out the 2020-2021 season unless they are granted a waiver by the NCAA. However, while a press release announcing Lewis' addition to the team on Jun. 11 said she would sit out the upcoming season, the press release announcing Todd's addition to the team on Jun. 27 did not say the same. 
Abrahamson-Henderson said she thinks "every single person in the United States" is trying to get an NCAA transfer waiver, and it's a matter of waiting to how the NCAA elects to proceed.
"It could come for them next week, it could come tomorrow, it could come in three weeks," Abrahamson-Henderson said. "We're just in a waiting game with everybody."
Regardless if Lewis or Todd see playing time this season, Kaba said she is eager for fans to see not only their capabilities, but the capabilities of all the young players that have joined the team this past offseason.
"We didn't know what to expect because we haven't really seen them play because of COVID," Kaba said. "Can't wait for you guys to see them."
Playing in the Pandemic
Now going into a season where COVID-19 is part of the equation, Kaba said things were "awkward" in the beginning due to social distancing early on in practice. However, as Wednesday night's season opener against Virginia drew closer, and more "contact stuff" came up, things began going back to normal.
In the Thanksgiving spirit, Kaba said she was thankful she and the team get to play this season. 
"We're just taking it slow every day, you know," Kaba said. "We'll see how it goes, but we're just excited to play."
The pandemic also had a slight effect on the team's schedule. In addition to downsizing from 28 regular-season games last season to 24 this season, Abrahamson-Henderson said the team's Dec. 21 road matchup against Georgia Tech was added to the schedule recently. The team's other three non-conference matchups against Virginia, LSU and Florida Gulf Coast remain from before the pandemic.
In another schedule tweak, Abrahamson-Henderson said the date for the team's matchup against Virginia was changed from its original date to be the season opener tonight. It also marks 14 years to the day of the teams' first and only prior matchup, a 76-47 Virginia win on Nov. 25, 2006.
"We really want to challenge ourselves," Abrahamson-Henderson said. "We're just jumping into a big game right away because we missed a lot of the preseason." 
Looking Ahead 
Should COVID-19 not present any issues, this season will see the team once again face Florida Gulf Coast, who beat the Knights 72-50 last season, on Dec. 13. The team will also take on Cincinnati, who eliminated them in the AAC conference tournament semifinals last season, on Jan. 17 at home and Feb. 14 on the road. Then, the team will take on USF in the War on I-4 on Feb. 17 at home and March 2 on the road.
Last season, the team finished 20-10 overall, going 14-1 in the Addition Financial Arena, the lone loss being to No. 5 UCONN who is no longer on the schedule after they joined the Big East this offseason. However, away from home, it is a different story. The team went 5-6 in away games and 1-3 in neutral site games last season, a record that Kaba said the team is working to improve.
"It's hard to get comfortable in other people's gyms," Kaba said. "You don't really shoot there as much as you do at home, but we'll get better at it as time goes on."
In a normal year, the team would have played some closed-door preseason scrimmages against other colleges by this point. With the pandemic putting a stop to that, Abrahamson-Henderson said she is eager to finally see her team play an actual opponent for the first time since March on Wednesday at 6 p.m. in Addition Financial Arena against Virginia.
"I think every coach always wants more games," Abrahamson-Henderson said. "I feel like we haven't played any games, so we're super excited to finally be playing a different opponent besides ourselves."