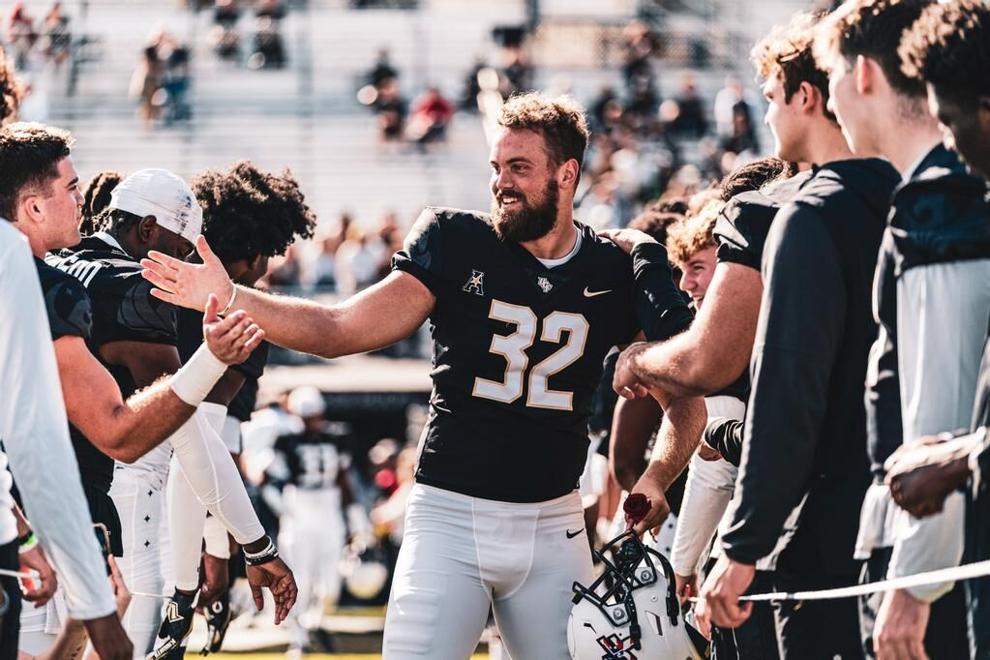 After every practice and game, Alex Ward meticulously logs every ball that he snapped for the day in his binder.
He said it serves as a way to hold himself accountable and to keep refining his skillset as a long snapper.
Ward considers himself a perfectionist. One who is chasing after something he can never achieve.
"There's two levels of perfection for a snapper," Ward said. "There's the perfection that everybody knows, everybody sees, and that's the perfect that people talk about. It's every ball is caught. Every ball is caught, I'm perfect, solid. And then there's like the perfect-perfect, that's infinitely high. The perfection I was just talking about that you can't attain, can't reach. I try to hold myself up here to this standard."
It's the pursuit of unattainable perfection that has the former UCF long snapper on the verge of signing an NFL contract.
Ward walked on as a freshman at UCF in 2017. He graduated with a degree in mechanical engineering and received many awards and honors for his academic and athletic achievements.
He was named a Patrick Mannelly Award finalist in each of his last two seasons as a Knight, an award that recognizes the best long snapper in college football. When Ward attended the award ceremony in Chicago, he said he left Mannelly, a former 16-year NFL long snapper, stunned by his demeanor. 
"I was floored. Just floored," Mannelly said. "What a great young man. Just impressed of how he's gone about his specifics in long snapping, how much he has graded himself and charted all his snaps, to his personality, that's just outstanding. And obviously he's extremely smart, he's just a well-rounded young man that's very impressive just all around." 
Three years ago, Ward began recording every snap he would make in practice and in games in a chart-filled binder. He would log every detail of every snap, down to the angle of the laces on the football. 
Ward took the binder with him everywhere he went, constantly studying up on his game and working on ways to get even better. If there was a flaw in his snapping, he would find it.
"I know he carries his binder around with him like 24/7," former UCF defensive lineman Anthony Montalvo said. "Whether it's in his car, or he's carrying it throughout the Densch where we have meetings and stuff."
Each page in the binder has charts for punting snaps and field goal snaps. Ward makes notes in the charts that mark every trackable piece of information about his snaps.
"This is what I do to, one, hold myself accountable to watch film," Ward said. "If I don't have the chart filled out, it's not in my book, I have to go and fill out the chart. So I've watched film for every snap I've snapped for the last three years."
He credits his background as a mechanical engineering student with giving him the ability and the tools to create his system. When he showed Mannelly his binder full of charts at the award ceremony in Chicago, the veteran long snapper said he had never seen anything like it.
"There's no way I could have done that," Mannelly said. "Just amazing the attention to detail he pays to it." 
While Ward strives for perfection in everything he does, his time at UCF was not without struggles and challenges. 
During the fall of 2019, his junior academic year, he was beginning the most difficult part of his major, starting an internship and was beginning his first year as the starting long snapper for the Knights. 
"I wasn't getting any sleep," Ward said. "I was working all day long, driving across town, going to practice, getting exhausted. It was a nightmare. I got sleep deprived substantially by the end of the semester. My play dipped, my grades kind of held on." 
Ward said that he struggled heavily with the workload, but he had to keep pushing through. Through the end of the football season and through finals, he couldn't give up. 
"This too shall pass," Ward said. "No storm lasts forever, just stick in it, keep riding. I just kept my head down and went to work every day. Wake up and get after it. I allow myself to dread getting up, dread waking up and getting moving every day, until I'm out of bed. Once I'm out of bed, doesn't matter. I'm up and going."
The people around him quickly took notice of the way he carried himself. 
"He's always wanting to get little details," Montalvo said. "He's always finding something to improve on, he's always looking for something, he's always noticing something. Whether we're golfing, we're playing basketball, we're working out, he'll come out and he'll say 'Yeah okay I gotta do this better.' He always wants to make sure that everything is perfect in that way."
While Ward strives for excellence in long snapping, the drive inside him doesn't disappear when he takes off the pads. He was named to the AAC All-Academic Team three times during his UCF tenure and was selected for the Order of Pegasus in 2022, becoming just the fifth football player ever to receive the award.
The Order of Pegasus is the most prestigious and significant honor a student can be awarded at UCF. It recognizes exemplary performance in "academic achievement, outstanding university involvement, leadership, and community service."
He said it was one of the biggest moments of his time at UCF, but it didn't define him. 
"I don't think there are many moments that define me," Ward said. "I think what defined me was how I treated others and how I tried to help others. The day-to-day action is what defines me."
His compassion and desire to help others are all things that he credits his father for instilling in him. 
"What makes both me and his mother so proud of him is how he treats everybody else," Jim Ward said. 
Jim Ward said there was a time when he walked into a restaurant and recognized a member of the UCF equipment staff. When he told the staffer that he was Alex Ward's dad, he was greeted with a big smile and praise for his son's character and kindness. 
"Those genuine signs of respect and adoration from people around the program that flow from his genuine respect and adoration for the job that they've done and their friendship is really what makes us so proud," Jim Ward said about his son.  
When the 2023 NFL Draft begins on Thursday, Alex Ward will be watching to see if he becomes just the 11th long snapper to be drafted since 2008. Whether he gets drafted to a team or signs a contract after the draft, Mannelly said there is no question he has what it takes to be a pro.
"Patrick Mannelly told me 'I'm expecting you to have a long career in the NFL,'" Ward said. "That's when it really, really drove home that like this is something that's going to happen instead of something that might happen."
Ward is just days away from making it to the NFL, where he will have the opportunity to continue doing what he loves. 
"Snapping is what I love," Ward said. "It's that perfect mix of, you're touching perfection but it's unattainable. You can't be perfect, but you can get so close and that's what I love."
Ward is an artist and long snapping is his art. There's always a flaw to extinguish, a tweak to be made, a way to get better. 
It's his way of chasing perfection.