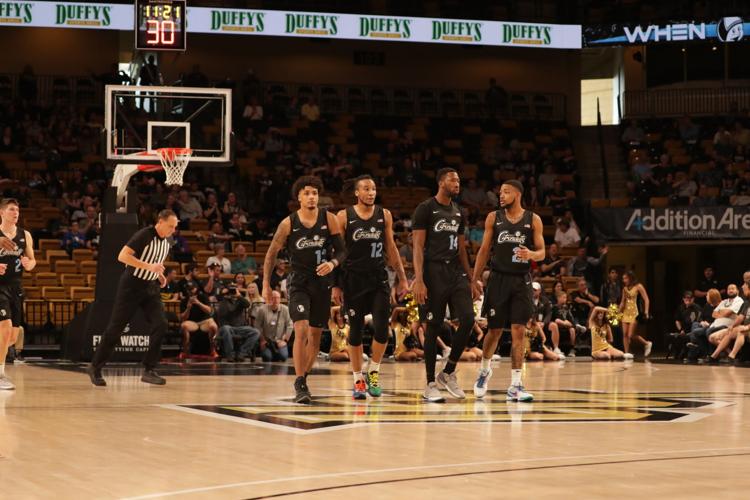 Accurate three-point shots drove the Knights to a 83-75 victory against the Tulsa Golden Hurricane at UCF men's basketball's first Space Game in history at Addition Financial Arena on Sunday.
The Knights sported out-of-this-world Citronaut jerseys and earned the most points they have all season.
The Knights (13-10, 4-7) displayed a pattern of accuracy throughout the game that allowed them to lead the scoreboard on Sunday. Several players, some straight off the bench, contributed to outperforming the opposing team. 
"We beat a good basketball team — a basketball team that's been playing as good as any in our conference throughout the conference play," said head coach Johnny Dawkins. "It takes a heck of an effort to play them and to score what we scored tonight and [I'm] just really happy to our guys who were able to accomplish a good victory." 
Freshman guard Darin Green Jr. was one of the players who started at the bench, but contributed to the pattern of three-point shooters that the Knights held throughout the game. Green scored a career-high 26 points, shooting 6-7 from the three-point range.
He knew this was his game.
"I was hitting in warm-ups, I mean I kind of felt it and Matt hit his first one and that got the team going, so we started hitting from there," Green said.
The Knights started off shaky in the first five minutes of the game when Tulsa got away from them by five points. The gap was reduced to one with a three-point shot by redshirt senior Matt Milon and Green gave them a 14-12 lead.
The Knights — or the Citronauts — never trailed again.
Dawkins said Milon and Green's performances got the team off to a good start, despite Tulsa's defense.
"I thought we had guys that had a hot hand — Darin had a hot hand and I thought Matt in the first half had a hot hand," Dawkins said. "So two of our shooters get hot like that, then [having] hands in their faces they're not going to really see that as much because they got it going — and that's what I think we saw earlier today."
But the afternoon wasn't filled with three-point shooters.
Redshirt junior guard Ceasar DeJesus scored most of his points from mid-range the free-throw line. He had 18 points and shot 8-13 from the field.
DeJesus said that hitting the points in the "matchup zone" was a positive for him because he drew the attention away from shooters.
"I realized that we are all out together on the floor and that we're not out there individually," DeJesus said. "It's a team effort kind of sport, so as long as we stay together, [we'll be] a more mature team."
The Tulsa Golden Hurricane pressured the Knights throughout the game as they fought back, attempting to close UCF's lead.
Tulsa senior forward Martins Igbanu had 30 points off the bench. Although Tulsa fought UCF until the last second, the Golden Hurricane were down their lead scorer, junior guard Brandon Rachal, due to an injury. 
Dawkins said that for Tulsa to lose a player of Rachal's caliber is difficult and sometimes players in their team can step up, but that it's hard.
"We don't want to see anybody go down in our profession and we want to see all of the guys out there competing and he's a really good player," Dawkins said. "We were preparing for him because we had a high level of respect for what we saw on tape and hopefully he'll be back soon."
As for redshirt junior Collin Smith, the Knights leading scorer this season, Sunday's performance wasn't his best. Smith, who has a total average of 12.2 points in the season, only scored 1 point before fouling out in the second half.
Dawkins said he wasn't expecting Smith to perform the way he did during the game, but said it showed the team was capable of stepping up and scoring points.
"That's how you pick up a teammate, because everyone's not going to be really good every single game as we know," Dawkins said. "To see someone pick you up when you're not at your best is the best sign of a good basketball team."
The Knights will face the Wichita State Shockers (17-6, 5-5) on Thursday in another home game at Addition Financial Arena at 7 p.m.