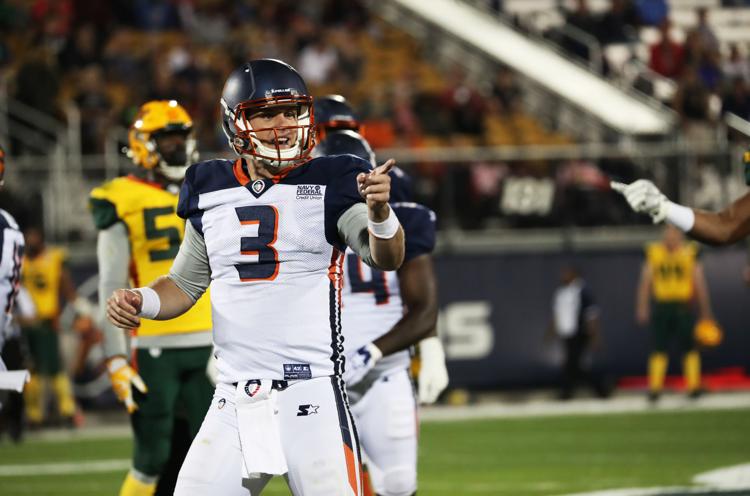 The Alliance of American Football suspended its inaugural season on Tuesday, just 52 days after it began. 
The 10-week season ended two weeks early for the Orlando Apollos and the rest of the AAF teams after the league suspended all operations, according to a statement released Tuesday.
The Orlando Apollos were at the top of the league standings with an overall record of 7-1. 
Al Lunsford, director of team communications for the Orlando Apollos, said in a Tuesday email the team was made aware of the news as they arrived to Camping World Stadium in Orlando for practice on Tuesday afternoon.
"The team had walkthrough at 12:30pm, and canceled their 1-3pm practice after," Lunsford said in an email. "Then had a meeting where they found out." 
The team issued a statement by email Tuesday evening that stated, "On behalf of everyone with the Orlando Apollos organization, we were shocked and incredibly disappointed to learn of the decision to suspend the football operations in The Alliance of American Football."
The statement — which was signed by Apollos head coach Steve Spurrier, general manager Tim Ruskell and team president Michael Waddell — thanked the community for its support and explained that the startup league encountered challenges that it hoped to address in the offseason.
UCF alumnus and Apollos offensive tackle Chris Martin was one of the first players to take to social media regarding the situation. 
If this is the end, at least we went out on top! I'd ride or die for anyone on this team and staff! Thanks for the best and craziest memories! @aafAPOLLOS @TheAAF #Apollo4Life #SomeoneStepUp

— Chris Martin (@Chris_Martin70) April 2, 2019
Darren Rovell, a sports business analyst for Action Network, tweeted a statement from AAF co-founder Bill Polian stating Polian was disappointed to learn the leagues new owner Tom Dundon decided to choose this path for the AAF after acquiring a majority of the company in February.
AAF co-founder Bill Polian issues strong statement after new owner Tom Dundon shuts league down. pic.twitter.com/YwFWaLFwwl

— Darren Rovell (@darrenrovell) April 2, 2019
Dundon and the league office did not respond for comment by the time of publication. 
Megan Hanson, head of communications for the AAF, said in an email on March 29 that business was running as usual after initial reports were published stating that the league was on the verge of folding. 
Majority investor: Alliance of American Football in danger of being discontinued without NFLPA help. The NFLPA will not lend players to the league because of the risks it would subject them to. https://t.co/YpHqW8uxwI via @usatoday

— Mike Jones (@ByMikeJones) March 27, 2019
Lunsford also said in an email on March 27 that the Apollos were deferring comment to the league, but the team was operating "business as usual."
This is a developing story. Check back with NSM Today for updates.