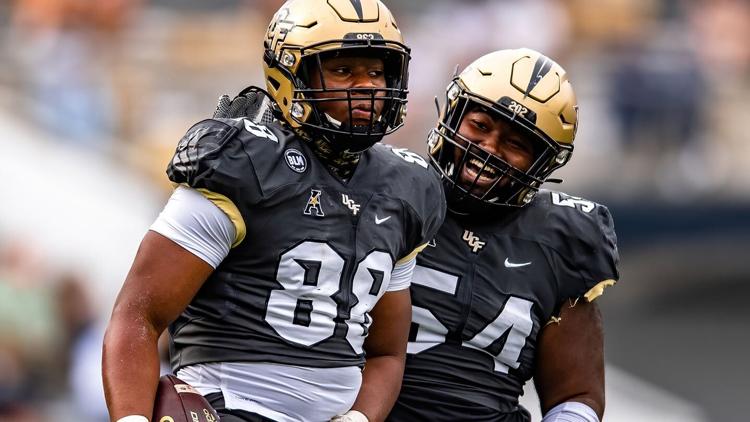 The game was tied at a score of seven in its first quarter. Georgia Tech quarterback Jeff Sims decided to run with the football on second and goal from Georgia Tech's 9-yard-line.
As he ran, UCF defensive lineman Josh Celiscar appeared. Instead of tackling the quarterback, Celiscar went for the football and stripped it clean from Sims, resulting in a forced fumble and recovery for UCF in Georgia Tech's red zone. This is Celiscar's first highlight of his college career.
Georgia Tech never had the lead after that play.
"It's a game changer for the other team," Willie Martinez, UCF assistant head coach, said during a press conference on Tuesday, "and that kind of gave us the boost as a football team."
Celiscar finished the game on Saturday with the forced and recovered fumble and also his first ever collegiate interception.
His performance earned him a spot on the American Athletic Conference's honor roll and he was named the True Freshman of the Week by 247Sports for his debut performance. 
"Yeah, not a true freshman, man," Head Coach Josh Heupel said after the game.
Heupel said that Celiscar's play was not a surprise for anybody inside of the UCF Football program.
"Just the way he practices which is why he plays the way he does," Heupel said. "From the beginning of training camp, he's been really mature."
Heupel said he believes freshmen players like Celiscar were benefited from COVID-related rules because, with virtual meetings, they were able to schematically learn before they could even get on campus for the first time.
And for Celiscar, he said his decision of coming to UCF was not only about football.
Celiscar played as a senior at Winter Haven High School in his hometown, so he said he wanted to be close to his home.
"I wanted to be with my family so they can come see me play as much as they could," Celiscar said in a press conference on Monday. "I'm trying to put on for Polk County and Winter Haven."
Celiscar said he received feedback from his family, mainly his older brother Donald, after his first game.
"He was going crazy and just telling me 'I'm proud of you,'" Celiscar said.
He said it was excitement all over the place for him and his family.
Celiscar received one offer from a Power Five school (Virginia Tech), yet he chose UCF after being recruited by Defensive Line Coach Shane Burnham, according to Rivals.
Burnham said in a press conference on Sept. 15 that, even though Celiscar at 6-foot-4 is not as tall as other defensive ends that UCF has, he is able to play with leverage due to his long arm length.
"He's just a 'go cat, go cat,' man," Burnham said. "It doesn't matter. Whatever he's got, he's going to empty the tank."
Burnham said Celiscar plays hard from snap to whistle, and the fact the young player is fighting through the challenges of being a freshman, such as learning the playbook, gives Burnham hope that Celiscar will succeed.
"You ask our tackles, 'man, that guy never stops,' and at our position, that will work for you," Burnham said.
Redshirt senior linebacker Eric Mitchell said Celiscar has been "a monster" throughout training camp by forcing turnovers in scrimmages, just like the forced fumble in his debut.
"When he did that in the game, I had no choice but to give him that freshman hype," Mitchell said during a press conference on Tuesday. "'You made it. Welcome to college.'"
Celiscar said defensive line veterans, like redshirt junior Stephon Zayas, told him to not be afraid and make plays as a true freshman. Celiscar said Zayas and other players told him since most of them redshirted in their first year, it is a blessing for the young player to have the opportunity to see action.
Celiscar said he appreciates being with his teammates and celebrating in the locker room, even if it is new to him.
"I've only been here for three months," Celiscar said. "I love here already."