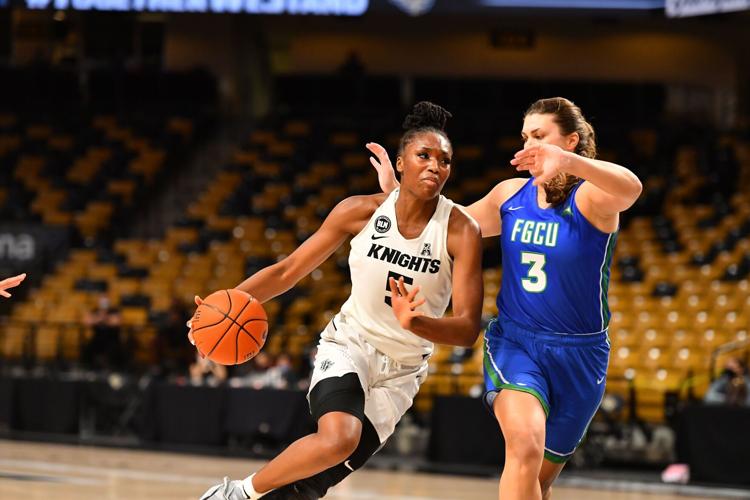 In an era of uncertainties, coaches and players said they are sure of one thing — the AAC battle is wide open.
After a perfect 139-0 record and seven conference championships in the AAC, UConn has moved on to new challenges in the Big East.
"There is way more opportunities for other people to shine," UCF junior forward Brittney Smith said in a virtual press conference on Nov. 24.
UConn took the conference trophy home each of the last seven seasons, but UCF head coach Katie Abrahamson-Henderson said seeing what type of fight the teams would present shows the high level of its opponents.
"To be honest, they made every team better in our league," Abrahamson-Henderson said on Nov. 24.
The Knights began the season ranked second in the American Women's Basketball Preseason Poll voted by all 11 AAC head coaches. The team received one first-place vote, while rival South Florida had eight and Cincinnati two.
Here is a breakdown of all UCF's opponents who will try to take the Huskies' spot as the best team in the AAC. Teams are listed based on their standings in the preseason poll, starting with the most voted team all the way to the least voted.
SOUTH FLORIDA (19-13, 10-6 AAC last season)
Selected as preseason favorites in the AAC coaches' poll, Bulls' recent history contributes to the decision. Under head coach Jose Fernandez, USF has made at least the semifinal round of the AAC Tournament in the last six seasons.
"I'm excited where we're at," Fernandez said in a virtual press conference on Oct. 20. "This program continues to be a shining star at this university and athletic department, and I think across the country."
Last year, UCF won both games against USF, however the Knights only shot 39% and 27% from the field in those matchups. The Bulls had the second-best defense in the conference, allowing teams to shoot only 35.2% from the field.
For the 2020-21 season, the Bulls come with two preseason all-conference second team players in guards Elena Tsineke and Elisa Pinzan. Tsineke was AAC Freshman of the Year and all-conference third team last season with 12.4 points per game. However, that number goes down to 5.0 points against the Knights.
Fernandez said an elite guard like Tsineke, with her athleticism to create off the bounce and shoot from behind the arc, will help USF's depth and versatility, but she will also continue the team's successful recent history.
TULANE (14-17, 8-8 AAC last season)
The Green Wave finished fifth in the AAC last year, but notably had 24 games out of 31 that were decided by 10 points or less, including a 1-point win against the Knights.
However the team was 11-13 in those close games, and Tulane head coach Lisa Stockton said the team will use the help from veterans to better perform under in endings.
"When you return a group that has been in the trenches, you feel good about what you can do with the season because they have that game experience," Stockton said to Tulane Athletics' website.
One of the veterans that will try to help the Green Wave is forward Krystal Freeman. The senior was a unanimous selection on the preseason all-conference first team after she averaged 15 points (eighth in the AAC) and 7.7 rebounds (ninth in the AAC) per game last season.
Another senior who is expected to lead the team is Arsula Clark. The guard was named to the preseason all-AAC second team. She averaged 12.7 points per game in 2019-20.
But the two are not alone because 89.3% of Tulane's scoring and 95.2% of its rebounding will be back.
"Having a veteran team in these circumstances, coming off of last year, is going to be a plus for us," Stockton said.
CINCINNATI (22-10, 11-5 AAC last season)
Voted No. 4 in the conference this year, the Bearcats won both contests against the Knights last season, including the AAC Tournament semifinal.
In that game, Cincinnati limited UCF to only three points in the third quarter, then being able to clinch a spot in the finals. The Bearcats would come up short of the title, losing to UConn.
"With their departure, now every team in the league feels like they have a chance to win the championship and that's what it's all about," Cincinnati head coach Michelle Clarke-Heard said in a press conference on Oct. 28.
And the Bearcats will have a player that might boost their chances to win the conference. Senior forward Illmar'I Thomas was named American Preseason Co-Player of the Year after leading the conference with 59.7% of field goals made for 18.6 points per game.
"Right now, where she is at, people are going to be surprised to see her level of fitness and how she has expanded her game," Clarke-Heard said.
The senior said in a press conference on Oct. 28 she agrees with her coach the championship is now open to all teams, so they will continue the Bearcat culture of work hard to excel Clarke-Heard's system.
"Coming in, we know we have to fight every day to get better and know that it's going to be a dog fight every game we play," Thomas said.
TEMPLE (16-15, 7-9 AAC last season)
If the Bearcats have Thomas, the Owls have the other Preseason Player of the Year.
Senior forward Mia Davis is the leading returning scorer with 18.8 points per game and rebounder with 10.1 boards.
Temple lost three starters from last year's team, including guard Ashley Jones. She averaged 16 points per game before transferring to Mississippi State, and Davis knows she will need to step up both on and off the court.
"I just wanna be a great leader to the underclassmen," Davis said during the Owls' virtual Cherry & White Tip Off Night event on Nov. 23.
Even with a mostly new starting lineup, the Owls are projected to finish fifth in conference play, and head coach Tonya Cardoza said one of the team's biggest differences from previous years are its athleticism and speed.
"We're more about attacking and being aggressive on the defensive side," Cardoza said on Nov. 23. "I think we'll get out in transition a lot more."
Last season, UCF and Temple tied the series one game each. However, both games could have gone either way with the margin of victory in those matchups being three points or less.
"I think we're a very balanced league from top to bottom. On any given night, anyone can win a game," Cardoza said.
WICHITA STATE (16-15, 7-9 AAC last season)
UCF defeated Wichita State in both games last year, being victorious by margins of 45 and 33 points, the second matchup being in the AAC Tournament.
The Shockers only averaged 10.5 assists per game last year, the worst in the AAC, and had 18.6 turnovers per game, making the worst assist-to-turnover ratio in the conference.
But perhaps Wichita State's biggest challenge in 2020 is the team itself. No. 6 in the preseason rankings, the Shockers played their first two non-conference games of the season with only eight players available due to either positive COVID-19 tests or being identified as close contacts.
"I told our team that the team that wins conference this year might not be the team with the most talent," head coach Keitha Adams said in a post-game press conference on Monday. "It might be the team with the least amount of disruption and most consistency with not having players in and out."
Adams said it has been very common seeing her players quarantining and missing two weeks of practice due to COVID-19 restrictions, disrupting the team's preseason when they had only six or seven players during scrimmages.
When the Shockers have a fully healthy roster, guard Mariah McCully is their leader in multiple categories. The senior was named to the preseason all-conference second team, averaging 12.6 points per game and had 56 steals in 2019-20.
HOUSTON (12-19, 5-11 AAC last season)
Last season, Houston finished with a record of 1-10 in away games, including a loss to the Knights in February. UCF shot 49.1% from the field, while Houston only shot 34%
Additionally, Houston had one of the worst defenses in the conference by allowing 68.8 points per game.
And the Cougars, No. 7 in the AAC preseason poll, will use a mix of newcomers and returners to try to change it.
"When you talk about a new season, you always want to be able to have the culture that your building carry-on," head coach Ronald Hughey said after the team's first practice in October.
Houston native Laila Blair will try to replicate her high school success. The freshman guard was a McDonalds' All-American nominee and set a Waller High School single-game record with 60 points.
On the veteran side, Houston will have their leading scorer Dymond Gladney back. The guard averaged only 1.8 point per game as a freshman, but jumped to a double digit points per game scorer in the 2019-20 season, averaging 11.7.
If Wichita State is having problems with COVID-19, Hughey said it benefited his team by changing their attitude and limiting contact with basketball for a while.
"I think the pandemic helped us because this was taken away from them and now, they are eager to get back to it," Hughey said. "It makes the coaches job just a little bit easier."
MEMPHIS (14-17, 4-12 AAC last season)
Ranked No. 8 in the AAC preseason poll, the Tigers come to the season with most of their starters returning, including their second leading scorer in senior forward Dulcy Fankam Mendjiadeu.
The Cameroon native averaged 12.2 points and 8.6 rebounds per game. She started all 31 games in her first year in the program after transferring from a community college.
And those numbers seem to have impressed AAC coaches as the senior was selected to the conference preseason second team.
"We're so happy the conference sees just how dominant Dulcy can be," Memphis head coach Melissa McFerrin said to the Tigers' website. "Last year, she came in and took her role and ran with it. We look for her to continue to evolve her game and help lead us to a successful season."
Despite almost averaging a double-double in matchups against the Knights, Mendjiadeu Fankam's contributions were not enough. The Tigers lost both games with turning the ball over being a big problem.
Memphis had a total of 38 turnovers against UCF and had the worst turnover margin of the conference — the Tigers had almost five more turnovers per game than their opponents.
EAST CAROLINA (9-21, 6-10 AAC last season)
Offense was a big problem for the Pirates with the worst 2019-20 shooting percentage in the AAC with 34.9%.
In a loss against UCF in January, ECU only scored 15 points in the first half and 55 in the game, 22 coming from then-junior guard Lashonda Monk.
Last year, Monk was named to the All-AAC Second Team after averaging 14.9 points per game and 3.6 assists, but her biggest contribution came on the defensive end.
Monk won AAC Defensive Player of the Year, averaging 4.17 steals per game and having a total of 125 in the season, an ECU and AAC record.
"Her play on both sides of the floor proved that she was one of the best guards in this conference and obviously the rest of the coaches recognized that," head coach Kim McNeill said to the team's website.
Now a senior, Monk was selected to the preseason first team, but it was no surprise for her coach.
"Ever since we got here, I obviously saw her talent," McNeill said.
ECU's defensive numbers were impressive in a national standard. The team finished second in steals (407) in McNeill's first season with the Pirates.
McNeill said the team is still working to improve its mentality throughout games, but depending on Monk, it won't be a problem this year.
"We're just challenging her every single day to get better with that," McNeill said, "and she's accepted the challenge."
SMU (13-16, 7-9 AAC last season)
The Mustangs' record has improved each of the last three seasons under head coach and former NBA player Travis Mays, even if the record remains below .500.
Against the Knights last year, the Mustangs came up 10 points short of an upset. Their leading scorer in the game was guard Reagan Bradley with 17 points, who finished the game perfect from behind the arc.
Mays said Bradley still needs to listen more to her coaches, but he pointed some of her best qualities.
"Her willingness to learn and persevere her struggles," Mays said in a press conference on Jan. 30. "She hadn't played a perfect game, and I tell you what, she gonna get you some."
In 2019-20, Bradley ranked second in the conference with 4.4 assists per game, setting a SMU record for a freshman with 129 total dimes.
The sophomore will now lead the Mustangs' backcourt that features many returners. Bradley, Amber Bacon and Kayla White combined for almost 30 points per game last season.
White was the second leading scorer (10.4), while Bacon finished second in assists (3.9) and third in steals (44 total).
Mays' backcourt was able to have good numbers such as 14 assists per game, No. 4 in the AAC. With the help of the bench, the head coach said he the team will likely have a deep rotation of guards.
TULSA (9-21, 4-12 AAC last season)      
Ranked last in the coaches' preseason voting, the Golden Hurricane miss some very important pieces this season.
Tulsa lost three of its top four scorers, including leader Kendrian Elliott who also led the team in rebounding, assisting, blocking and field goal percentage. The forward graduated with 15 double-doubles, ranking third in program history.
With many departures, head coach Matilda Mossman said she wants to see the veterans stepping up, especially seniors Morgan Brady and Rebecca Lescay.
"They have been people we have leaned on ever since they stepped foot on campus," Mossman said press conference after Tulsa's first practice of the season on Oct. 15. "They are both mature and dedicated in the classroom and on the court."
Brady led Tulsa in both assists and steals five times last season, while Lescay led in steals 11 times.
Last year in the Golden Hurricane's loss to UCF, the team shot 16.7% from three. Tulsa ranked second-to-last in the conference with only 25.4%, and Mossman said it needs to change if they want to prove they are more this season.
"You can't win many games when you shoot that, so that was a point of emphasis," Mossman said.
The Knights (3-1, 1-0 AAC) opened up their conference schedule at home with a 66-62 win against Tulane (3-2, 0-1 AAC) on Tuesday.