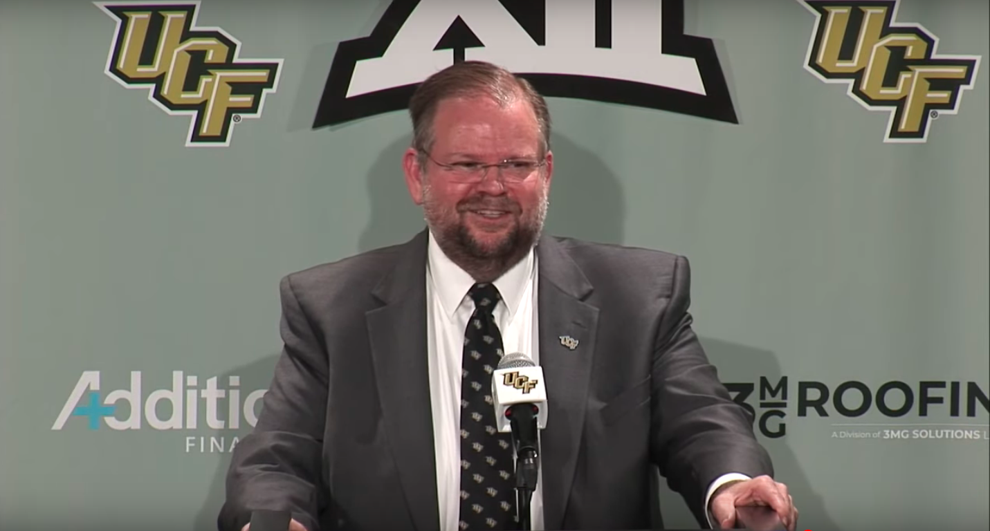 UCF may not have a date for when it will officially join the Big 12 conference, but there is plenty for Knights fans to look forward to in the meantime, including high-level recruitment.
The Big 12 is one of the NCAA's Power Five conferences, which are the five most elite college football conferences in the nation. As a member of the conference, the Knights will be more effective recruiters than ever before, Knights Head Coach Gus Malzahn said.
"Lots of college football is based on the reference to the Power Five conferences," said John Heisler, UCF senior associate athletics director for strategic communication. "If you're part of one of those, you are deemed to be participating at the highest level." 
On Sept. 13 — three days after the UCF Board of Trustees voted to accept the invitation to join the Big 12 — Malzahn appeared on Knight Talk, a radio show hosted by Marc Daniels, UCF Athletics' director of broadcasting, to discuss the Big 12's invitation and its impact on recruitment. 
"We've had recruits call us excited about it," Malzahn said. "Even some guys who weren't interested who are now interested." 
Daniels is UCF's beloved, longtime broadcasting director and play-by-play announcer; he has announced more than 300 Knights football games, Daniels said in an interview. 
"Athletes look for opportunities to go and compete at the highest level," Daniels said. "This is going to help continue to grow the brand of the university and the athletic department."
Brian Smith, recruiting analyst for Sports Illustrated, said that as a member of the Big 12, recruitment opportunities for UCF are going to become more frequent due to being in a league with universities that are spread farther across the nation.
"Now that UCF will be playing in the Big 12, a league that spans from West Virginia to Utah, there will be some unique scouting opportunities for the UCF coaching staff," Smith wrote in a piece published Sept. 10.
Smith also said UCF recruitment will be impacted by increased media exposure from its Big 12 membership.
"More eyeballs will be on the UCF football program than ever before," Smith wrote.
David Shumate, director of player personnel for UCF football, worked with Malzahn at Auburn University in 2016. He said being in the Big 12 provides UCF with an edge in recruitment. 
Shumate said that before UCF became a member of the Big 12, recruits would occasionally become uninterested. Now that UCF is a Power Five school, Shumate said, he is excited because nobody can use the school's lack of Power Five status against the Knights anymore.
"It is a huge step forward," Shumate said. 
UCF football is off to a solid start to the 2021 season, with a season total of 2-2; the Knights' losses come from games against the University of Louisville and the United States Naval Academy. UCF is set to return to action against East Carolina University Saturday.
"It's a really good thing that will help us recruit in the future," Malzahn said, referring to the Big 12 invitation. "There's a lot of excitement around our complex right now."