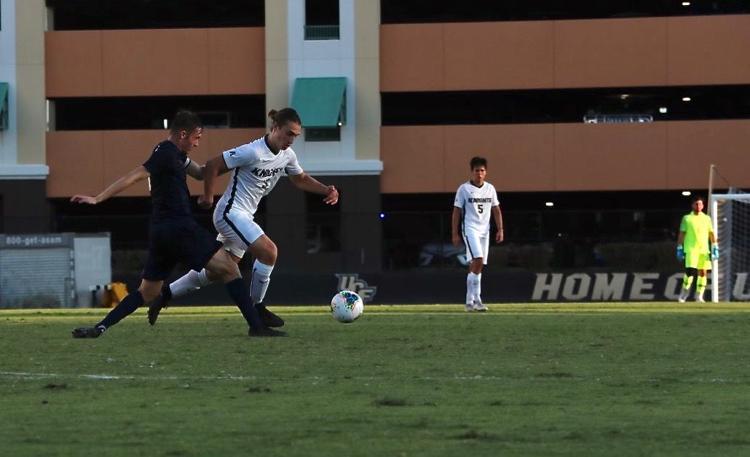 UCF senior forward Cal Jennings' overtime goal against Florida Atlantic University Tuesday night extended UCF men's soccer win streak to six games.
The Knights (7-1-1) ended the game 3-2 as the Owls (3-4) suffered their second road defeat of the season in front of the home crowd at the UCF Soccer and Track Complex.
"FAU was good tonight and they were organized. They would compete, they obviously gave us a lot of trouble in terms of we struggled to get that second goal," said UCF head coach Scott Calabrese. "But fortunately, even when sometimes the game doesn't go your way and you're not able to play maybe the way that that you want, the ability to go and get a result despite that is very important for a team that wants to be successful at a high level."
UCF were riding a five game win streak heading into Tuesday's match with their only loss being a 2-1 road loss against #4 Wake Forest. During this run, the Knights averaged 2.25 goals per game while only allowing one goal per game. 
FAU came into the match with a 3-3 record following a  3-1 victory against Florida Gulf Coast.They opened things up in just the 28th second as sophomore midfielder Edgardo Obregon silenced the home crowd with a quick goal.
Despite a blazing start, the Owls' lead was short lived. UCF junior midfielder Louis Perez slotted his first goal of the night in a minute and 23 seconds, 55 seconds after the game's opening goal, continuing his team run of early scoring in games. Redshirt senior fullback Jonathan Dean supplied the assist. 
In its last four games, the Knights have netted a goal within the first seven minutes of kickoff and boast a complete seven matches where goals are scored in the first 15 minutes. 
"Our goal is always to score and to attack as much as possible, as soon as possible," Calabrese said. "So, anytime you score first, goals change the nature of the game. So for us to continue to create chances early on and covert our chances early on is really important because we put teams under pressure at that point."
Three minutes into the second half, FAU bounced back in front with a goal by freshman midfielder Jose Alastuey.
The score evened up when the Knights caught a break in the 83rd minute when Dean was fouled in the penalty box.
Perez stepped to the ball and coolly slotted it in the right hand side past the FAU keeper's reach to take the game to overtime at 2-2 and sink the penalty. 
Overtime was short lived as Jennings continued his goal scoring form, netting a goal off assists from his teammates Dean and Perez in the 93rd minute. 
"Ball was going into Louis ," Jennings said. "I saw Johnny running hard, so I knew it was going to get in behind to Johnny and I just needed to be there. Be in the front post, and honestly get hit by the ball."
It was business as usually for Jennings, the second top scorer in the NCAA last year with 20 goals, as he came into the game tied for fourth in the NCAA goal rankings with eight goals.
"Cal's always very influential," Calabrese said. "Cal's a guy that ultimately is always in the right place, at the right time. People have to pay so much attention to him and it opens up pockets for other people."
When reflecting on his performance for the night, Perez was encouraged by his team's victory.
"We started badly but we scored and then we had to work, work hard," Perez said. "There is this time of the season where the games are very hard and then we have to get through it."
Calabrese had nothing but high praises for Perez after the match. 
"I thought that Louis is obviously a special player and he creates things," Calabrese said. "I think, Louis when we get him up higher on the field and closer to goal, his dangerous, he finds passes and creates chances."
He also praised Dean for both his defensive and attacking work. 
"As a look at Johnny Dean's performances in the last five, six games, you can say the entire season, but I think his level keeps going up," Calabrese said. "He is so strong defensively as an individual defender, he can get forward. He gets forwards, he gets back."
Finishing their homestead strong, UCF looks to continue its winning streak Sunday night when they face Southern Methodist University for conference play at Westcott Field on Sunday.
"Now we can focus on SMU," Perez said. "We are very impatient to play them, so it's going to be a huge game and hope for the win. We're going to go for a win at SMU."